The following post shares my experiences with the Kindle Oasis eInk reader.
I purchased the Kindle Oasis E-reader with Leather Charging Cover – Black, 6″ High-Resolution Display (300 ppi), Wi-Fi – Includes Special Offers and decided to share my thoughts. I hope this post will help you decide if the Oasis is right for you.
After receiving my Amazon/B&N settlement credits I finally decided to pick up a new ereader.
My first was the original Nook which went quietly in the night several years ago. Since then I read my eBooks on the Nook HD and Kindle Fire. Both are great, the Nook HD is rather heavy but allows the Kindle App and functions more like a tablet. The Kindle Fire is lighter, but like the Nook HD it allows for distractions and requires daily charging.
Since last Christmas I have been struggling with which eInk reader to purchase. I knew I wanted a distraction free ereader that was lightweight. I suffer from RA and the heavier readers bother my hands and wrists.  I also wanted the ability to read in both darkness and  full sunlight. With our beach vacation coming in August I knew I needed to quit stalling and chose one.
I was super excited when the Kindle Oasis was revealed but almost had a heart-attack at the sticker price. $289.00 with Ads. That is a lot of potential books.I even tweeted and posted on Facebook about it.  So I narrowed my choices down to the Kindle PaperWhite and Voyage. For 3 months I put them into my cart, picked covers and then took them out. The struggle was real my friends..lol Do you ever load up your cart and then empty it? I suppose that is a topic for another day.
It was time to decide and order my ereader.
Even with the windfall I put the Voyage in my cart first. It started at 199.00 but then I added an adapter and pretty cover.  What?!? It was nearly as much as the Oasis. *bites lip* Decision Made. In the cart  went the Kindle Oasis and two days later our love affair began.
I freakin' love this ereader. Now let me share why: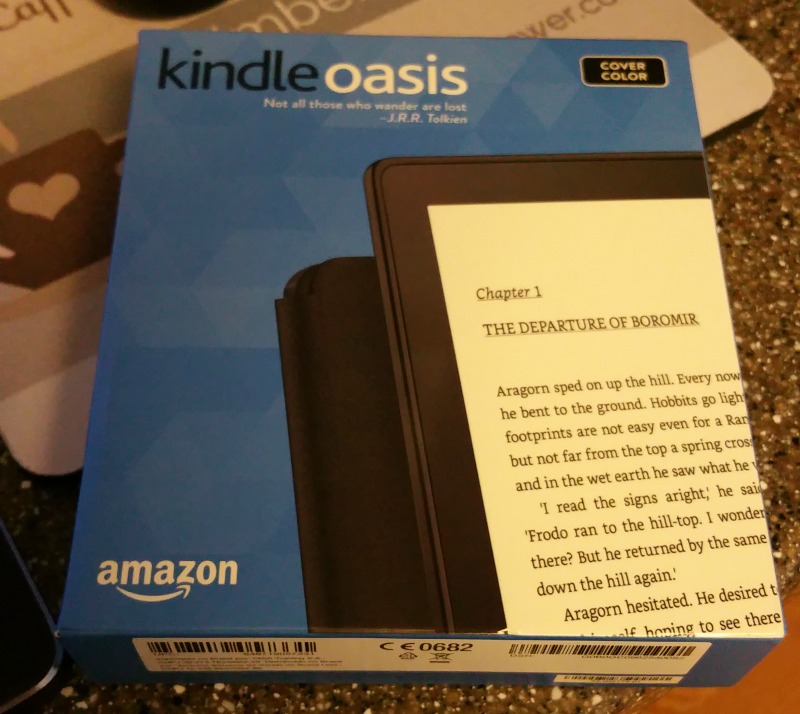 This is the packaging the Oasis arrived in and was nearly the size of the Oasis. The box contained The Oasis, Cover with built in charger and power cord. It does not contain an adapter plug, but the newer Kindles all use the same adapter. I chose to get the Oasis with Ads. I was reluctant to do so…..because well ADS! However, I learned when I bought the Kindle Fire that the ads are nothing more than a screen saver and guess what…I have actually found some great books. The ads seemed to be tailored for me and even have books from the Prime lending library.
Features of the Oasis Kindle
Thinnest and lightest Kindle ever–read even more comfortably for hours – The Oasis is ridiculous light with or without the cover. In fact my smartphone weighs a ton in comparison. It's bizarre design and feather light weight are gentle on my hands and wrist.
All-new ergonomic design with dedicated buttons to effortlessly turn the page– When the Oasis first came out I thought the buttons on the side were WEIRD but it's GENIUS.!! I can hold the Oasis with one hand as pictured above. And with the same hand I can use my thumb to click the navigation bars. I can also swipe my thumb across screen to scroll or turn pages.
Longest Kindle battery life–the included leather charging cover boosts battery to last months. This feature is cool! When the cover is attached it recharges the Oasis. I can read seven-fourteen books and still have battery life. Since I was charging daily, sometimes twice if I was having a read-a-thon this is a totally fantastic feature. While I will never get months out of it, since I read on average of three+ hours a day – I am no longer tethered to the power source. (at this point I am getting a full two-week before both cover and kindle drain)
Choose from a black, merlot, or walnut removable cover. I went with the Black cover since it was ready to ship and will match all of my coffee cups. The cover is super soft, ultra thin and fits snuggling behind the part of the Oasis that sticks out..creating a smooth feeling backside. Since it is included you save as most of us buy covers that range from 15.00 to 85.00 dollars.
High-resolution 300 ppi display with crisp, laser quality text. Reads like real paper without glare, even in direct sunlight.- I totally forgot how delightful e-Ink readers are. I read twice as fast on the Oasis.  The words are crisp and clear. I no longer have to look for shade when outside and the screen glare doesn't annoy my husband when we are driving.
Enhanced built-in adjustable light evenly illuminates the screen for perfect reading anywhere, anytime- I love how even the backlighting is.  I can dim or brighten how I like or let Oasis figure out the best lighting for me.
6″ glare-free – The Oasis offers the same size screen as all the other Kindle readers, but it's design makes it one of the smallest devices. It is 5.6″ x 4.8″ x 0.13-0.33″
Features I Love
Switching Hands- You can hold the device in one hand using your thumb to press bars navigational bars to move pages forward and back. If you are like me and lose yourself in a book you frequently lay on your side. roll over etc. What I discovered by accident is that if I flip the Oasis upside down and switch hands the screen shifts and so do the navigational bars!! See below:
In the picture above the top navigational bar located to the right of kindle screen moves the pages forward and the lower bar moves them back.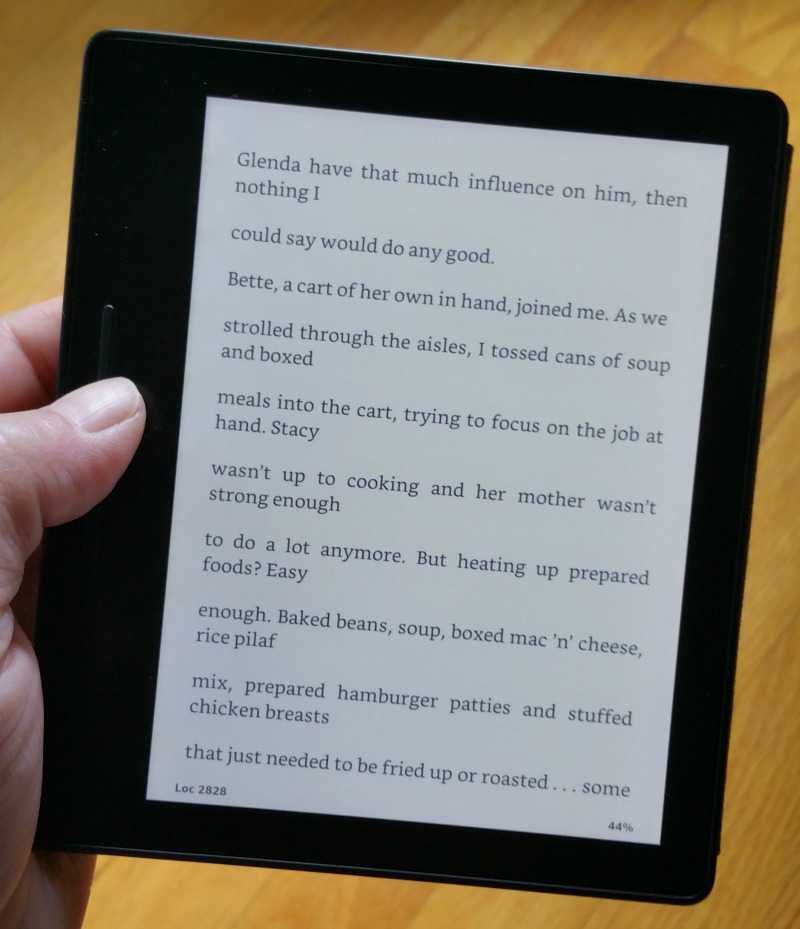 And in this photo I flipped the Oasis over and placed it in my left hand. The Oasis changes the navigational bars..and once again the top is forward and the bottom is back. How cool is that?
Kindle Page Flip- This feature allows you to search the book you are reading without losing your current page. And yes it even works on downloaded ARCS. Say for example you are reading a scene with a character and cannot remember who he was related to. You simply tap top of screen and at the bottom of page a barcode type box appears. Click it and a new window appears allowing you to go forward and back within the book by using slider or directional arrows. Once done simply close and you are back to the page you are currently reading. This feature will be added to other Kindles in an update.
Overall I am pleased with my purchase. As someone who suffers from hand pain, the lightness of the Oasis makes it particularly pleasing.
This device does not have text to speech, which is fine, but I would like to be able to sync it with my audiobooks. This is not a feature, but I have read from reliable sources that the Oasis is bluetooth enabled and I am hoping they activate that feature soon. I would have liked a drawstring sack to protect the Oasis and the cover when traveling.
If you are serious about reading and like me are known for devouring a book in a single session the features of the Oasis make it a wonderful option.  Learn more here:  Kindle Oasis
Curious about the Kindle Oasis? Caffeinated shares her Thoughts On The Kindle Oasis Click To Tweet
*links within post are Affiliate links that help support Caffeinated.