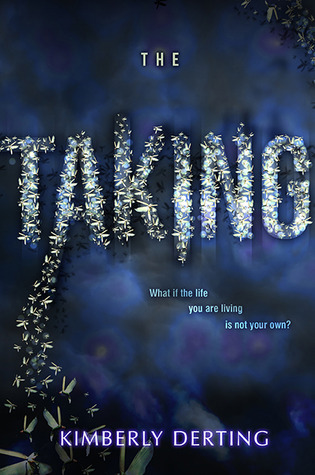 The Taking
by Kimberly Derting
Series: The Taking #1
Genres: Science Fiction
Source: Publisher
Purchase*: Amazon *affiliate
Rating:
A flash of white light . . . and then . . . nothing. When sixteen-year-old Kyra Agnew wakes up behind a Dumpster at the Gas 'n' Sip, she has no memory of how she got there. With a terrible headache and a major case of déjà vu, she heads home only to discover that five years have passed . . . yet she hasn't aged a day. Everything else about Kyra's old life is different. Her parents are divorced, her boyfriend, Austin, is in college and dating her best friend, and her dad has changed from an uptight neat-freak to a drunken conspiracy theorist who blames her five-year disappearance on little green men. Confused and lost, Kyra isn't sure how to move forward unless she uncovers the truth. With Austin gone, she turns to Tyler, Austin's annoying kid brother, who is now seventeen and who she has a sudden undeniable attraction to. As Tyler and Kyra retrace her steps from the fateful night of her disappearance, they discover strange phenomena that no one can explain, and they begin to wonder if Kyra's father is not as crazy as he seems. There are others like her who have been taken . . . and returned. Kyra races to find an explanation and reclaim the life she once had, but what if the life she wants back is not her own?
I was excited by the premise for The Taking the first book in a new trilogy by Kimberly Derting. I am a science fiction geek at heart and love the concept of aliens. The Taking ended up being a book that left me feeling conflicted. It was an easy read and aspects delighted me but an equal number had me rolling my eyes and skimming.
The Taking reminded me a little of the 4400. A science fiction made for tv series featuring people who were abducted and then returned; sometimes year later. The protagonist Kyra Agnew disappears in a blinding flash of light only to wake up behind a dumpster. Five years have past and she hasn't aged. The plot is filled with question, men in black, fascinating information about Kyra and, a strange man with answers. I found this mystery compelling. Derting slowly delivered details as Kyra learned them notching up the suspense. I have so many questions. Where did they go? Why were they returned? What the heck is with the fireflies? What are the motives behind some of the characters? Yep, this part of the book had me hooked.
My issues and struggle with The Taking lies with its  characters. They annoyed me, felt flat and honestly I didn't care about any of them. All of the characters felt two-dimensional. Their reactions to events did not ring true. Derting added a romance that had me rolling my eyes and shaking my head. It was complete insta-love. Sadly, I never believed it. Sure, there were cute moments but it also felt a little creepy. Kyra's inner turmoil and the author's attempts to validate their connection only made things worse. The characters kept me from completely slipping into the book and at times I just had to set it down. Kyra's mom was a strange bird, and I just couldn't understand her reactions. She seemed cold. Her Dad was an interesting character but we had very little interaction. Sadly I might have been behind the romance if it didn't feel weird and rushed.
The ending of The Taking was suspenseful and set things up for the next book. While the science fiction freak in me is curious and wants answers, the rest of me isn't sure I want to deal with these characters again.
Stay Caffeinated!
Never miss a post by adding Caffeinated to your Inbox
Your email is not shared and you can unsubscribe at any time.
Related Posts