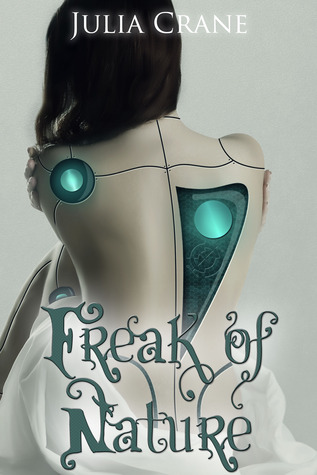 Freak of Nature
by Julia Crane
Series: IFICS #1
Genres: Romance, Science Fiction
Source: Publisher
Purchase*: Amazon *affiliate
Rating:
Donate Body to Science. Check. When seventeen-year-old Kaitlyn checked the box, she never suspected she'd have her life–and her body–stolen from her. She awakens one day in a secret laboratory to discover that her body is now half-robot and is forced to hide her own secret: that she still has human emotions and a human mind. If the scientists who made her find out, they'll erase what remains of who she was. Kaitlyn finds an unlikely ally in Lucas, a handsome, brilliant scientist who can't get over the guilt he feels knowing she was once a vibrant, beautiful young woman. He never expected a science project to affect him the way she does. As he tries to help her rediscover her past, he finds himself falling for the brave girl struggling to find her place and acceptance between the human and computer worlds
Freak of Nature by Julia Crane drew me in with its gorgeous cover and gripping synopsis. The idea of cyborgs and robotic limb replacement fascinates me. As the first book in the IFICS series, Freak of Nature, offered an engaging beginning but left me wishing for more depth. Mini review: a light science fiction read wrapped in a good romance.
Seventeen year old, Kaitlyn checked the box on her driver's license donating her body to science in the event of her death. She awakens to find herself changed into a human cyborg and spends her days in a sterile clinic undergoing testing and training under the care of Dr. Matthew Harrington, Professor Adams and boy genius Lucas Andrews. They treat her like a machine, believing they have erased her memories and cut off human emotion…but they are wrong. Kaitlyn confides in Lucas and together they must find a solution before she is sold as a military weapon. The tale that unfolds is a fast paced, entertaining read.
Told in alternating POV's we get inside the heads of Kaitlyn and Lucas. Kaitlyn is strong, accurate and unstoppable as a cyborg. The perfect weapon, but unbeknownst to her creators she experiences emotions, dreams and is physically attracted to Lucas. I adored Kaitlin, who comes off as naïve since her previous memories, have been cut off. She struggles with clichés and slang but is clever enough to realize she needs to keep this part of herself a secret. She handles her circumstances logically, and without complaining which was refreshing. Lucas is a very young, totally cute geek and he struggles with his attraction to Kaitlyn. He is having doubts about the ethical aspects of the project and suspects Kaitlyn is holding back. The romance was sweet, and while they have known each other since the project began, it does go from zero to sixty after the first kiss. Quess is perhaps my favorite character. She is the fourteen year old granddaughter of the professor. Witty, smart, and perhaps a rule breaker she speaks her mind. The professor and Dr. added mild suspense and added to the tale.
Freak of Nature and the IFICS is such an interesting concept, and while this is light on science fiction jargon Crane intrigued me with Kaitlyn and her skill set. I enjoyed getting both Lucas and Kaitlyn's perspectives as we gained insight into their emotions. The romance is sweet, and Lucas takes risks to protect her. Despite developing fast, the romance was sweet, and I certainly rooted for them. The tale is surprisingly low on angst and conflict especially considering all that happens. Crane's writing just flows from the pages, and she kept me engaged from the very first page. A new character is introduced towards the end and is shrouded in mystery that can be perceived as a threat. After a lackluster resolution, this event has me excited to continue. It is my hope we will see more depth to in this promising series.
A solid start to a new series, Freak of Nature offers a light science fiction romance with the promise of exciting to come. Fractured Innocence the next book in the IFICS series has Fractured Innocence has released.
Related Posts