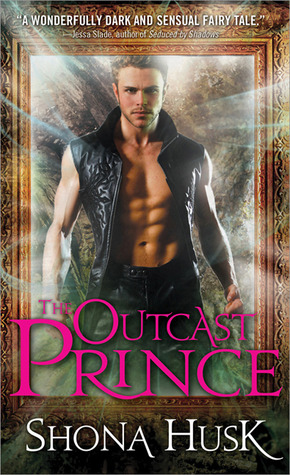 The Outcast Prince
by Shona Husk
Series: Courts of Annwyn #1
Genres: Paranormal Romance
Source: Publisher
Purchase*: Amazon *affiliate
Rating:
Caspian Mort can feel the history in anything he touches, a gift he inherited from his father, the Crown Prince of Annwyn. Devastated over his ex-wife's infidelity, Caspian has withdrawn from human contact except when working as an antique dealer.  While assessing the contents of the historic Callaway House he encounters the beautiful Lydia Callaway and senses that her home is haunted by a banished fairy. But what does the dangerous exile want? Unbeknownst to Lydia, she's the owner of the last remaining portal to Annwyn—a mirror hidden somewhere in the house. To keep Lydia safe, Caspian will have to divulge the secrets of his heritage, and risk losing his heart again

I was immediately drawn to the synopsis of The Outcast Prince from Caspian Mort's ability to the historical Callaway House and was eager to dive in. Husk offers up an interesting tale mixed with fantasy, mystery, and romance. I found this to be an entertaining start to the Court of Annwyn series. Three-word review: suspenseful, intriguing and enjoyable.
The tale begins when we meet Caspian Mort a changling (in this book the term means half fairy) who is able to glimpse the past when he touches items. This skill is an asset in his career as an antique dealer. It also has its downside like causing him to discover his wife's infidelity. As the human son of the Crown Prince of Annwyn, he is bound by fairy rules and has managed to do so. When he accepts a job assessing the contents of the Calloway House the tale that unfolds brings danger that could cost his soul and a woman who could cost him his heart.
Caspian is such an interesting character. All of his life he has hidden his abilities from the human world and ignored the fairies, brownies and other supernatural Fae. He has been deeply hurt by his ex and this adds a little vulnerability to his character. He is bright, swoon-worthy with green eyes quite capable of melting your spine. Lydia Callaway is sentimental and struggling with the loss of her grandma and the real possibility she may lose her ancestral home. The faeries and supernatural creatures in this tale are dark and it added suspense.  The attraction and slow building romance were sweet and I found myself believing in them.
Husk delivered interesting worlds both in the present and the kingdom of Annwyn. Faeries have always been one of the darkest supernatural creatures I have encountered and I loved that she kept their darker elements. The hierarchy and rules for faeries were fascinating and while not entirely new she did add a few twists to make them her own. I really liked the Callaway house, its history, and artifacts. The search for the mirror added suspense as did Lydia's involvement. While things are not completely fleshed out I felt it was a solid beginning and I am eager to learn more. It appears each book will contain a fairy and their complete story along with an overall ARC regarding Annwyn and the series. The romance developed fairly quickly out of attraction but slowly developed into something more which made it feel genuine. We get some hot scenes with just enough detail to heat the pages but were tastefully done. The flow was fairly smooth, with twists and turns that kept me captivated and I consumed this in two sittings. Overall I feel it was a solid start and look forward to more.
Fans of fantasy and paranormal romance will enjoy The Outcast Prince. Lord of the Hunt and To Love A King is expected to publish in 2014. This is a clever tale on faeries for adults to enjoy with a side dish of romance
Stay Caffeinated!
Never miss a post by adding Caffeinated to your Inbox
Your email is not shared and you can unsubscribe at any time.
Related Posts