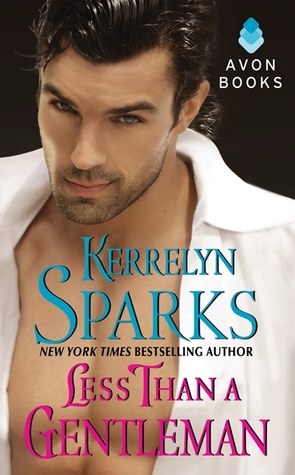 Less Than A Gentleman
by Kerrelyn Sparks
Genres: Historical Romance
Source: Publisher
Purchase*: Amazon *affiliate
Rating:
In this never-before-published historical romance, New York Times bestselling author Kerrelyn Sparks returns to the 18th century, where the fight for freedom is as dangerous as the fight for love. Between searching for the missing Munro sisters and South Carolina being all but lost to the British, Captain Matthais Thomas has more important things to worry about than finding a bride. But his mother has other ideas. When Matthais finds a beautiful woman in his bed who claims to be his betrothed, he is suspicious of her identity…and determined to discover the truth. Caroline Munro had few options. The British burned down her home, and now, traveling with her very pregnant sister, Caroline is pretending to be someone she's not so they can have a safe place to rest. But she didn't count on a matchmaking matron or her rogue of a son…and certainly never dreamed she would fall in love with a spy.
I was delighted when Less Than A Gentleman was among the books gifted to me from Avon books when I became an Avon Addict. Have I ever shared my affection for men with facial scruff? Hmm, let's see, one need only look at my Pinterest boards to discover three of my favorites; Jensen Ackles, Ian Somerhalder, and Joseph Morgan. *fans self* How did I get on this subject? Oh yes, the cover of Less Than A Gentleman immediately caught my eye and yum!  I didn't know what it was about but oh dang I wanted to find out. Thankfully Kerrelyn Sparks delivered on more than just eye candy and what I discovered was a suspenseful historical romance that had me turning the pages. Three-word review: suspenseful, romantic and riveting.
The tale is set during the American revolutionary war in the south. Caroline Munroe is in a pickle. Her homestead has been burned to the ground and she is traveling with her very pregnant sister and her two children. She is hoping to reach her father who is serving in the war against Britain but when they approach a southern plantation and the lady of the house assumes Caroline is her son's intended bride Caroline lies to protect her family.  Recently escaped from a Red Coat prison, Captain Matthais Thomas is charged with the task of cutting off the British supplies routes and finding Major Munroe's daughters. When he stops by his home and discovers a woman in his bed masquerading as another he lies and claims he is a servant. The tale that unfolds is suspenseful, romantic and had me completely enthralled.
I love feisty, strong and opinionated heroines and Caroline fit the bill. A Major's daughter she is strong, capable and fearless. She is also naïve, sweet and made me giggle. Captain Matthias Thomas is a fearless soldier who is loyal to his men and haunted by the past. He is brave, smexy and complicated so naturally, I fell for him. Getting to know him, his mother and the slaves on the plantation was interesting. The interaction between Caroline and Matthias from the onset was hilarious, filled with sexual tension and a joy to watch unfold. The fact that he keeps his true identity from her added to the tale and the two worked side by side against the Brits.  Jacob, a slave was fascinating and his storyline was very interesting. I would like to know more. Everyone from the children to the British soldiers added and enhanced this suspenseful tale.
We've seen this troupe before or similar ones regarding meddling mothers and their sons. He says no, she says yes and then he ends up falling for the girl his mother picked despite his protests. What Sparks did was delightful; she wrapped this troupe in suspense with spies and danger. She added in humor, social issues of the period, and a haunting past. She then stirred in a romance with two of the most likable characters. The result was a tale that kept me turning the pages, fearful of discovery and hoping we'd get out happily-ever-after. I would be perfectly content reading a series about this man, woman, and their families. The romance felt genuine and built slowly. What I would have liked was a little more heat but the banter and innuendos had me laughing and rooting for them. The ending gave closure but also left things a little open-ended. I would love to see more books develop.
Fans of strong characters, spies, suspense, and romance will love Less Than A Gentleman. This was a wonderful tale set in one of the most fascinating and dark periods in American history. There is a book that precedes this one called The Forbidden Lady and it tells the story of Quincy Stanton. (each work as standalone)
Related Posts