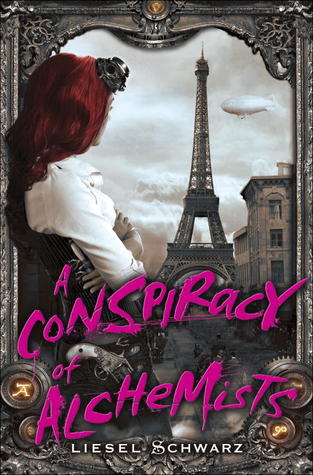 A Conspiracy of Alchemists
by Liesel Schwarz
Series: The Chronicles of Light and Shadow #1
Publisher: Random House
Publication date: March 5, 2013
Genre: Steampunk
Purchase* Barnes and Noble/Amazon/Book Depository
Source: Publisher


LEAVE IT TO CHANCE. Eleanor "Elle" Chance, that is—a high-flying dirigible pilot with a taste for adventure and the heroine of this edgy new series that transforms elements of urban fantasy, steampunk, and paranormal romance into pure storytelling gold. It is 1903, and the world is divided between light and shadow. On the side of light is a wondrous science that has transformed everyday life by harnessing magical energies to ingenious new technologies. But each advance of science has come at the expense of shadow—the traditional realm of the supernatural. Now two ancient powers are preparing to strike back. Blood-sucking immortal Nightwalkers and their spellcasting Alchemist allies have a plan to cover the whole world in shadow. All they require is the sacrifice of a certain young woman whose past conceals a dangerous secret. But when they come after Elle, they get more than they bargained for. This enterprising young woman, the daughter of a scientific genius, has reserves of bravery and determination that even she scarcely suspects. Now she is about to meet her match in more ways than one: a handsome yet infuriating Warlock named Hugh Marsh, whose agenda is as suspect as his charms are annoyingly irresistible.
I get a little nervous when someone says a book offers a blend of genres as nine times out of ten one of those genres suffer and usually it's the one I bought the book for. So it was with trepidation that I began reading A Conspiracy of Alchemists by Liesel Schwarz. My fears were quickly put to rest as I slipped into this delightful steampunk fantasy wrapped in paranormal and historical elements. I found I could not put this action packed tale down and quickly consumed it.
The tale takes place in 1903 where science and magic are split. On one side is the shadow or the realm of supernatural and on the other is light where science creates new technologies and wonderful gadgets. This balance has been kept in check but as man creates more technology the power of the shadow realm begins to fade and a plot is devised to take over the world from the light once and for all. With the help of Nightwalkers and spell-casting alchemists they plan to perform a ritual using a special woman as the conduit to harness the power. Aren't you already drooling..I was. We meet our protagonist Ella, the daughter of a scientist, an ace mechanic and a pilot. She is hired to transport a package from Paris to London and the tale that unfolds is action packed and magical with a hint of romance as Ella finds herself at the center of a war. Determined to fight back she teams with Hugh Marsh, a Warlock who both captivates and annoys her. I found myself complete spellbound as we traveled across Europe by air and the Oriental Express.
Eleanor "Elle" Chance is absolutely delightful and refreshing. She is certainly not, molded after the women of 1900's and in fact her Aunt's attempt to have a season for her was an absolute disaster. She lives with her inventor father and after the death of her mother he dotes on her. He has tried to get her to conform, but as most daughters are capable of she slowly chips away at his resolve and gets her way. This includes attending the flying academy, wearing pants and traveling the world. She is a better shot then most men and has a specially made corset that she wears on the outside of her clothes, complete with gun harness. She loves logic and as she discovers more about herself and her mother she struggles to accept things. I loved this vulnerable side of her. She is brilliant and kick-ass and oh so much more. Meaning she needs a man who is her equal in all things and who can handle a strong-minded, fearless woman and that my friend is the deliciously handsome warlock, Hughes Marsh. As a member of the Order he has obligations and duties but soon finds his priorities have changes. Elle captivates him on many levels and he struggles with who she is to the order and who she is to him as a man. We meet characters from both the light and the shadow and they added to the tale.
The world building in this urban fantasy was refreshingly delightful. I am a huge fan of steampunk and so appreciated the author's inclusion of these elements from gadgets to setting. She then mixes in magic, myth, and the supernatural to create a battle of shadow and light. I loved where Elle's role will be in all of this and look forward to seeing her grow and mature. The romance was sweet, but clearly played second to the epic plot with its twists and turns. We get a beautiful history of the how and why of the shadow and the light setting us up for the rest of the series. This was a strong tale and would work as a standalone as well. I absolutely loved the journey the characters went on from England to Constantinople and did not want it to end. Was I surprised by the overall plot and turn of events; no but the delivery and genre elements made this original and I look forward to continuing this series.
Not all authors can blend genres and create a successful, believable work, I think Schwarz succeeded and fans of urban fantasy, steampunk and the supernatural should add A Conspiracy of Alchemists to their reading list. A Clockwork Heartthe next book in the Chronicles of Light and Shadow has a release date of August of 2013. I look forward to devouring it.
Four cups of Vienna coffee out of five
Copyright (c) 2011-2013 Caffeinated Book Reviewer
Related Posts