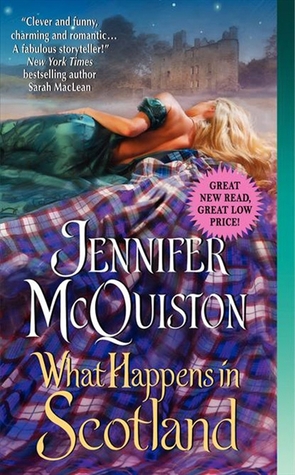 What Happen in Scotland
by Jennifer McQuiston
Genres: Historical Romance
Source: Publisher
Purchase*: Amazon *affiliate
Rating:
Lady Georgette Thorold has always been wary of marriage, so when she wakes up next to an attractive Scotsman with a wedding ring on her finger, it's easy to understand why she panics and flees. Convinced that Georgette is a thief, her may-be husband, James McKenzie, searches for her. As both try to recall what happened that fateful night, they begin to realize that their attraction and desire for each other is undeniable. But is it enough? Fans of Sarah MacLean and Mary Balogh will enjoy this utterly charming historical romance from award-winning author Jennifer McQuiston that features unforgettable characters and a satisfying mix of adventure and passion.
What Happens in Scotland, Jennifer McQuiston's debut historical romance was a delightfully funny tale. I began this late at night with the intention of reading just a few chapters and found myself reading the last page at 2:20 in the morning. From an unexpected wedding to a devious plotter this tale kept me turning the pages to find my happily-ever-after.
The widowed Lady Georgette Thorold has just come out of mourning and is delighted when her cousin invited her to Scotland. She looks at it as an adventure and a chance to enjoy her new found freedom. Marriage was not at all agree with her and she has no intention of doing so again. When she wakes up in a strange room reeking of brandy only to find a strange man in her bed and feathers; well she is a little shocked. She cannot remember what happened the night before and she loathes brandy. When she discovers the ring on her finger she panics and runs. The tale that unfolds is silly, suspenseful and romantic as Georgette and James McKenzie piece together the events of the night before and discover something more.
Georgette was funny, prim and proper except for maybe last night. I loved her reactions to the events that occurred and her assumptions at things that did not. James McKenzie is at times hot-headed but he has a heart that is three sizes too big and it often gets him in trouble. Estranged from his father the Earl he is determined to make it on his own as a lawyer and he may just have Georgette arrested. I loved the banter between these two and while the events all occurred within a twenty-four hour period their feelings felt genuine.
The first half of the tale was spent uncovering the truths of the night before and fans of romance might find themselves wanting more scenes between James and Georgette but it moved at a fast pace and I found it entertaining.
The second half of the book deals with the discoveries they made and has some twists and turns that kept me reading into the wee hours.
Related Posts