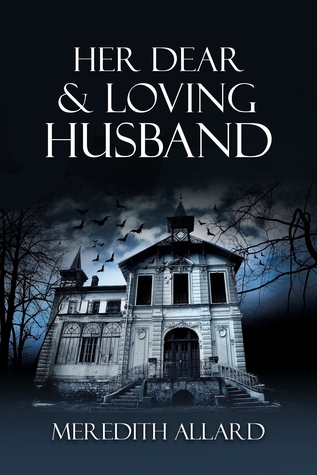 Her Dear and Loving Husband
by Meredith Allard
Genres: Paranormal
Source: Purchase
Rating:
James Wentworth has a secret. He lives quietly in Salem, Massachusetts, making few ties anywhere. One night his private world is turned upside down when he meets Sarah Alexander, a dead ringer for his wife, Elizabeth. Though it has been years since Elizabeth's death, James cannot move on. Sarah also has a secret. She is haunted by nightmares about the Salem Witch Trials, and every night she is awakened by visions of hangings, being arrested, and dying in jail. Despite the obstacles of their secrets, James and Sarah fall in love. As James comes to terms with his feelings for Sarah, he must dodge accusations from a reporter desperate to prove that James is not who, or what, he seems to be. With the help of their friends, witches Jennifer and Olivia, James and Sarah piece their stories together and discover a mystery that may bind them in ways they never imagined. Will James make the ultimate sacrifice to protect Sarah and prevent a new hunt from bringing hysteria to Salem again?
Her Dear and Loving Husband by Meredith Allard is the first novel in, the Loving Husband Trilogy. Set in the town of Salem, Massachusetts, which has cashed in on the witch craze with a Wiccan on every corner and a witch logo on the side of its police car. Here in this picturesque landscape bustling with tourist, there is a world of witches, vampires and were. This contemporary romance was a quick, easy, enjoyable read.
Sarah Alexander has recently relocated to Salem from the West Coast, after her marriage of ten years ended. She works as a librarian at the local college and is being haunted by dreams. She dreams of a faceless man, a house, and the Salem Witch Trials. One night she is drawn to an old home in town and finds herself entering the gate, touching the tree and creeping up on the porch to peer in the windows. The front door opens, and the porch light temporality blinds her, but the man who steps out looks eerily like the man in her dreams. At work, she discovers that he is James Wentworth, an English professor at the campus. The tale that unfolds has Sarah discovering that witches, vampires, and weres are real and that her dreams are somehow tied to James. The romance is clean and sweet, as James struggles with his late wife's memories and his emerging feelings for Sarah. Someone threatens to expose the unusual residents of Salem, and James may need to sacrifice himself to protect the others.
Overall I enjoyed Her Dear and Loving Husband and uncovering what links James and Sarah. While the author's tale was predictable, her writing was tight, well-paced and the historical aspect kept me engaged. I recommend this to fans of historical fiction and contemporary romance with a paranormal twist. The second book entitled Her Loving Husband's Curse will be published this year. Her Dear and Loving Husband is available in paper and eBook formats.
Related Posts