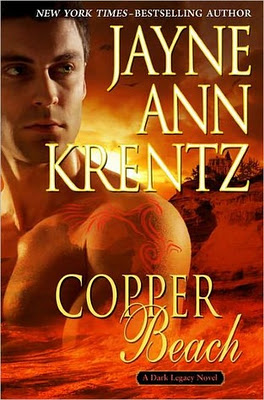 Copper Beach
by Jayne Ann Krentz
Series: Dark Legacy #1
Genres: Paranormal Romance
Source: Purchase
Rating:
A rare book. An ancient code. An all-new novel from the New York Times-bestselling master of passion and the paranormal. Within the pages of very rare books some centuries old lie the secrets of the paranormal. Abby Radwell's unusual psychic talent has made her an expert in such volumes-and sometimes taken her into dangerous territory. After a deadly incident in the private library of an obsessive collector, Abby receives a blackmail threat, and rumors swirl that an old alchemical text known as The Key has reappeared on the black market. Convinced that she needs an investigator who can also play bodyguard, she hires Sam Coppersmith, a specialist in paranormal crystals and amber-"hot rocks." Passion flares immediately between them, but neither entirely trusts the other. When it comes to dealing with a killer who has paranormal abilities, and a blackmailer who will stop at nothing to obtain an ancient alchemical code, no one is safe.
If you have been following my blog you know that Jayne Anne Krentz, aka, Amanda Quick, aka, Jayne Castle writes one of my favorite series the Arcane Society. Cooper Beach is a spin-off series that introduces a new family; the Coppersmiths. This is a contemporary paranormal romance filled with mystery and suspense. This is book one of the Dark Legacy series (or trilogy), I devoured it in one evening and loved it.
The heroine is Abby Radwell. She uses her psychic talent to unlock rare books locked by a paranormal talent. When she is attacked in the home of a collector, she uses her ability to disabled the armed man. Shortly after, she begins receiving blackmail threats. Concerned about her troubled past, and protecting her secret, she hires Sam Coopersmith. Sam believes that someone wants Abby for her special skills. An old alchemical text is rumored to have surfaced known as The Key. He believes they want Ruby to unlock the secrets of this dangerous book. The book is linked to the Coppersmith family and they believed it had been destroyed. Determined to keep the book out of dangerous hands, Sam agrees to protect Abby and find the book. What he finds with Abby is a whole lot more than he bargained for.
This novel was fast paced and the paranormal woo-woo was fascinating. Krentz spins a mystery chocked full of suspense, and danger that completely captured my attention. She has this incredible gift for weaving wonderful characters, paranormal elements and mystery into an intoxicating blend that I cannot seem to get enough of. The Coppersmith's are an exciting family, who made their fortune in special minerals. Forty-years ago, one of the mines revealed a cave of unusual crystals that had paranormal elements. When they realized the crystals could be dangerous, they sealed the cave, but not before they were all exposed. As a result, Sam and his siblings all are high-level talents and I am looking forward to reading more of their story. The romance between Abby and Sam was intense, sweet, and spicy. Both of the main characters are loveable. Abby has had a rough upbringing and is very independent. Sam is noble and a man of his word. He holds himself accountable, even when he isn't to blame. I became completely wrapped up in the story as they worked together to keep her out of danger as they search for, The Key.
I highly recommend Copper Beach to fans of paranormal suspense and romance. I could not find any evidence to support if this was a new series or just a trilogy…It doesn't matter; I will be reading them anyway. Krentz is on my pre-order list of authors and her next novel in the Arcane Society entitled, Crystal Garden is expected to be published on May 3, 2012. Copper Beach is available in paper, audio and eBook formats.
Stay Caffeinated!
Never miss a post by adding Caffeinated to your Inbox
Your email is not shared and you can unsubscribe at any time.
Related Posts