Join me in celebrating the release of the newest standalone romance novel in the Sometimes Love Happens Collection. WHEN YOU BREAK GIRL CODE by J. L. Lora delivers a steamy romance with a side of suspense, you won't want to miss! Check out an excerpt before grabbing your copy! Be sure to enter the giveaway.
When You Break Girl Code
Amazon | B&N | Kobo | iBooks | Goodreads
She just meant to do an associate a favor. After she's blamed for murder, can she prove her innocence before she's permanently canceled?
Mila Rosario is walking on cloud nine. Thrilled with her huge promotion, the marketing genius reluctantly covers for a co-worker by distracting the woman's hot and well-heeled boyfriend. But when their instant connection turns into a sizzling night in the sheets, she's horrified to wake in her new lover's arms and discover her work friend has fallen prey to a killer.
Biting her tongue about the affair when talking to the cops, she lands on the suspect list and the perp doxxes her to social media's wrath. And as those around her start dropping dead, the curvy beauty fears even her handsome protector can't save her from a grisly end.
Can Mila outwit a murderous stalker closing in for the kill?
When You Break Girl Code is the dramatic standalone fourth book in the Sometimes Love Happens contemporary romance series. If you like characters who grow, terrifying stakes, and plenty of steam, then you'll adore J. L. Lora's explosive chemistry.
Teaser
I manage to stand as Mila reaches me.
"Hello," I say, mostly to make sure I haven't swallowed my tongue.
"Hi." She reaches me, climbs on her tiptoes, and presses her cheek to mine.
It's a cultural hello, and thank you, Aunt Leila, for teaching me about other cultures, so I don't assume she's coming on to me. Her scent invades my nostrils. It's full-bodied and decadent with touches of spice and earth. It's sexy as hell.
I step back and pull the chair out for her. "How have you been?"
She smiles, not too wide. "Happy to be out of the crazy rain outside and ready for a great evening. How about you?"
So, you're not down, depressed, and in need of friends? Got it.
"Same," I say and fish for something to talk about with her. "Are you all set for your presentation tomorrow?"
She blinks a few times. "Madison told you. Yes, I think we are almost all set. I can't wait."
"You're not nervous? It's a big presentation about your fiscal plan."
"It is, but I'm confident about this one. We've done so much work to prepare, and I think our plans can propel our marketing for our clients to a new level."
The waitress comes to take our drink orders.
I stick to my favorite, Macallan. But she surprises me.
"I'll have a Vieux Carré."
I raise an eyebrow. "That's different. I can't remember the last time someone ordered that around me."
"My uncle was a bartender. A few years ago, he moved back to New York, and he would make this drink for me. He used to tell me I needed to learn how to drink so I wouldn't get drunk on the first cocktail someone gave me."
"That's really wise. Is he still in New York?"
Her small smile is a little sad. "He died last year, but not before he shared his repertoire of drinks with my mom and me."
"I'm sorry for your loss," I say.
"Thank you. He wouldn't want us to be sad, so we'll drink to him."
"Deal. Next drink you'll order for both of us. We can try another one of his favorites."
"Yeah." She looks around. "Madison and your friend should be here soon. They'll have one, too."
Madison. Christ.
"I'm sure she'll love that." But how the hell would I know? She only drinks wine around me. Did she say friend? What friend?
"Yeah." She stares into my eyes and then looks away, tucking an errant strand of hair behind her ear.
I lose my train of thought. Is it just me? Does she feel the electricity between us, too?
"So, you're from New York?" I ask.
She fidgets with her bracelet. "Dominican from Jersey actually. My uncle lived in New York."
"Ah. I see the Latina part, but you don't look like a Jersey girl."
"What does a Jersey girl look like? And please tell me you're not basing that comment on Jersey Shore or the show with the housewives?" She leans forward and I strain to keep my eyes from drifting to her chest.
I raise a hand. "Guilty of Jersey Shore. I went to Italy one summer and caught a stomach bug. It confined me to my room for two days. It was the only thing on TV I could understand. Macaroni Rascals is what they call them there. I don't know what was worse, the pain of the stomach bug or the one from watching them."
She laughs and it's so contagious my lips follow along. She looks less lethal when she smiles, even as the top of her chest shakes.
I press my palm on the table and move closer to her. "Tell me what real Jersey girls are like."
"Confident, tough. We can get down when it counts. We don't pump our own gas, but that's because we know how to let people treat us like we deserve."
I find myself smiling harder. "Is that right? I always thought it was because of the self-service ban."
She shakes a slow and delicate finger. "Clearly, you know nothing about Jersey girls. I'll need to educate you."
God, please do.
I'm saved by the waitress, who places our drinks in front of us.
"Are you two ready to order?" She lights the candle in the middle of the table. "Also, we're about to dim the lights on the chandeliers."
Her tone is cheery, and she winks at me. She thinks we're a couple. Mila doesn't look up right away, but when our eyes lock, she's a little rattled.
I shake my head. "We are waiting for our…friend. Can you give us a few more minutes?"
The waitress looks puzzled, but nods.
"I'll text Maddie. She must still be stuck in traffic," Mila says.
"She is?"
She looks down at her phone but nods. "Yeah, she called me when I was on the way here. She said she would call you."
"She didn't." Anger flares up my chest. I pull out my phone and send her a text.
Me
Where are you? Mila and I already got our drinks and what is this about a friend? Did you tell her I was bringing someone with me?
I look up and Mila's watching me intently. She offers me a small smile. "Evening traffic in the Beltway is crazy when there's an Orioles game."
Nice try. "Is it the same when the Orioles are not in town?"
Her eyes widen a little, but she chuckles. "We had a hectic day at work. I was upside down most of the afternoon and was almost late myself."
Except you weren't. You showed up gorgeous and fresh. You turned the head of everyone you passed on the way to the table. Every man was staring at your body. Yet you're here, covering for your friend like she didn't lie to both of us.
"You're a good friend," I say.
"I'm just being honest, Alis." Her lashes drift down, and she reaches for her drink.
It's the first time she says my name, and Jesus, everyone should say it like that. Her accent flared out and colored it.
I need to get the fuck out of here because nothing good will come of this. But I can't make myself move. I lift my scotch. "Cheers."
"¡Salud! ." She clinks her glass with mine.
The shadow of the candle flickers on her chest, and there's a droplet of her drink lingering at the corner of her smile. It drives home the danger of this moment and as it turns out, it's the final drop.
"Excuse me." I open my messenger app and blow up Maddie's text messages like I never have before.
Me
I'm at the restaurant like we agreed. You're somewhere else, not answering me.
It's obvious that this is not working for either of us.
I don't know why you're trying to avoid this. It's not like you want it. At this point, honestly, neither do I.
I didn't want to do this by text but I refuse to keep this up…
I refuse.
I'll always care about you.
But I'm done. We're done.
Amazon | B&N | Kobo | iBooks | Goodreads
About the Author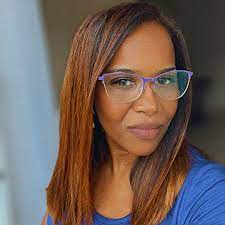 J. L. Lora is a Dominican-American author of contemporary and romantic suspense. Her stories explore the dark side of good characters—people living in the gray areas of life—playing the cards life has dealt them. Her stories manifest her love for badass alpha heroines and take-your-breath-away alpha men.
Website | Instagram | Facebook | Twitter | Newsletter
Giveaway
Join the celebration and enter to win a $25.00 Amazon eGift Card. One winner will be selected. Giveaway ends May 3, 2023. Best of luck!
a Rafflecopter giveaway

Stay Caffeinated!
Never miss a post by adding Caffeinated to your Inbox