Cover Captions is intended to be fun. It is not meant to poke fun at the author, book or designer. After I thought of this post idea, I discovered others have played. You can check out Harlequin Junkies, "Caption the Cover" feature and Smart Bitches, Trashy Books "Cover Snark"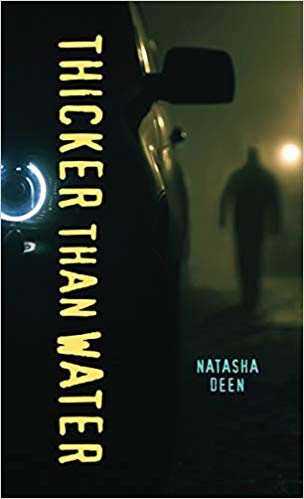 "We're all gonna die!"
I found this novel cover while scrolling NetGalley and it immediately brought to mind every horror movie I know involving a car. You know the ones I am talking about? Que the ominous music and slow moving killer, with a car full of teens screaming at the driver to start the car. The cover screams suspense and supports the blurb. I immediately thought, "We're all Gonna Die!" How would you caption this cover? Does it feel dark to you?
Thicker Than Water
by Natasha Deen
Goodreads | Amazon
Zack Bernard has a thing for crime shows, especially the forensic-investigation kind. So when his friend Ella goes missing, Zack can't help piecing together what he thinks is concrete evidence that could lead to her whereabouts. The problem is, it's all pointing toward his dad. He knows his dad is lying about not having seen Ella because Zack saw them together at the mall the day she disappeared. What he doesn't know is why. With the help of his friend Ayo, Zack tries to solve the mystery himself to avoid having to make the ter-rible choice between losing someone close to him and betraying his family.
A dark street, an approaching figure... you alone in your car. Cover Captions: Thicker Than Water. Come play...
Click To Tweet