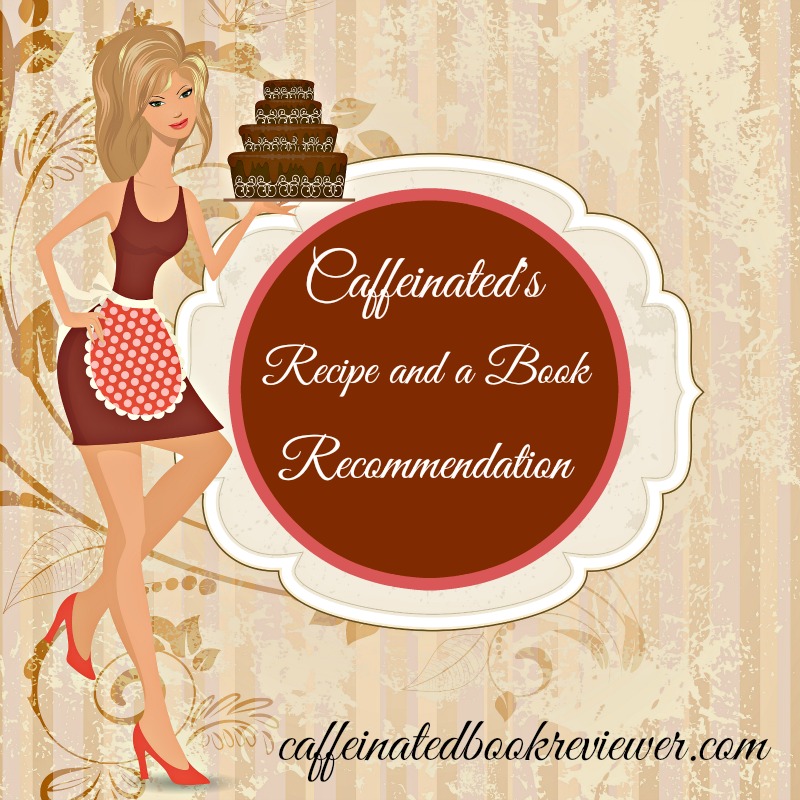 It's Recipe & A Book Recommendation and today we have a delicious summer pasta salad and Little Mercies by Heather Gudenkauf. Little Mercies released on June 24, 2014. It is a powerful, riveting read and I will share my thoughts with you in October. It reminds us to value the ones we hold dear and the importance of "family time." When my children were small we began a tradition on Friday evenings that we all have fond memories of. Today I will share ours with you, and maybe you can create nights like this with your family.
Friday Nights when the kids were small was always hectic. We were tired from the work week and our kids were excited about two days without school. My husband and I value meal time and made it a daily habit to break bread as a family. Friday nights we prepared simple meals; children's favorites and ordered pizza once or twice a month. One of my favorite summer dishes then and now is Pasta Salad. It's easy and allows me to spend more time unwinding with my family.
Recipe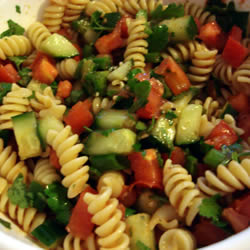 Summer Pasta Salad
This salad can be modified a hundred ways based on the season and the items readily on hand. When I prepare this as a main dish I add diced grilled chicken, summer sausage or shrimp. For vegetarians, you can add a variety of beans.I will give you the basic recipe and you can modify it to your family's tastes. When selecting the pasta I tried to use shapes such as rotelle or bow ties.
Ingredients:
1/3 cup olive oil
1/4 teaspoon salt
1/4 teaspoon ground black pepper
1-2 cloves garlic, crushed( to taste preference)
1/3 cup fresh lime juice
1 cup tomato juice
3 cups of tomato chopped
2 green peppers chopped
1-2 sliced cucumber (depends on size)
1 lb grilled chicken or cleaned/cooked mini shrimp
1 pkg. (16 oz) pasta.
Instructions: While pasta is cooking according to directions dice, clean and prepare veggies. To save time I would use  leftover chicken or buy pre-grilled chicken or shrimp. When pasta is cooked to al dente, drain and pour into a large serving bowl. Slowly mix in all other ingredients, cover and  place in the fridge to cool for two hours allowing flavors to be absorbed. This dish can be made the night before as well.
Caffeinated version of "Family Fun Night"
Friday evenings after dinner we would all gather in the family room and play board games. The kids took turns selecting the game and then afterwards we would gather around to watch a movie and nibble on popcorn. Each week there was some variation and a different child choose the movie. We even pitched a tent occasionally and read books by flashlight. It was the prefect way to end the week, and reconnect with each other.  The kids loved it since we allowed them to stay up past bedtime. We enjoyed the added benefit of them sleeping in past 7 am on Saturday morning. Without even realizing it we created some wonderful memories and taught our children the importance of family, sharing and quality time.
Book Recommendation
Little Mercies
by Heather Gudenkauf
Published June 24, 2014
Publisher: Harlequin
Genre: fiction, thriller
Purchase: Amazon


In her latest ripped-from-the-headlines tour de force, New York Times bestselling author Heather Gudenkauf shows how one small mistake can have life-altering consequences…
Veteran social worker Ellen Moore has seen the worst side of humanity—the vilest acts one person can commit against another. She is a fiercely dedicated children's advocate and a devoted mother and wife. But one blistering summer day, a simple moment of distraction will have repercussions that Ellen could never have imagined, threatening to shatter everything she holds dear, and trapping her between the gears of the system she works for. Meanwhile, ten-year-old Jenny Briard has been living with her well-meaning but irresponsible father since her mother left them, sleeping on friends' couches and moving in and out of cheap motels. When Jenny suddenly finds herself on her own, she is forced to survive with nothing but a few dollars and her street smarts. The last thing she wants is a social worker, but when Ellen's and Jenny's lives collide, little do they know just how much they can help one another. A powerful and emotionally charged tale about motherhood and justice, Little Mercies is a searing portrait of the tenuous grasp we have on the things we love the most, and of the ties that unexpectedly bring us together.
Read an excerpt: Little Mercies Chapter 1
Book Trailer
Prequel

Little Lies
Published: March 14,2014
Genre: Suspense
Purchase: Amazon  .99 cents


In this riveting prequel novella to her novel Little Mercies, New York Times bestselling author Heather Gudenkauf explores how even the smallest lies can have far-reaching consequences. When the body of a woman is discovered in a local park―with her bewildered four-year-old son sitting beside her―veteran social worker Ellen Moore is called in to assist in the police investigation. Positioned beneath a statue of Leto, the goddess of motherhood, the crime is weighted with meaning and, Ellen discovers, remarkably similar to one from a decade past. Ellen's professional duty is to protect the child, but she's not equipped to contend with a killer. As she races to connect the dots, she knows her time is running out. And the stakes are high: if she fails, another mother is sure to make the ultimate sacrifice.
This was well done and I will be sharing my thoughts in September with you.
About the Author
Heather Gudenkauf is an Edgar Award nominated, New York Times and USA Today bestselling author. Heather lives in Iowa with her husband and children. In her free time Heather enjoys spending time with her family, reading, and running. *Photo credit Morgan Hawthorne*
Website|Twitter|Facebook|Pinterest
Related Posts