While summer is in full swing, I cannot help but smile at the thought of the books and audios releasing this fall. I put together a list of my most anticipated books and audios. Grab an iced coffee or tea and check out my must haves. Then share with me what books/audios are on your must fall reading list.
On my List…
Sleeping Beauties
by Stephen King and Owen King
Simon Schuster Audio
September 26, 2017


Preorder: Amazon | Audible

In this spectacular father/son collaboration, Stephen King and Owen King tell the highest of high-stakes stories: what might happen if women disappeared from the world of men?
In a future so real and near it might be now, something happens when women go to sleep; they become shrouded in a cocoon-like gauze. If they are awakened, if the gauze wrapping their bodies is disturbed or violated, the women become feral and spectacularly violent; and while they sleep they go to another place… The men of our world are abandoned, left to their increasingly primal devices. One woman, however, the mysterious Evie, is immune to the blessing or curse of the sleeping disease. Is Evie a medical anomaly to be studied? Or is she a demon who must be slain? Set in a small Appalachian town whose primary employer is a women's prison, Sleeping Beauties is a wildly provocative, gloriously absorbing father/son collaboration between Stephen King and Owen King.
Stephen King is already and auto-buy for me, and since discovering audiobooks, it is my preferred method of devouring his works. I am very excited to see what this father and son create together. The synopsis and cover of SLEEPING BEAUTIES have me drooling!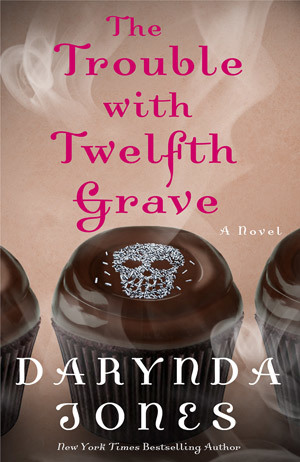 The Trouble with Twelfth Grave
by Darynda Jones
Charley Davidson #12
St. Martin's Press
October 31, 2017


Preorder: Amazon

Grim Reaper Charley Davidson is back in the twelfth installment of Darynda Jones' New York Times bestselling paranormal series.
Ever since Reyes escaped from a hell dimension in which Charley accidentally trapped him, the son of Satan has been brimstone-bent on destroying the world his heavenly Brother created. His volatile tendencies have put Charley in a bit of a pickle. But that's not the only briny vegetable on her plate. While trying to domesticate the feral being that used to be her husband, she also has to deal with her everyday life of annoying all manner of beings—some corporeal, some not so much—as she struggles to right the wrongs of society. Only this time she's not uncovering a murder. This time she's covering one up.
Add to that her new occupation of keeping a startup PI venture—the indomitable mystery-solving team of Amber Kowalski and Quentin Rutherford—out of trouble and dealing with the Vatican's inquiries into her beloved daughter, and Charley is on the brink of throwing in the towel and becoming a professional shopper. Or possibly a live mannequin. But when someone starts attacking humans who are sensitive to the supernatural world, Charley knows it's time to let loose her razor sharp claws. Then again, her number one suspect is the dark entity she's loved for centuries. So the question becomes, can she tame the unruly beast before it destroys everything she's worked so hard to protect?
The Charley Davidson series is one that I inhale and then cry when it's over. As we draw closer to the conclusion of this series, it is becoming more intense. After the jaw-dropping cliffhanger of book eleven, I need this now. I will be reading THE TROUBLE WITH TWELFTH GRAVE since I have already created the voices of Charlie and Reyes in my head. However, the audios are to die for, and I have already begun scooping them up with plans to listen after the series ends.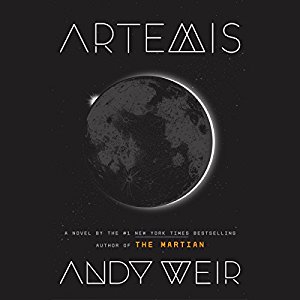 Artemis
by Andy Weir
Random House/Audible
November 14, 2017


Preorder: Amazon | Audible

The bestselling author of The Martian returns with an irresistible new near-future thriller–a heist story set on the moon.
Jazz Bashara is a criminal.
Well, sort of. Life on Artemis, the first and only city on the moon, is tough if you're not a rich tourist or an eccentric billionaire. So smuggling in the occasional harmless bit of contraband barely counts, right? Not when you've got debts to pay and your job as a porter barely covers the rent.
Everything changes when Jazz sees the chance to commit the perfect crime, with a reward too lucrative to turn down. But pulling off the impossible is just the start of her problems, as she learns that she's stepped square into a conspiracy for control of Artemis itself—and that now, her only chance at survival lies in a gambit even riskier than the first.
Hello, Andy Weir. I absolutely loved THE MARTIAN on audio, so ARTEMIS is a no-brainer. A heist set on the moon…count me in. Depending on the narrator I will probably listen to this one.

Seven Days of US
by Francesca Hornak
Penguin
October 17, 2017


Preorder: Amazon | Audible

A warm, wry, sharply observed debut novel about what happens when a family is forced to spend a week together in quarantine over the holidays…
It's Christmas, and for the first time in years the entire Birch family will be under one roof. Even Emma and Andrew's elder daughter–who is usually off saving the world–will be joining them at Weyfield Hall, their aging country estate. But Olivia, a doctor, is only coming home because she has to. Having just returned from treating an epidemic abroad, she's been told she must stay in quarantine for a week…and so too should her family.
For the next seven days, the Birches are locked down, cut off from the rest of humanity–and even decent Wi-Fi–and forced into each other's orbits. Younger, unabashedly frivolous daughter Phoebe is fixated on her upcoming wedding, while Olivia deals with the culture shock of being immersed in first-world problems.
As Andrew sequesters himself in his study writing scathing restaurant reviews and remembering his glory days as a war correspondent, Emma hides a secret that will turn the whole family upside down.
In close proximity, not much can stay hidden for long, and as revelations and long-held tensions come to light, nothing is more shocking than the unexpected guest who's about to arrive…
An aging country estate. The family all together for the holidays, no wi-fi, cut off from the world… I want to attend and observe. At the moment I plan to read SEVEN DAYS OF US, but with the right narrator, I may listen.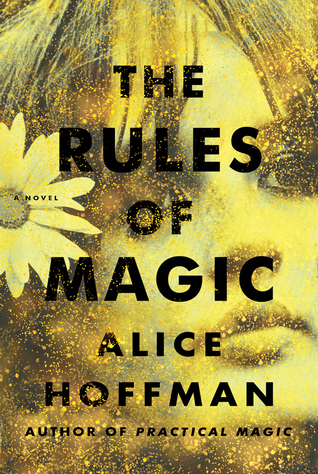 The Rules of Magic: A Novel
by Alice Hoffman
Simon and Schuster
October 10, 2017


Preorder: Amazon | Audible

From beloved author Alice Hoffman comes the spellbinding prequel to her bestseller, Practical Magic.
Find your magic.
For the Owens family, love is a curse that began in 1620, when Maria Owens was charged with witchery for loving the wrong man.
Hundreds of years later, in New York City at the cusp of the sixties, when the whole world is about to change, Susanna Owens knows that her three children are dangerously unique. Difficult Franny, with skin as pale as milk and blood red hair, shy and beautiful Jet, who can read other people's thoughts, and charismatic Vincent, who began looking for trouble on the day he could walk.
From the start Susanna sets down rules for her children: No walking in the moonlight, no red shoes, no wearing black, no cats, no crows, no candles, no books about magic. And most importantly, never, ever, fall in love. But when her children visit their Aunt Isabelle, in the small Massachusetts town where the Owens family has been blamed for everything that has ever gone wrong, they uncover family secrets and begin to understand the truth of who they are. Back in New York City each begins a risky journey as they try to escape the family curse.
The Owens children cannot escape love even if they try, just as they cannot escape the pains of the human heart. The two beautiful sisters will grow up to be the revered, and sometimes feared, aunts in Practical Magic, while Vincent, their beloved brother, will leave an unexpected legacy. Thrilling and exquisite, real and fantastical, The Rules of Magic is a story about the power of love reminding us that the only remedy for being human is to be true to yourself.
I loved PRACTICAL MAGIC by Alice Hoffman, and the movie is one I will watch again and again, so when I heard THE RULES OF MAGIC was a prequel to PRACTICAL MAGIC I knew this fall was going to be special! Excuse me while I SQUEEEEEEEEEEEE!! I picked up book one on audio for a relisten and will grab this on audio as well.
What books are you excited for this Fall?
Caffeinated's Must Have Fall Book & Audio Releases
Click To Tweet