So many good Young Adult reads for 2014. Choosing my favorites is like choosing my favorite flavor of coffee. I whittled my list, checked it twice and below are my top reads in this genre for 2014. You will notice I favor fantasy, dystopian and mystery in this particular genre. You can click on any title to read my full review. Grab a cup of peppermint coffee or tea and check out my favorites.
Caffeinated's Top Ten 2014 Young Adult Reads

Red Rising
by Pierce Brown
Series: Red Rising Trilogy #1
Publisher: Random House
on January 28, 2014
Genres: Dystopian, Science Fiction
Purchase: Amazon

The Earth is dying. Darrow is a Red, a miner in the interior of Mars. His mission is to extract enough precious elements to one day tame the surface of the planet and allow humans to live on it. The Reds are humanity's last hope.Or so it appears, until the day Darrow discovers it's all a lie. That Mars has been habitable – and inhabited – for generations, by a class of people calling themselves the Golds. A class of people who look down on Darrow and his fellows as slave labour, to be exploited and worked to death without a second thought. Until the day that Darrow, with the help of a mysterious group of rebels, disguises himself as a Gold and infiltrates their command school, intent on taking down his oppressors from the inside. But the command school is a battlefield – and Darrow isn't the only student with an agenda.
Absolutely brilliant with fantastic world-building and characters..I could not put this down! A must read for fantasy, dystopian and science fiction lovers! If I could only make you read one book in my top ten list for YA it would be this!!
Queen of Someday
by Sherry D. Ficklin
Series: Stolen Empire #1
Publisher: Clean Teen Publishing
on October 7, 2014
Genres: Historical Fiction, Romance
Purchase: Amazon

ONE GIRL WILL BRING AN EMPIRE TO ITS KNEES…Before she can become the greatest empress in history, fifteen-year-old Sophie will have to survive her social-climbing mother's quest to put her on the throne of Russia—at any cost. Imperial Court holds dangers like nothing Sophie has ever faced before. In the heart of St. Petersburg, surviving means navigating the political, romantic, and religious demands of the bitter Empress Elizabeth and her handsome, but sadistic nephew, Peter. Determined to save her impoverished family—and herself—Sophie vows to do whatever is necessary to thrive in her new surroundings. But an attempt on her life and an unexpected attraction threatens to derail her plans. Alone in a new and dangerous world, learning who to trust and who to charm may mean the difference between becoming queen and being sent home in shame to marry her lecherous uncle. With traitors and murderers lurking around every corner, her very life hangs in the balance. Betrothed to one man but falling in love with another, Sophie will need to decide how much she's willing to sacrifice in order to become the empress she is destined to be. In a battle for the soul of a nation, will love or destiny reign supreme?
I love this author, and this was a refreshing tale that held me spellbound.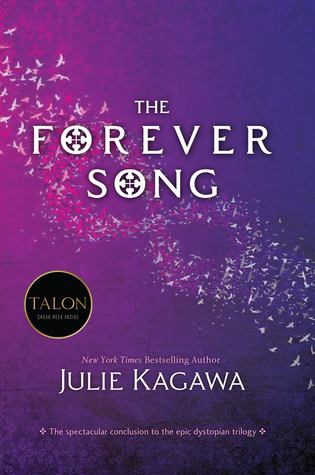 The Forever Song
by Julie Kagawa
Series: Blood of Eden #3
Also in this series: Immortal Rules, The Eternity Cure
Publisher: Harlequin
on April 15, 2014
Genres: Dystopian, Paranormal
Purchase: Amazon

VENGEANCE WILL BE HERS -Allison Sekemoto once struggled with the question: human or monster? With the death of her love, Zeke, she has her answer. MONSTER -Allie will embrace her cold vampire side to hunt down and end Sarren, the psychopathic vampire who murdered Zeke. But the trail is bloody and long, and Sarren has left many surprises for Allie and her companions—her creator, Kanin, and her blood brother, Jackal. The trail is leading straight to the one place they must protect at any cost—the last vampire-free zone on Earth, Eden. And Sarren has one final, brutal shock in store for Allie. In a ruined world where no life is sacred and former allies can turn on you in one heartbeat, Allie will face her darkest days. And if she succeeds, triumph is short-lived in the face of surviving forever alone.
Kick-ass heroine, hilarious side-kicks and all the feels..a real page turner conclusion.

Cress
by Marissa Meyer
Series: Lunar Chronicles #3
Also in this series: Cinder
Publisher: macmillian
on February 4, 2014
Genres: Fantasy, Science Fiction
Purchase: Amazon

Rapunzel's tower is a satellite. She can't let down her hair—or her guard. In this third book in the bestselling Lunar Chronicles series, Cinder and Captain Thorne are fugitives on the run, with Scarlet and Wolf in tow. Together, they're plotting to overthrow Queen Levana and her army. Their best hope lies with Cress, who has been trapped on a satellite since childhood with only her netscreens as company. All that screen time has made Cress an excellent hacker—unfortunately, she's just received orders from Levana to track down Cinder and her handsome accomplice. When a daring rescue goes awry, the group is separated. Cress finally has her freedom, but it comes at a high price. Meanwhile, Queen Levana will let nothing stop her marriage to Emperor Kai. Cress, Scarlet, and Cinder may not
I adore this series. I am a fangirl and need more!!
Ignite Me
by Tahereh Mafi
Series: Shatter Me #3
Also in this series: Shatter Me, Destroy Me, UnRavel Me, Fracture Me
Publisher: HarperCollins
on February 4, 2014
Genres: Dystopian
Purchase: Amazon

The heart-stopping conclusion to the New York Times bestselling Shatter Me series. Juliette now knows she may be the only one who can stop the Reestablishment. But to take them down, she'll need the help of the one person she never thought she could trust: Warner. And as they work together, Juliette will discover that everything she thought she knew-about Warner, her abilities, and even Adam-was wrong. In Shatter Me, Tahereh Mafi created a captivating and original story that combined the best of dystopian and paranormal and was praised by Publishers Weekly as "a gripping read from an author who's not afraid to take risks." The sequel, Unravel Me, blew readers away with heart-racing twists and turns, and New York Times bestselling author Kami Garcia said it was "dangerous, sexy, romantic, and intense." Now this final book brings the series to a shocking and climactic end.
I loved this trilogy from the beginning and adore the author's writing style. Folks are still divided regarding the love triangle. A must read.
Miss Mabel's School for Girls
by Katie Cross
Series: Network Series, #1
Genres: Fantasy, Paranormal
Purchase: Amazon

Never underestimate the power of a determined witch. Letum Wood is a forest of fog and deadfall, home to the quietly famous Miss Mabel's School for Girls, a place where young witches learn the art of magic. Sixteen-year-old Bianca Monroe has inherited a deadly curse. Determined to break free before it kills her, she enrolls in the respected school to confront the cunning witch who cast the curse: Miss Mabel. Bianca finds herself faced with dark magic she didn't expect, with lessons more dangerous than she could have ever imagined. Will Bianca have the courage to save herself from the curse, or will Miss Mabel's sinister plan be too powerful? Miss Mabel's School for Girls is the first novel in The Network Series, an exciting new fantasy collection. A gripping tale about the struggle to survive, it will take you to a new place and time, one you'll never want to leave.
A witchy tale with depth, twists and a Gothic feel.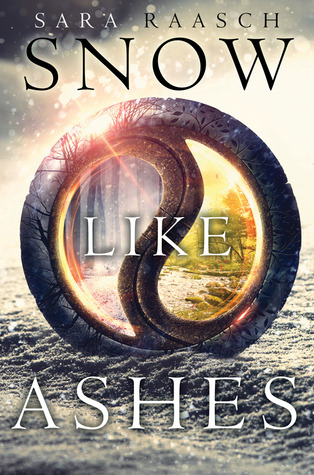 Snow Like Ashes
by Sara Raasch
Series: Snow Like Ashes, #1
Publisher: HarperCollins
on October 14, 2014
Genres: Fantasy
Purchase: Amazon

A heartbroken girl. A fierce warrior. A hero in the making. Sixteen years ago the Kingdom of Winter was conquered and its citizens enslaved, leaving them without magic or a monarch. Now, the Winterians' only hope for freedom is the eight survivors who managed to escape, and who have been waiting for the opportunity to steal back Winter's magic and rebuild the kingdom ever since. Orphaned as an infant during Winter's defeat, Meira has lived her whole life as a refugee, raised by the Winterians' general, Sir. Training to be a warrior—and desperately in love with her best friend, and future king, Mather — she would do anything to help her kingdom rise to power again. So when scouts discover the location of the ancient locket that can restore Winter's magic, Meira decides to go after it herself. Finally, she's scaling towers, fighting enemy soldiers, and serving her kingdom just as she's always dreamed she would. But the mission doesn't go as planned, and Meira soon finds herself thrust into a world of evil magic and dangerous politics – and ultimately comes to realize that her destiny is not, never has been, her own.
I loved the world, the conflict and the characters in this tale..can not wait for the next book!
Losing Logan
by Sherry D. Ficklin
Publisher: Clean Teen Publishing
on May 2, 2014
Genres: Mystery, Paranormal Romance, Suspense
Purchase: Amazon

What if the one thing you never meant to hold on to, is the one thing you can't let go of? Normally finding a hot guy in her bedroom wouldn't irritate Zoe so badly, but finding her childhood friend Logan there is a big problem. Mostly because he's dead. As the only person he can make contact with, he talks Zoe into helping him put together the pieces surrounding his mysterious death so he can move on. Thrust into his world of ultra popular rich kids, Zoe is out of her element and caught in the cross-hairs of Logan's suspicious ex-girlfriend and the friends he left behind, each of whom had a reason to want him dead. The deeper they dig to find the truth, the closer Zoe gets to a killer who would do anything to protect his secrets. And that's just the start of her problems because Zoe is falling for a dead guy.
This one grabbed me and did not let go..a little suspense, a little romance, and a clever plot.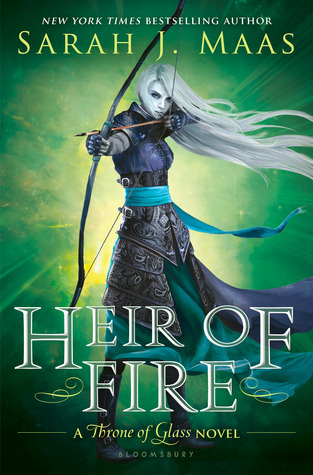 Heir of Fire
by Sarah J. Maas
Series: Throne of Glass #3
Also in this series: Throne of Glass, Crown of Midnight
Publisher: Bloomsbury
on September 2, 2014
Genres: Fantasy
Purchase: Amazon

Lost and broken, Celaena Sardothien's only thought is to avenge the savage death of her dearest friend: as the King of Adarlan's Assassin, she is bound to serve this tyrant, but he will pay for what he did. Any hope Celaena has of destroying the king lies in answers to be found in Wendlyn. Sacrificing his future, Chaol, the Captain of the King's Guard, has sent Celaena there to protect her, but her darkest demons lay in that same place. If she can overcome them, she will be Adarlan's biggest threat – and his own toughest enemy.
While Celaena learns of her true destiny, and the eyes of Erilea are on Wendlyn, a brutal and beastly force is preparing to take to the skies. Will Celaena find the strength not only to win her own battles, but to fight a war that could pit her loyalties to her own people against those she has grown to love?
High Fantasy meets young adult!  I loved the depth and world. There were new characters, beasts and the tension is building!

Rites of Passage
by Joy N. Hensley
Publisher: HarperCollins
on September 9, 2014
Genres: Realistic Fiction
Source: Publisher
Purchase: Amazon

Sam McKenna's never turned down a dare. And she's not going to start with the last one her brother gave her before he died. So Sam joins the first-ever class of girls at the prestigious Denmark Military Academy. She's expecting push-ups and long runs, rope climbing, and mud-crawling. As a military brat, she can handle an obstacle course just as well as the boys. She's even expecting the hostility she gets from some of the cadets who don't think girls belong there. What she's not expecting is her fiery attraction to her drill sergeant. But dating is strictly forbidden and Sam won't risk her future, or the dare, on something so petty…no matter how much she wants him. As Sam struggles to prove herself, she discovers that some of the boys don't just want her gone—they will stop at nothing to drive her out. When their petty threats turn to brutal hazing, bleeding into every corner of her life, she realizes they are not acting alone. A decades-old secret society is alive and active… and determined to force her out. At any cost. Now time's running short. Sam must decide who she can trust…and choosing the wrong person could have deadly consequences
Unique, brilliant and a delightful surprise…I want all of my peeps to read it!
What young adult novels stood out to you? Did any of my picks make your list?
Stay Caffeinated!
Never miss a post by adding Caffeinated to your Inbox
Your email is not shared and you can unsubscribe at any time.