While I don't read as many New Adult novels I did stumble across a few good ones this year. Grab a cup of hot cocoa and a cookie as you take a gander at my top ten New Adult reads for 2014. All titles are linked to my review. Enjoy and who knows maybe your next favorite read is listed below.
Caffeinated's Top Ten New Adult Reads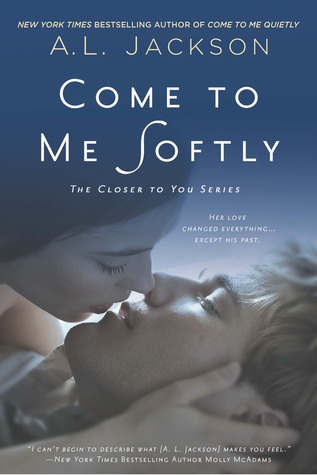 Come to Me Softly
by A.L. Jackson
Series: Closer to You #2
Publisher: Penguin
on June 24, 2014
Genres: Contemporary Romance
Purchase: Amazon

A second chance at life… A second chance at love… Jared Holt never thought he deserved either—until he found both in the arms of Aly Moore. Aly has loved Jared for as long as she can remember, and she's more than ready for the future they're making together. But Jared can't help remembering his own family. And he'll never forgive himself for what happened to them. How can he allow himself the very happiness he once destroyed? To live a life worthy of Aly, Jared knows he has to stop running and finally put his past to rest. But when he decides to face his demons head on, he encounters more than he bargained for: a dangerous mix of jealousy, lies, and dishonest intentions. When those intentions threaten Aly, Jared loses all control, giving into the rage that earned him his bad boy reputation years before. And he'll fight to protect her no matter what it costs…even if he destroys himself in the process
A love story with all the feels and characters you cannot help but root for 🙂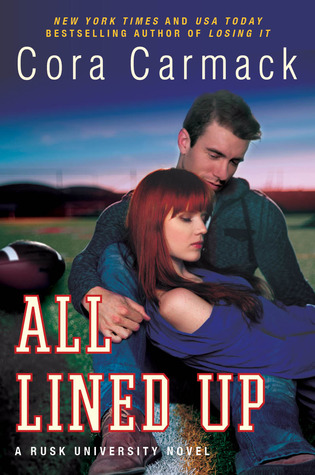 All Lined Up
by Cora Carmack
Series: Rusk University #1
Publisher: HarperCollins
on May 13, 2014
Genres: Contemporary Romance
Source: Publisher
Purchase: Amazon

In Texas, two things are cherished above all else—football and gossip. My life has always been ruled by both. Dallas Cole loathes football. That's what happens when you spend your whole childhood coming in second to a sport. College is her time to step out of the bleachers, and put the playing field (and the players) in her past. But life doesn't always go as planned. As if going to the same college as her football star ex wasn't bad enough, her father, a Texas high school coaching phenom, has decided to make the jump to college ball… as the new head coach at Rusk University. Dallas finds herself in the shadows of her father and football all over again. Carson McClain is determined to go from second-string quarterback to the starting line-up. He needs the scholarship and the future that football provides. But when a beautiful redhead literally falls into his life, his focus is more than tested. It's obliterated. Dallas doesn't know Carson is on the team. Carson doesn't know that Dallas is his new coach's daughter. And neither of them know how to walk away from the attraction they feel.
Life lessons, a little romance and football. It's Cora and she always gives readers a worthy read.
Five Ways to Fall
by K.A. Tucker
Series: Ten Tiny Breaths #4
Publisher: Simon and Schuster
on June 24, 2014
Genres: Contemporary Romance
Purchase: Amazon

Purple-haired, sharp-tongued Reese MacKay knows all about making the wrong choice; she's made plenty of them in her twenty-odd-years. So when her impulsive, short-lived marriage ends in heartbreak, she decides it's time for a change. She moves to Miami with the intention of hitting reset on her irresponsible life, and she does quite well…aside from an epically humiliating one-night stand in Cancun with a hot blond bouncer named Ben. Thank God she can get on a plane and leave that mistake behind her. Football scholarship and frat parties with hot chicks? Part of charmer Ben Morris's plan. Blown knee that kills any hope of a professional football career? So not part of the plan. Luckily Ben has brains to go with his knockout looks and magnetism. After three long years of balancing law school with his job as a bouncer at Penny's Palace, he's ready to lead a more mature life—until his first day of work, when he finds himself in the office of that crazy, hot chick he met in Cancun. The one he hasn't stopped thinking about. If Ben truly were a smart guy, he'd stay clear of Reese. She's the boss's stepdaughter and it's been made very clear that office romances are grounds for dismissal. Plus, rumor has it she's trouble. The only problem is, he likes trouble, especially when it's so good-looking…
I loved the farm, Ben's Mom and the characters in this..Tucker delivers all of the feels.
How To Date Dead Guys
by Ann M. Noser
on July 15, 2014
Genres: Paranormal
Purchase: Amazon

Quiet college sophomore Emma Roberts remembers her mother's sage advice: "don't sleep around, don't burp in public, and don't tell anyone you see ghosts". But when cute Mike Carlson drowns in the campus river under her watch, Emma's sheltered life shatters. Blamed for Mike's death and haunted by nightmares, Emma turns to witchcraft and a mysterious Book of Shadows to bring him back. Under a Blood Moon, she lights candles, draws a pentacle on the campus bridge, and casts a spell. The invoked river rages up against her, but she escapes its fury. As she stumbles back to the dorm, a stranger drags himself from the water and follows her home. Instead of raising Mike, Emma assists the others she stole back from the dead—a pre-med student who jumped off the bridge, a young father determined to solve his own murder, and a frat boy Emma can't stand…at first. More comfortable with the dead than the living, Emma delves deeper into the seductive Book of Shadows. Her powers grow, but witchcraft may not be enough to protect her against the vengeful river and the killers that feed it their victims
I see Dead People..a little paranormal, with some zany characters this was an enjoyable read.
Ruined
by Jus Accardo
Series: The Eternal Balance #1
Publisher: Entangled
on December 30, 2013
Genres: Paranormal Romance
Purchase: Amazon

Hell is looking for a way to break loose… Jax lost the genetic lottery. Descended from Cain, the world's first murderer, he's plagued by a curse that demands violence in exchange for his happiness. He left everything behind, including the girl he loved, but thriving on the pain of others is lonely… And it's killing him. After a series of heartbreaking losses, Samantha put rubber to pavement and headed for college as fast as her clunker could carry her. But she can't outrun her problems. When an attack at school drives her back home, she's thrown into the path of a past—and a guy—she's been trying to forget. Sam strains Jax's control over his darkness, but running isn't an option this time. Someone—or, something—followed her home from school: a ruthless monster with a twisted plan centuries in the making. Forced together to survive, and fighting an attraction that could destroy them both, Jax and Sam must stop a killer bent on revenge.
My first Accardo novel and I enjoyed this paranormal tale and romance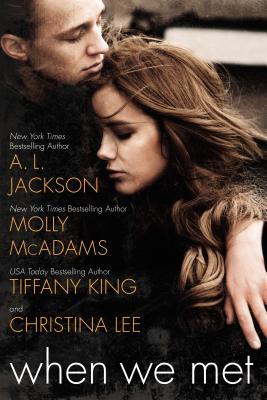 When We Met
by A.L. Jackson, Christina Lee, Molly McAdams,Tiffany King
Publisher: Penguin
on November 4, 2014
Genres: Anthologies, Contemporary Romance
Purchase: Amazon

When four girls decide to live off campus together as juniors at a college in Michigan, they expect it to be their best year yet. Little do they know, it's a year that will change the rest of their lives. BEHIND HER EYES by A.L. Jackson Unable to live down her ex-boyfriend's deception, Misha is determined to avoid betrayal. When, the new guy next door, Darryn starts to get under her skin, her defenses start to crumble. But trusting Darryn seems impossible, especially if he's not sure he can trust himself. SAVING ME by Molly McAdams On the outside, Indy is always ready for a party—but inside she's breaking. Kier makes a weekly routine of saving the girl next door from herself on Saturday nights… but when will she be ready to remember him on Sunday morning? FOULING OUT by Tiffany King Working at a sports bar, Courtney has become a pro at sidestepping propositions from arrogant jocks—which makes her a more elusive catch for campus basketball star Dalton than he expected. But when he falls for the saucy waitress, Dalton will have to rethink his game plan to prove he's not the jerk Courtney expects. BENEATH YOUR LAYERS by Christina Lee In order to ace her fashion internship, Chloe must team up with local college dropout and set builder, Blake—much to her chagrin. But after some "hands-on" experience, Chloe will have to ask herself if Blake factors into her carefully laid plans…
This anthology was different and introduced me to some new to me authors. I love the way all the stories connected to the one house.

Once Perfect
by Cecy Robson
Series: Shattered Past #1
Publisher: Penguin
on October 7, 2014
Genres: Contemporary Romance
Purchase: Amazon

His life was never easy. Hers wasn't supposed to be this hard. They come from different worlds, but fate lures them together in a way neither expected in Cecy Robson's raw, steamy New Adult debut—perfect for fans of Monica Murphy and J. Lynn. Evelyn Preston's future once looked perfect—until her wealthy father was caught in an embezzlement scandal and took his own life. Alone and struggling to pay her college tuition and bills, Evelyn finds a job as a waitress at the ultra-hip nightclub Excess, where she used to have more in common with the privileged private-school clientele than her fellow staff members. But something attracts her to the sexy six-foot-four bouncer and underground MMA fighter Mateo Tres Santos. Although they've led different lives, their troubled pasts bonds them in both survival and love. Mateo is ex-army who wound up in prison for assaulting the man who harmed his sister. Now he's feeling the same protective impulse for this petite blond waitress. When Evelyn experiences a panic attack at the club, Mateo comes to her rescue. And when Mateo is wounded shielding her from a brawl, Evelyn returns the favor and comes to his aid. As their attraction intensifies, Mateo is determined to find out what nightmares are lurking in Evelyn's past—even if that means tackling his own to save her.
While not perfect it was fun seeing Robson step into a new genre and Mateo was swoon-worthy.
Come to Me Quietly
by A.L. Jackson
Series: Closer to You #1
Publisher: Penguin
on January 7, 2014
Genres: Contemporary Romance
Purchase: Amazon

Aleena Moore is content with her life. She has goals and dreams and an easy smile. She also has a secret she holds locked inside. Jared Holt believes he doesn't deserve to love or be loved. He destroys everything he touches. Haunted by the mistake that shattered his life, he's fled from the memory of that pain. Jared doesn't know why he's compelled to return, but finds himself drawn back to the place where it all began. The exact place where it ended. When he runs into his childhood best friend, Aleena's older brother Christopher, he agrees to share Christopher and Aleena's apartment while he looks for a place of his own. Aleena is no longer the little girl Jared remembers from his past and evokes feelings in him he never wanted to feel again. Terrified of destroying her, he fights to keep her away. But her touch is something he can't resist—the touch that sealed his fate. Their pasts are intertwined and their futures uncertain. The only truths they know are the secrets they whisper in the night.
You will notice both book one and two made my list..I love Jackson's writing and fleshed out characters..must reads peeps.
Beautiful Oblivion
by Jamie McGuire
Series: Maddox Brothers #1, Beautiful #3
Publisher: Simon and Schuster
on July 1, 2014
Genres: Contemporary Romance
Purchase: Amazon

The Beautiful Disaster and Walking Disaster phenomenon continues in the first heart-pounding new adult romance in The Maddox Brothers series. Fiercely independent Camille "Cami" Camlin gladly moved on from her childhood before it was over. She has held down a job since before she could drive, and moved into her own apartment after her freshman year of college. Now tending bar at The Red Door, Cami doesn't have time for much else besides work and classes, until a trip to see her boyfriend is cancelled, leaving her with a first weekend off in almost a year. Trenton Maddox was the king of Eastern State University, dating co-eds before he even graduated high school. His friends wanted to be him, and women wanted to tame him, but after a tragic accident turned his world upside down, Trenton leaves campus to come to grips with the crushing guilt. Eighteen months later, Trenton is living at home with his widower father, and works full-time at a local tattoo parlor to help with the bills. Just when he thinks his life is returning to normal, he notices Cami sitting alone at a table at The Red. As the baby sister of four rowdy brothers, Cami believes she'll have no problem keeping her new friendship with Trenton Maddox strictly platonic. But when a Maddox boy falls in love, he loves forever—even if she is the only reason their already broken family could fall apart. In the first installment of the Maddox Brothers books, readers can experience the rush of reading Beautiful Disaster for the first time, all over again.
Err, what I can say.."it's the Maddox brothers!"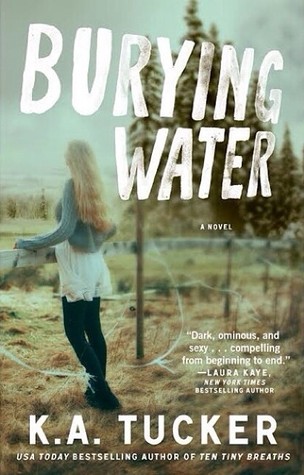 Burying Water
by K.A. Tucker
Series: Burying Water #1
Publisher: Simon and Schuster
on October 7, 2014
Genres: Contemporary Romance
Purchase: Amazon

The top-selling, beloved indie author of Ten Tiny Breaths returns with a new romance about a young woman who loses her memory—and the man who knows that the only way to protect her is to stay away. Left for dead in the fields of rural Oregon, a young woman defies all odds and survives—but she awakens with no idea who she is, or what happened to her. Refusing to answer to "Jane Doe" for another day, the woman renames herself "Water" for the tiny, hidden marking on her body—the only clue to her past. Taken in by old Ginny Fitzgerald, a crotchety but kind lady living on a nearby horse farm, Water slowly begins building a new life. But as she attempts to piece together the fleeting slivers of her memory, more questions emerge: Who is the next-door neighbor, quietly toiling under the hood of his Barracuda? Why won't Ginny let him step foot on her property? And why does Water feel she recognizes him? Twenty-four-year-old Jesse Welles doesn't know how long it will be before Water gets her memory back. For her sake, Jesse hopes the answer is never. He knows that she'll stay so much safer—and happier—that way. And that's why, as hard as it is, he needs to keep his distance. Because getting too close could flood her with realities better left buried. The trouble is, water always seems to find its way to the surface.
I love Tucker and this book, at least for me was her strongest to date. I Loved it, although in my opinion this could also be placed in the adult genre as well. It is a hybrid.
Do you have a favorite New Adult Read from 2014? Share your recommendations.
Stay Caffeinated!
Never miss a post by adding Caffeinated to your Inbox
Your email is not shared and you can unsubscribe at any time.