On April 24, 2014 I unveiled our new website design at Caffeinated Book Reviewer.  Our custom WordPress design was created by Ashley @ Creative Whim. Many of you know her for her blog site Nose Graze and her cool and totally awesome WordPress plugins and pre-made themes.  We chose a custom design as opposed to one of her pre-packaged web pages and could not be happier with the end result. Since then I received emails and comments asking me to share the story of how it all came to be. So here is my blog makeover story.
Last year we moved from Blogger to WordPress and the move came with a free Elegant Theme design, but like any pre-made template you can only enhance and tweak them so much.  From the start I had a font issue. You may or may not have noticed but my posts, sidebar, quote box and footer text all had different font styles. When I did a post it would appear in two different fonts and I had to tweak each one individually. For someone like me who is anal..it made me crazy!  So from the onset I dreamed of the design and look I wanted for Caffeinated. If I saw a blog I liked , I immediately scrolled down for the theme name or designer. I read reviews, listened to blogger's stories and imagined what I did and did not want.
The first thing I did when I moved from Blogger was buy Ashley's Ultimate Book Blogger plugin. Which I would die without, thank you very much. I had some minor issues due to my theme and Ashley was always quick to respond. She respected me, listened and when she could not help me, she tried to steer me in the right direction. Her customer service ethics had me looking at her designs and considering them.  As the weather warmed up my itch for a new design turned into a rash. Then Ashley unveiled some unique website designs. Ones that would be sold only once and they were beautiful but not quite what I wanted. From the onset I would be tweaking a design again. That is when I made the decision to approach Ashley about a custom design. This blog is my passion, my second home, and it makes me so darn happy that I decided to invest a little and achieve the look I wanted.  It was the best decision I ever made.
The process:
I went to Creative Whim and filled out Ashley's contact form and told her what I was looking for. Then I crossed my fingers she would respond. I had emailed another designer and never heard back.
Ashley contacted me withing the first 24 hours and had me clarify a few things. Then she told me the basic things a custom design would include and what additional options were available. We established what I wanted.
She then came back with a quote and time frame. Once I agreed to the terms and paid 50% up front we began the process of creating Caffeinated. You notice I said, "we" That is because over the course of the next two weeks Ashley and I exchanged 62 emails. (important! Never pay for the whole design up front. A legitimate, trust worth designer will only ask for 50% and the rest payable after design is done and installed)
The first thing she asked me to do was show her designs I liked and what colors I wanted. Boy was that hard. I showed her aspects I liked and didn't like. I had an image in my mind and broke it down for her. Gads, I even used her themes as examples.  This is important. The designer needs to know what you like and don't. If, like me you have an image in your mind..tell them. My email was long and detailed. Ashley was great, if she didn't understand or was unsure, she didn't guess. She responded back with, "when you said you liked..did you mean like this." It was refreshing and she put me at complete ease.
Above is the color inspiration I gave Ashley and below is a small part of the description  I gave her of what I envisioned
"I love the wrap around header you did for your current blog design it seems to flows into post. The bird, and little girl with butterfly have a soft look that I like. I imagine my coffee cup being round with a handle, maybe a saucer with steam swirling, maybe with froth or cream sitting atop a book or maybe pieces of chocolate around it. (IDK ) I just know I don't want it to be cold like mine. The name caffeinated book reviewer being a soft, cursive of some sort, simple and easily read. I wouldn't mind if the search button was below image since it all feels cohesive."
Then Ashley went and worked her magic. A few days later she sent me her first mock-up design. It looked like this:
Look at those social icons and the colors!! Oooh things were starting to come together! I did not like the coffee cup…although you will notice it was exactly like I described above. It just wasn't warm enough. I wanted my sidebar to be boxed.  Maybe I am ADD, but my eye gets distracted and I need things defined. So we discussed what I liked and didn't. You see those coffee beans..yeah the ones that oodles of you have told me you love. I was so not sure. Ashley came up with those..the end result..those are one of my favorite things.  When I was unsure, Ashley asked the right questions. I never felt like I was stupid or too picky. She made it very clear that we would tweak and play till I was totally in love.
Ashley went back to the drawling board, and this is what she came back with. Actually, she came back with 5-6 different mock ups of the font for the heading. But as you can see we were one step closer to the final design. Can you imagine how excited I was at this moment..seeing everything begin to come together..eep. It was at this point I shared with Christy @ Love of Books. I had to tell someone! I was so excited and dying to discuss things. We went over font, and talked about those beans..LOL
It was coming together but the sidebar and footer boxes weren't quite right. I wanted the blog to blend to feel like one page rather then a strip down the middle with a background on either side. So Ashley tweaked the colors. She used some transparent colors and blends of the shades in our palate to achieve the look you see today. She then came back with the final look.
At this point Ashley went  to work building my site and adding the code!
She sent me a ticket to sign in to a secure server where I could play with the design. It also allowed me to see it on my mobile phone and tablet. It also made me realize that  a few functions were not a part of WordPress but a part of my old theme..like an ad box in header, contact form and slider.  Ashley was able to script those in and made them a part of  my theme.  She even fixed a slight and I mean slight alignment with the footer..that of course anal me noticed..LOL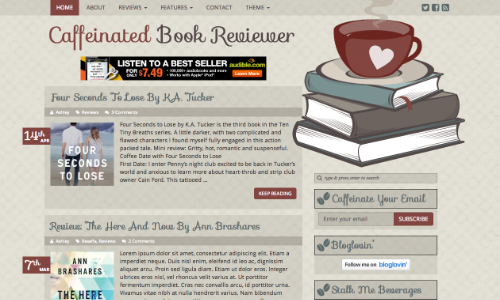 Then it was time to go live. I am not gonna lie..I had no desire to try to install it myself and had Ashley do it for me.  She had me set up in no time. Then we tweaked a few minor things like the page nav widget. It was bunched-up but Ashley had it fixed in a snap. She also did a slight modification to get the related content for UBB looking just the way I wanted. She was patient and validated my concerns. Those little minor tweaks that weren't really apart of the original design were wonderful. For example, with the new look..I hated the bloglovin' button pictured above. Ashley whipped up a simple button that matched the design.
My thoughts on the process:
The whole experience from start to finish was such a  joy.  Ashley was a complete professional and walked me though each step. She encouraged me, listened and helped bring it all together seamlessly. When choosing a designer whether its' for a new header or a  totally new website design it is so important to look for referrals. Find someone who is knowledgeable and will stand behind their product. I am not the only one who will sing Ashley's praises.  She goes above and beyond to help fellow bloggers and her customer support is unbeatable. While a custom design is not for everyone, Ashley truly offers something for every budget. She has everything from pre-made themes to complete website designs.
*In case you were wondering I wrote this post because several of you emailed or commented asking about my experience. As for my endorsement of Creative Whim and Ashley Evans..that my friends comes straight from the heart.  Thank you Ashley!
Related Posts