Today along with Random House Children's Books we are Celebrating the Civil Rights Movement! As you might already be aware, August 28th is the 50th anniversary of Martin Luther King, Jr.'s landmark "I Have a Dream" speech, a watershed moment in the struggle for civil rights. I am sharing the picture book, I HAVE A DREAM, which includes Martin Luther King, Jr.'s celebrated speech illustrated with exquisite paintings by celebrated artist and Caldecott Honor winner Kadir Nelson, which published last year. Take a moment to visit Random Houses' enhanced website for "I Have a Dream". I encourage you to Celebrate the movement and share King's speech. Below is my review of this beautiful children's book.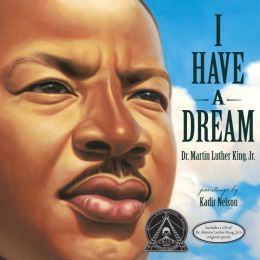 I Have A Dream
by Dr. Martin Luther King, Jr.
Illustrated by Kadir Nelson
Publisher: Random House
Publication date: October 9, 2012
Age Range: Five to Nine Yrs.
Source: publisher
Purchase: Amazon
A Coretta Scott King Illustrator Honor Book. From Dr. Martin Luther King, Jr.'s daughter, Dr. Bernice A. King: "My father's dream continues to live on from generation to generation, and this beautiful and powerful illustrated edition of his world-changing "I Have a Dream" speech brings his inspiring message of freedom, equality, and peace to the youngest among us—those who will one day carry his dream forward for everyone." On August 28, 1963, on the steps of the Lincoln Memorial during the March on Washington, Martin Luther King gave one of the most powerful and memorable speeches in our nation's history. His words, paired with Caldecott Honor winner Kadir Nelson's magnificent paintings, make for a picture book certain to be treasured by children and adults alike. The themes of equality and freedom for all are not only relevant today, 50 years later, but also provide young readers with an important introduction to our nation's past. Included with the book is an audio CD of the speech.
I have to say I was impressed by this over-sized picture book. The illustrations are absolutely wonderful and give King a warmth and portray him as strong and confident. Each page contains a few sentences of King's speech surrounded by the images and together they are powerful.
I shared I Have A Dream with a few children, ages four to nine and they enjoyed the illustrations. The book allows for conversation and the children engaged with the book, even adding comments like share with everyone, and be friends with everyone. We had quite a nice time and depending on the child's age this allows many learning moments as well as quality time together. The Cd included  provides the "I Have A Dream" speech.
Related Posts