Caffeinated is being taken over by other bloggers and today we have Carolyn @ Book Chick City. Grab a cup of joe and check out five books she wants to read this autumn. Book Chick City is an amazing blog featuring everything from romance to urban fantasy. I am loving her list.  I have read two and added the others to my wishlist. Thanks Carolyn for sharing with us today….
Guest Post
I don't know about you but my reading preferences change all the time, but more noticeably with the change of season. As Autumn settles in with shorter days and cooler nights, I want something to curl up with on the sofa while I watch the drizzly rain outside my window.
When my pretty summer dresses and refreshing homemade lemonade are a thing of the past, replaced by soft jumpers and copious cups of hot coffee, I see Autumn as the time to pick up the books I passed by during the summer months.
So here are five books that I really want to read this autumn…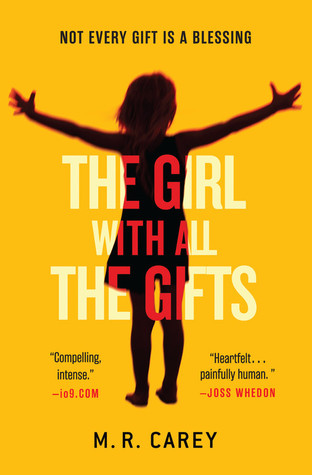 The Girl with All the Gifts by M. R. Carey

Published June 19th 2014 by Orbit


Melanie is a very special girl. Dr Caldwell calls her "our little genius." Every morning, Melanie waits in her cell to be collected for class. When they come for her, Sergeant keeps his gun pointing at her while two of his people strap her into the wheelchair. She thinks they don't like her. She jokes that she won't bite, but they don't laugh. Melanie loves school. She loves learning about spelling and sums and the world outside the classroom and the children's cells. She tells her favourite teacher all the things she'll do when she grows up. Melanie doesn't know why this makes Miss Justineau look sad.
After reading a few reviews of this one, it sounds as though it's an interesting take on the zombie genre. I love zombie fiction so I can't wait to start this one.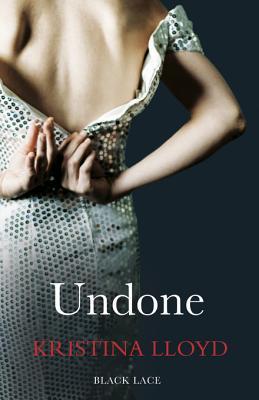 Undone by Kristina Lloyd
Expected publication: September 11th 2014 by Black Lace


I can't recall my first thought that morning: that I was in a strange bedroom; that an unfamiliar man was naked beside me; or that a woman was screaming somewhere in the distance. When Lana Greenwood attends a glamorous house party she finds herself tempted into a ménage a trois. But the morning after brings more than just regrets over fulfilling a fantasy one night stand. One of the men she's spent the night with is discovered dead in the swimming pool. Accident, suicide or murder, no one is sure and Lana doesn't know where to turn. Can she trust Sol, the other man, who is an ex-New Yorker with a dirty smile and a deep desire to continue their kinky game?
Erotic fiction is a genre I've only started exploring for about a year or so, but I'm really enjoying the journey. There are the good, the bad and the downright ugly, but I think that's the same with any genre. I read Kristina Lloyd's previous novel, Thrill Seeker, and it was an enjoyable read even if some aspects were very dark and uncomfortable to read. I'm really interested in reading her newest offering, especially now I know what I'm in for.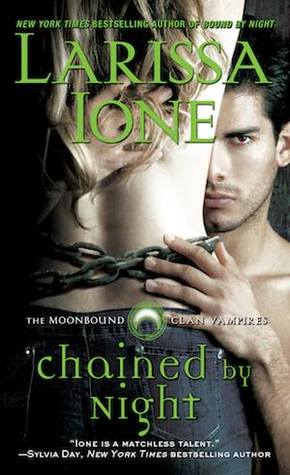 Chained by Night by Larissa Ione
Series: MoonBound Clan Vampire #2
Published September 30th 2014 by Piatkus


The future of his tribe: Leader of the vampire clan MoonBound, Hunter will do what he must to save his people from extinction-or worse, a torturous eternity as vampire slaves and subjects of human experimentation. To keep his enemies at bay, he has agreed to mate a rival clan leader's daughter in return for peace between the clans and an ally in the looming war with the humans. The lover of his soul: But survival comes at a price. First, Hunter must break an ancient curse by successfully negotiating three deadly tests. Then he must resist the searing passions of the gorgeous vampire warrior he despises but is bound to mate. Will Hunter stay true to his word? Or will he risk everything for the woman he really loves: the vampire seductress's identical twin sister?
One of my favourite genres is paranormal romance, especially so in the colder months (don't ask me why), so when I read the first book in this series, Bound by Night and loved it, as I have done with every other book I've read by this author, I wanted to read the second book in the series asap. I just really enjoy the worlds and characters the author creates, and MoonBound Clan is no different. I can't wait to sink my teeth into this one.
Gone Girl by Gillian Flynn
Published January 3rd 2013 by Phoenix (first published May 24th 2012)


These are the questions Nick Dunne finds himself asking on the morning of his fifth wedding anniversary when his wife Amy suddenly disappears. The police suspect Nick. Amy's friends reveal that she was afraid of him, that she kept secrets from him. He swears it isn't true. A police examination of his computer shows strange searches. He says they weren't made by him. And then there are the persistent calls on his mobile phone. So what did happen to Nick's beautiful wife?
I'm sure you've heard about this novel already, it's been pretty popular amongst bloggers and reviews, including my reviewer, Rebecca, who absolutely loved it, giving it a 5 star rating: Gone Girl. It sounds such an interesting read and I'm looking forward to seeing what all the fuss is about.

Cross Stitch (Outlander in US) by Diana Gabaldon
Series: Outlander #1
Published March 4th 2002 by Arrow Books (first published January 1st 1991)


In 1945, Claire Randall is back from the war and reunited with her husband on a second honeymoon in Scotland. Innocently she walks through a stone circle in the Highlands and finds herself in a violent skirmish taking place in 1743. Suddenly she is a Sassenach, an outlander, in a country torn by war and by clan feuds. A wartime nurse, Claire can deal with the bloody wounds that face her. But it is harder to deal with the knowledge that she is in Jacobite Scotland and the carnage of Culloden is looming. Marooned amid the passion and violence, the superstition , the shifting allegiances and the fervent loyalties, Claire is in danger from James Fraser, a gallant and courageous young Scots warrior. Jamie shows her a passion so fierce and a love so absolute that Claire becomes a woman torn between fidelity and desire, and between two vastly different men in two irreconcilable lives.
I've tried to read this book several times but just haven't been able to get into it for some reason. It reads quite slow and I don't think I was in the right mood for it. I'm hoping third time lucky when I pick it up this autumn as it gets such rave reviews I really feel as though I'm missing out. Have you read it? What did you think? Would you urge me to keep going?
What books will you be reading this autumn or does your reading stay the same regardless of the season?
All About Carolyn and Book Chick City
Take a moment to visit, follow and stalk Book Chick City. Caroyln is the owner and has Vicki, Bobby, Rebecca and Laura on her team. They offer diverse, honest reviews and interact with their followers. Carolyn started the blog in 2009, and hails from a little town off the Cornish Coast. She is an animal lover, hiker, biker, pastry eater and has a fluff ball named Bumble.
Blog|Twitter|
Facebook|
Instagram|
Goodreads|
Pinterest|Google+
All right peeps, please show Carolyn some "caffeinated" love and comment below. Share with her books you hope to read this autumn.
Stay Caffeinated!
Never miss a post by adding Caffeinated to your Inbox
Your email is not shared and you can unsubscribe at any time.