Narrated by Kirsten Potter, The Akseli by Dianne Duvall is the fourth audiobook in the Aldebarian Alliance. This spinoff series of Immortal Guardian series is a thrilling, swoon-worthy science fiction fantasy romance series and one of my favorites. I devoured Simone and Janwar's story as the search for earthlings continues …..
The Akseli
by Dianne Duvall
Series: Aldebarian Alliance #4
Narrator: Kirsten Potter
Length: 11 hours and 2 minutes
Genres: Science Fiction
Source: Publisher
Purchase*: Amazon | Audible *affiliate
Rating:

Heat Level:


Narration: 5 cups Speed: 1.3x

Simone has hunted and slain psychotic vampires for hundreds of years and desperately needs a change. When the leader of the Immortal Guardians offers her an opportunity to guard ten mortal women who are venturing to another planet, she dives right in and finds traveling into space just as exciting as she'd hoped . . . until an enemy attacks. Simone saves everyone she can before she's thrust into an escape pod and the ship explodes.

Despite his fierce reputation and propensity for violating the law, Janwar has formed a friendship with strait-laced Prince Taelon of Lasara. When the prince's ship is destroyed, Janwar joins the Aldebarian Alliance-wide search and rescue mission and soon locates the Gathendien ship that launched the attack. Much to his surprise, someone else has reached the ship first: one of the very Earth women he hoped to rescue.

Fascinatingly fierce, Simone bands together with Janwar and his crew to search for her missing friends. The friendship that grows between Janwar and Simone deepens into love. But the enemy warriors they face boast more weapons in their arsenal than the alliance knows. Can Janwar, Simone, and such a small crew vanquish them?
I love this series! I also love the Immortal Guardians and Gifted Ones, but woah baby, am I having a blast listening to the Aldebarian Alliance series.
When Simone is pushed into an escape pod and sees the ship and those still on board blown up, she sets the pod's course on a direct path with the enemy's ship and shuts down to conserve energy. When she the ship's AI awakens her, she does what she does best. She kicks some Gathendien arse.
Janwar, a space pirate, has formed a friendship with Prince Taelon of Lasara. When he needs help to rescue passengers lost during the attack, Janwar comes to his aid. When he spots the Gathedien ship, he plans to attack and search for prisoners.
The tale that unfolds had me laughing from the onset. Simone is a take no prisoners kind of gal with a bright sunny personality and lots of snark. The first meet between her and Janwar let me know I was in for a treat. The chemistry, humor, and admiration were so genuine.
From secondary characters to the rescue missions and the off ship investigative trips, I loved every freaking moment. The ship AI, the arena and battle scenes were fantastic. Honestly, I couldn't stop listening.
Kristen Potter has narrated the series and I wouldn't have it any other way. She does such a stellar job of capturing the characters' emotions and personalities. From her pacing to her pitch, listening is a pleasure.
While this is the fourth audiobook, and I totally recommend you listen to them all. (I mean, you are only cheating yourself) Duvall, does a fantastic job of making each book in the series work as a standalone from romance to mission. She wraps things up before unmercifully teasing us with hints about the next book and romance before sending us on our way.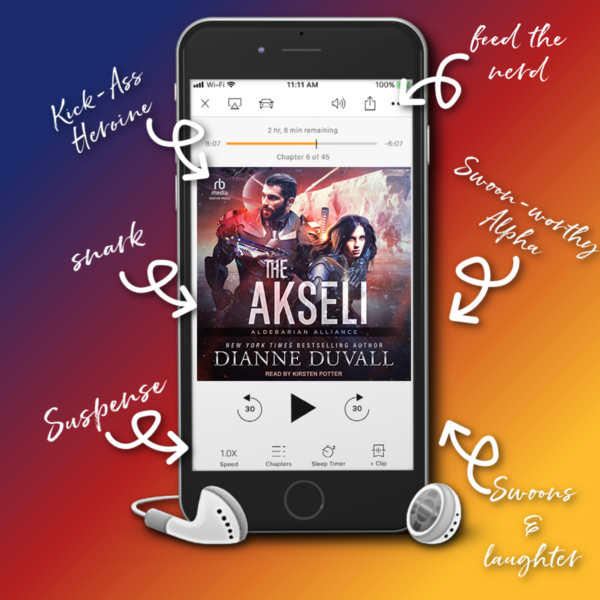 Giveaway
To celebrate the release of The Akseli, Dianne Duvall will be giving away a Prize Pack to (2) two separate readers (US only please) AND a $25 Amazon Gift Card to (2) two separate readers! To enter, fill out the Rafflecopter form found in this post. Follow along with the Blog Tour at DianneDuvall.com for more chances to win daily. Good luck!
a Rafflecopter giveaway

Stay Caffeinated!
Never miss a post by adding Caffeinated to your Inbox
Reading this book contributed to these challenges:
Related Posts