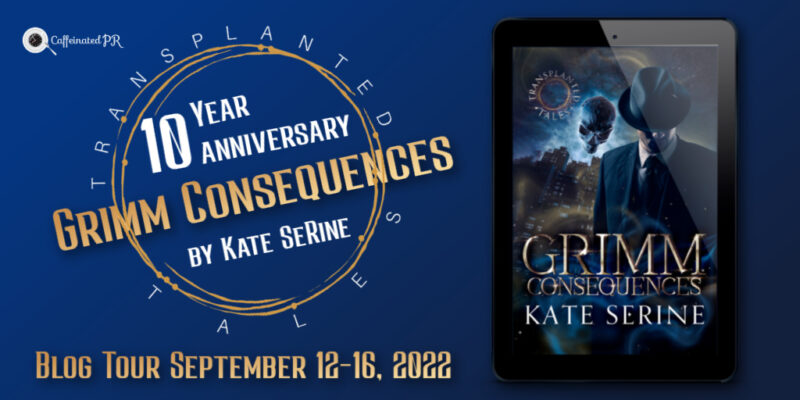 We are joining author Kate SeRine and Kensington Publishing in celebrating the 10-Year Anniversary of the Transplanted Tales. Have you read them? Today I am sharing my original review of Grimm Consequences. This novella takes place after Red and gives us Nate Grimm's story. You won't want to miss it… and I am loving the new cover!
Grimm Consequences
Transplanted Tales #1.5
Amazon | iBook | Kobo | B&N | Goodreads
The author of Red "takes urban fantasy, crime thrillers and fairy tale characters and creates magic" in this paranormal romance novella (Caffeinated Book Reviewer).

To put it lightly, Nate Grimm has a dark past. Fortunately, no one's bothered to look too closely at the Fairytale Management Authority's lead detective and part-time Reaper. And Nate wants to keep it that way. After centuries of torment and loneliness, he's finally found happiness with the hot and hard-charging love of his life, Tess "Red" Little.

Of course, his love for Tess is the reason there's a posse of Reaper judges after him, led by a sadistic bastard acquainted with Nate from once upon a time. Now, Tess will pay the price for Nate's transgressions unless Nate severs his ties to the transplanted Tales—and Tess—forever. His enemy has the advantage of speed, malice and brutality. But the Reapers have underestimated the depth of Nate's love. And the fury of his wrath.
Read my Review
Originally posted March 24, 2014
Kate Serine's Transplanted Tales have delighted me, and I was so excited about Nate's POV in Grimm Consequences. This is a novella that takes place between Red and the Better to See You. It shares the back-story of Nate Grimm, the sexy reaper who won Tess's heart. Serine brought him to life and made me swoon, shed a tear, and fall deeper in love with this reaper.
Mini-review: Fans of the series will be deeply satisfied with Nate's tale.
Nate Grimm is the lead detective at the Fairytale Management Authority and a part-time reaper. He is also romantically involved with kick-ass detective Tess "Red" Little. Nate has secrets, and a dark past, and all of it is about to put those he loves in danger. The tale that unfolds is suspenseful, emotionally engaging, and completely swoon-worthy.
Call me crazy, but I love Reapers, and Nate Grimm is a favorite. I imagine him as old-fashioned, sexy, and debonair. In my mind, he resembles Neal Caffrey from the hit television show White Collar. Now imagine tattoos and beautifully defined abs..yep. Swoon-worthy from the way, he walks to his sharp attire and finger worthy hair. From the beginning of the Transplanted Tales series, Nate's love, respect, and need to protect Tess has been clear. In Grimm Consequences, SeRine reveals just how long Nate has had these feelings. She shares details about his past, and I loved learning how and why he became a reaper.
Grimm Consequences was action-packed, suspenseful and had my heart racing as Nate and Tess's fate was tested. SeRine gives us characters to loathe and fear, all while exposing Nate, placing Tess in danger and keeping my heart in my throat. It was brilliant and completely satisfying.
If you haven't tried the Transplanted Tales, yet I urge you to do so. SeRine takes urban fantasy, crime thrillers, and fairy tale characters and creates magic. The tales currently available are Red, Grimm Consequences, The Better to See You, and Along Came a Spider. The fourth book, Ever After, will be released in August 2014. All the books deal with one tale, a case, and their romance.
Transplanted Tales
Better Watch Out (Fall 2022)
Blog Tour: Grimm Consequences by Kate SeRine #Review #Giveaway #UrbanFantasy #GrimmReaper #10YearAnniversaryTour
Click To Tweet
About the Author
Kate SeRine (pronounced "serene") is a hopeless romantic who firmly believes in true love that lasts forever. So it's no surprise that when she began writing her own stories, Kate vowed her characters would always have a happily ever after. She's the author of the award-winning TRANSPLANTED TALES paranormal romance series as well as two romantic suspense series: PROTECT AND SERVE and DARK ALLIANCE.
Kate lives in a smallish, quintessentially Midwestern town with her husband and two sons, who share her love of storytelling. She never tires of creating new worlds to share and is even now working on her next project — probably while consuming way too much coffee.
Website | Instagram | Twitter | Newsletter
Join Kate SeRine's newsletter for the chance to win a US Amazon eGift Card. Winner will be selected at random from her active subscriber list on December 16, 2022. Enter here ➡️ https://www.subscribepage.com/w8n0q1
Giveaway
Help us celebrate the new cover and enter for a chance to win a $25 US eCard from Amazon, B&N, Kobo or Apple. Winner's choice. Ends September 30, 2022.
a Rafflecopter giveaway