Nonna's Corner is a special feature where I share books I've reviewed with my grandchildren, affectionately referred to as the "Royals" here at Caffeinated.
Today, the Royals and I are sharing our thoughts on A Feast for Pleasant Beasts, written by J.T. Bird and illustrated by Andy Catling. If you love fantasy and hope your little ones do too, this tale is perfect because a troll, a yeti, a cyclops and more are all heading to Cuthbert Wormhill's for a picnic.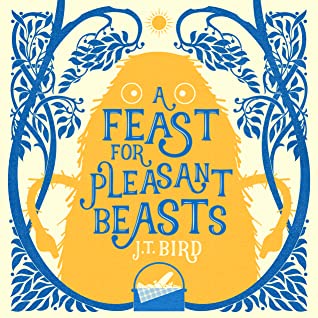 A Feast for Pleasant Beasts
by J.T. Bird
Illustrator: Andy Catling
Genres: Childrens
Source: Author
Purchase*: Amazon *affiliate
Rating:
It's not only bears that cherish a secret picnic...

Every July beasts gather in the forest for a feast and plenty of fun, but if you wish to attend then you need to have marvellous manners. Whether you're a troll, a yeti, cyclops, or pungent monster - it really doesn't matter so long as you're reasonably pleasant. But - surprise surprise - things don't always go according to plan.

From award-winning author and comedian JT Bird comes a delicious blend of Where the Wild Things Are and The Tiger Who Came to Tea. This is a joyous tale about friendship, kindness, and oodles of creamy desserts. Perfect for early readers - it will teach children about tolerance and good old fashioned values, whilst sparking a few giggles too.

(And it's just the ticket for fans of peculiar creatures)
A Feast for Pleasant Beasts is not an early reader, so I read this one to the Royals. They absolutely loved it. The author colorfully describes each guest and the illustrations bring them to life. We laughed at their descriptions from the silly to stories about them that had my grandchildren asking, "Nonna, is that true?" It was fun to reply, "Well, I don't know about that but I once read a book with a cyclops in it." I could see their inquisitive minds wanting more.
All the beasts are friendly, which is why they are invited each year by young Cuthbert to his picnic. Cuthbert is a boy who lives in a cave and is friends with a bear. You'll like him. I know we did.
Just wait until you get to the picnic. Oh my, what a feast from cockroach casserole to bread dunked in slime. I will admit Clayton loved these dishes the most while Sophia screamed well, at least until she heard about the desserts. The feast inspired us to have a picnic where we ate gummy worms and sandwiched cut into shapes.
The children loved the surprise near the end and I loved everyone working together to clean up after the feast before singing around a campfire. It was a delightful tale from beginning to end, with plenty of new vocabulary words and perfect to spark the imagination of young readers.
Nonna's Corner: A Feast for Pleasant Beasts by J.T. Bird offers a delightful tale to fuel the imagination #childrensbooks #bookreview
Click To Tweet

Stay Caffeinated!
Never miss a post by adding Caffeinated to your Inbox
Related Posts