Narrated by Devon Sorvari, Mystic Madness by Kim Richardson is the eighth audiobook in the Witches of Hollow Cove. Fans of urban fantasy with a cozy mystery vibe and snarky protagonists will want to pack their bags and head to Hollow Cove.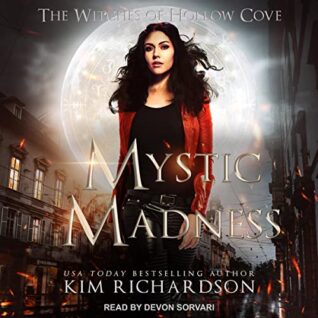 Mystic Madness
by Kim Richardson
Series: Witches of Hollow Cove #8
Narrator: Devon Sorvari
Length: 7 hours and 49 minutes
Genres: Cozy Mystery, Paranormal
Source: Publisher
Purchase*: Amazon | Audible *affiliate

All I wanted to do was sit back and relax with a certain, hot, very, very hot, panty-melting hot—wereape. But, instead, I'm busy trying to find the queen of hell.

Have I found her? Not yet. And I'm running out of places to look. I know it's only a matter of time before she does something stupid—like obliterate an entire town because they dressed better than her because that's who she is.

But I've got worse problems.

Things soon spiral down the crapper when two teenagers are found dead in Hollow Cove. The evidence points to something witchy.

A new evil hangs over our town, a significant threat to the Davenport witches and all the witches in Hollow Cove. I must defeat this new threat to keep my loved ones safe.

Easy peasy, right?
We'll see.
Wow, Tessa gets herself in a pickle in Mystic Madness and, honestly, it's her own fault. She goes and accuses someone of murder. Someone she already owes a favor to. Eep. Two teens are found dead in Hollow Cove and its differently a job for the Merlins. While things are going well in the romance department, that doesn't mean Allison isn't stirring the pot. Did I mention someone wants to kill all the shifters and the entire town is trapped? Yep.
The tale that unfolds had snark, goddesses dealing with ex's and plenty of twists and turns. As usual, Richardson kept me listening even when the characters' actions annoyed me. It will take everyone working together to get the town out of this pickle. While Tessa runs in head first with total disregard for her own life, you can't fault her good intentions.
Devon Sorvari continues to narrate the series and has become the voice of these characters. Her performance enhances the story from suspenseful moments to the humorous undertones.
While each audiobook in the Witches of Hollow Cove contains its own mystery, relationships and overall series arc development dictate that the series be listened to in the order of its release.
*Kindle Unlimited

Stay Caffeinated!
Never miss a post by adding Caffeinated to your Inbox
Reading this book contributed to these challenges:
Related Posts