Today, I am excited to join author T. J. London & Elysian Nightfall Studios in celebrating the release of the full cast narration of MAN OF WAR. Narrated by Nicholas Boulton, Kathryn Vinclaire, Patrick Zeller, John Hartley, Tara Langella, Jason Clarke, Dryw McArthur, Marnye Young, James Cheatham, this high seas romantic adventure is the prequel to The Rebels and Redcoats Saga. This is one of my favorite historical fictions sagas and the audiobooks are incredible.
Man of War by T. J. London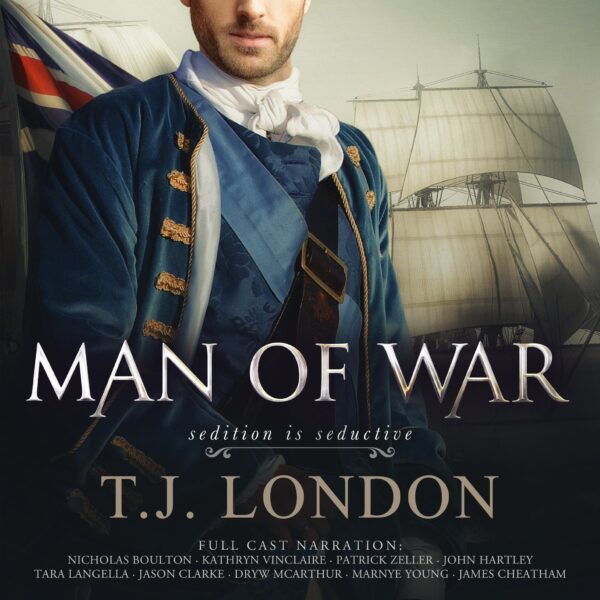 Release Date: July 5, 2022
The man who wants everything gets nothing…

July 1755

War is brewing between England and France. Impressed into the Royal Navy, Lieutenant Merrick, against all odds, advanced through the ranks to become an officer–but he is not a gentleman. A man with a tainted past from a traitorous family, cast down by King George–a stain no man can remove.

Merrick's thrust into the role of captain, when the HMS Boudica is attacked by pirates off the coast of Nova Scotia. On a captured enemy vessel he discovers a King's ransom in treasure and a woman chained in the hold from passenger ship that mysteriously disappeared at sea.

Beautiful, defiant, and hell bent on revenge, India makes a deal with Merrick to uncover the pirates' scheme, promising him everything he desires: fortune, glory, and the chance to bring honor back to the McKesson name.

Now, they race against time to uncover a plot that links those in the highest ranks of the British aristocracy, to a failed rebellion that is once again trying to topple the monarchy and place an old pretender on the throne. But all that glitters is not gold as passions stir and an impossible love blooms, threatening to undermine all Merrick and India have done to protect their King and a country on the brink of war.

***This book contains violence and graphic depictions of war***
About the Author
T.J. London is a rebel, liberal, lover, fighter, diehard punk, and pharmacist-turned-author who loves history. As an author her goal is to fill in the gaps, writing stories about missing history, those little places that are so interesting yet sadly forgotten. Her favorite time periods to write in are first and foremost the American Revolutionary War, the French Revolution, the French and Indian War, the Russian Revolution and the Victorian Era. Her passions are traveling, writing, reading, barre, and sharing a glass of wine with her friends, while she collects experiences in this drama called life. She is a native of Metropolitan Detroit (but secretly dreams of being a Londoner) and resides there with her husband Fred and her beloved cat and writing partner Hamilton.
Website | Twitter | Facebook | Instagram | Newsletter | BookBub
Giveaway
One lucky US winner will receive a signed hardcover copy of Man of War. Giveaway ends July 14, 2022.
a Rafflecopter giveaway

Stay Caffeinated!
Never miss a post by adding Caffeinated to your Inbox
Related Posts