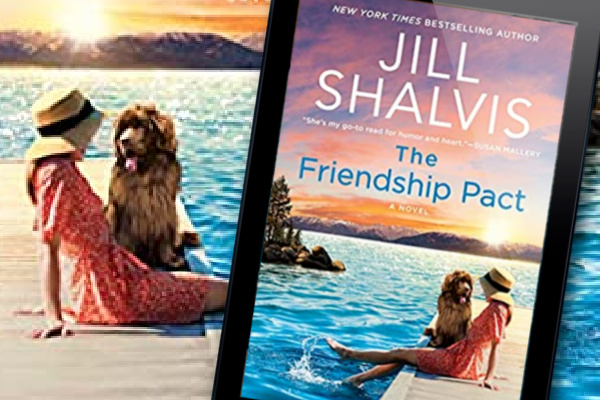 We return to Sunrise Cove in the second novel, The Friendship Pact by Jill Shalvis. I love this small town lake community and settled in to watch brother's work things out and best friends turned awkward find happiness. Grab a beach chair because you'll want to settle in with this one!
The Friendship Pact
by Jill Shalvis
Series: Sunrise Cove #2
Genres: Contemporary Romance
Source: Publisher
Purchase*: Amazon | Audible *affiliate
Rating:

Heat Level:

New York Times bestselling author Jill Shalvis returns to Sunrise Cove with a powerful, moving story about a young woman on a quest to find the truth about her father who learns the meaning of true love along the way.

Alone in the world, Tae Holmes and her mother April pretty much raised each other, but as Tae starts asking questions about the father she's never met, April, for the first time in her life, goes silent. To make matters worse, Tae is dangerously close to broke and just manages to avoid financial meltdown when she lands a shiny new contract with an adventure company for athletes with disabilities and wounded warriors.

Her first big fundraiser event falls flat, but what starts out as a terrible, horrible, no-good night turns into something else entirely when Tae finds herself face-to-face with Riggs Copeland. She hasn't seen the former Marine since their brief fling in high school, and while still intensely drawn to him, she likes her past burned and buried, thank you very much. Hence their friendship pact.

But when April oddly refuses to help Tae track down her father, it's Riggs who unexpectedly comes to her aid. On a hunt to unlock the past, the two of them find themselves on a wild ride and learn a shocking truth, while also reluctantly bonding in a way neither had seen coming. Now Tae must decide whether she's going to choose love ... or walk away from her own happiness.
The story is set in Lake Tahoe, California, where we meet Tae Holmes and her mother April. April raised Tae alone and the two are close. In fact, they bought a duplex together and are now neighbors. Tae is an event planner and works from home. She is determined to support both herself and her mother, so money has been tight. When we meet her, she is handling her first event for an adventure company for athletes with disabilities and wounded warriors.
An awkward encounter involving her most recent blind date has Tae leaving the event in search of ice cream when she bumps into former Marine Riggs Copeland. Tae and Riggs were high school friends before having a brief fling. I loved the chemistry between them immediately. Tae is all bristly and Riggs acts all laid-back and assured.
Through Shalvis's story we get to know Riggs and Tae as she weaves side stories involving Riggs and his brother, Tae's father and a terrible secret. All set against the backdrop of the adventure company. I loved the events, secondary characters and the slobbering dog. I laughed aloud, groaned, and read into the wee hours. Shalvis delivers characters you want to root for and befriend.
Fans of small-town romances will love this summer read. While this is the second novel in the Sunrise Cove series, it will work as a standalone. Each has its own story and romance to enjoy.
Escape the heat an curl up with The Friendship Pact by Jill Shalvis, the second standalone novel in the Sunrise Cove series #NewRelease #Romance #BeachRead #bookreview
Click To Tweet

Stay Caffeinated!
Never miss a post by adding Caffeinated to your Inbox
Related Posts