The Devil's Playground is the fourth novel in the Detective Alyssa Wyatt series by Charly Cox. This time, I listened to the audio narrated by Kate Zane. Detective Wyatt and her partner are investigating a brutal, seemly random murder when they stumble into something sinister. Grab your earbuds and see why I enjoy this series and audio.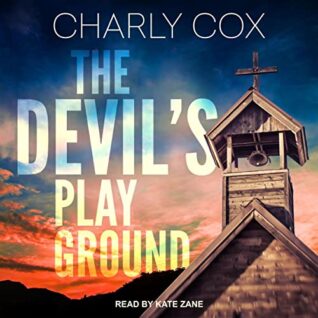 The Devil's Playground
by Charly Cox
Series: Detective Alyssa Wyatt #4
Narrator: Kate Zane
Length: 11 hours and 15 minutes
Genres: Crime Fiction
Purchase*: Amazon | Audible *affiliate
Rating:

Narration: 5 cups Speed: 1.4x

From behind her came a noise, and she whirled around. Two pairs of cold, murderous eyes stared back at her from beneath hooded cloaks. She stood cemented in place, even as her brain screamed at her to run…

It's their usual Thursday girls' night in, and best friends Skye, Elena, and London are enjoying hanging out at Skye's house in New Mexico, eating junk food, drinking wine, and playing with Skye's little children, Carter and Abigail.

Until the intruders arrive.

Hearing the horrific screams from Elena and Skye, London hides the children, tiptoes out to see what has happened… and disappears.

After Carter raises the alarm, Detective Alyssa Wyatt is called in to investigate a bloodbath that appears to have no motive, no evidence, and worse still – no sign of London.

As Alyssa and her team dig deeper, the truth is always out of their reach… but what is clear is that they need to find London, and fast.

And as they uncover a link between the murders and a sinister local cult, can Alyssa find the young woman who has vanished without a trace – before London joins the list of victims?

Meet Detective Alyssa Wyatt. Mom, Wife… and a serial killer's worst nightmare.
Thursday Night girl's night at the home of single mom Skylar turns deadly and soon Detective Alyssa Wyatt and her partner, Detective Cord Roberts, are called to the scene. They find two dead bodies, three wine glasses and hiding in the closet, six-year-old Carter and his three-year-old sister Abigail.
From the first chapter, Cox pulled me into the story, sharing with us moments of the attack before detectives arrive on the scene. Throughout the story, we get perspectives from London, the kidnapped victim.
I like and respect Alyssa Wyatt. Her gut instincts and observations make her the voice of justice for the victims she encounters. She gets personal with her cases and is a voice for the victims. She and her partner Cord make a great team.
The author wove a chilling tale, laying out red herrings, and clues that lead our detectives to discover they are dealing with more than just a murder. The children pulled at my heartstrings, especially Carter.
The voice of London will send chills down your spine as you root for her. I held my breath. While most of the violence perpetrated by her captors was off page, the author painted a clear picture and you could feel her fear, panic and struggle.
Kate Zane narrates, and I am delighted I listened. Zane captured Detective Wyatt and Cord perfectly. Her voices for London and the children rang true, as did the villains. Her performance enhanced my enjoyment of the case.
Fans of crime cases, murder mysteries and procedurals will want to check out The Devil's Playground and the rest of the series.
The Devil's Playground by Charly Cox, narrated by Kate Zane, delivered a chilling murder/kidnapping case that will keep listeners on edge. #audiobook #audiobookreview #JuneisAudiobookMonth #Crime #Mystery #DetectiveAlyssaWyatt
Click To Tweet

Stay Caffeinated!
Never miss a post by adding Caffeinated to your Inbox
Reading this book contributed to these challenges:
Related Posts