Harmony of Fire by Brian Feehan is the first novel in the Alice & Owen series. While I would have shelved this in urban fantasy, its heavier romantic element places it in the paranormal romance genre. Music, the WE, bonds, and hunters will pull you into this world.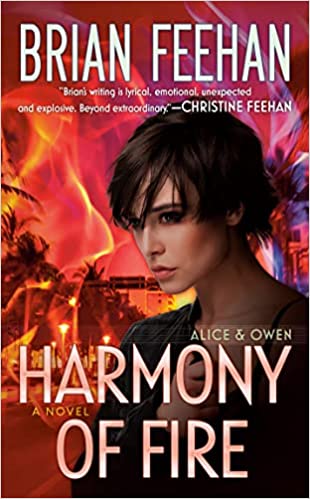 Harmony of Fire
by Brian Feehan
Series: Alice & Owen #1
Genres: Paranormal Romance
Source: Publisher
Purchase*: Amazon | Audible *affiliate
Rating:
The riveting first novel in a brand-new paranormal romance series by debut author Brian Feehan, son of legendary #1 New York Times bestselling author Christine Feehan.

The We—beings who existed long before humans ever did, filled with powerful magic—walk among us. Owen and Alice are both etherealists—rare humans born with magic who are targets for those We that wish to take it from them. At nine years old and against her will, Alice's soul was tied to one such powerful and evil We. She escaped and was trained to be a weapon so she might one day break the bond and safely return home. Everything is going to plan…until she meets Owen.

Owen is a musician who is trying to outrun his past while keeping those around him safe in an increasingly dangerous world. Owen keeps them on the move until a band of hunters crosses their path. Owen must go home—a place he swore he'd never return to—and seek protection from the We who could destroy them. And then he meets Alice. Only through finding each other do either Alice or Owen have a chance of survival.
The WE have been around since the beginning of time. They walk among us on Earth and have levels of power, seven being the strongest. When heaven and hell battled, they were forced to take sides.
This romantic story has a contemporary setting and follows several threads as we watch Alice, an etherialist and hunter, run from and track down the demon, Kerogen, who at nine forced a bond with her. We also follow Owen who is a musician, etherialist and gatekeeper until their paths cross. He and his group are on the move protecting an unbonded etherialist until she turns eighteen and can refuse a bond.
The world building was fascinating as we learned the world, its history and hierarchy and the threats and dangers they encounter. The information dumps bogged down the story and slowed the pace until Alice arrives at the bar where Owen and his people are. From there, the story took off. Despite the time required to build the world and introduce the characters, I found myself drawn into the story.
From the hunters who chase them to the bar keepers who offer haven to the complexity of the world, I was pulled in. The romance was a slow-burn and the magic intriguing. While this story has a series arc, we see some resolution and focus on one romance. I am looking forward to the things hinted at to come.
Secondary characters were distinct and memorable, and despite the darker tones, I laughed aloud and enjoyed seeing them perform, battle, and banter.
Fans of angels & demons, battles of good vs evil and dancing the grey line will want to dive in a read Harmony of Fire. Book two, Harmony of Lies will release February 2023.
Harmony of Fire by Brian Feehan was an intriguing start to the Alice & Owen series #ParanormalRomance #NewRelease #bookreview
Click To Tweet

Stay Caffeinated!
Never miss a post by adding Caffeinated to your Inbox
Related Posts