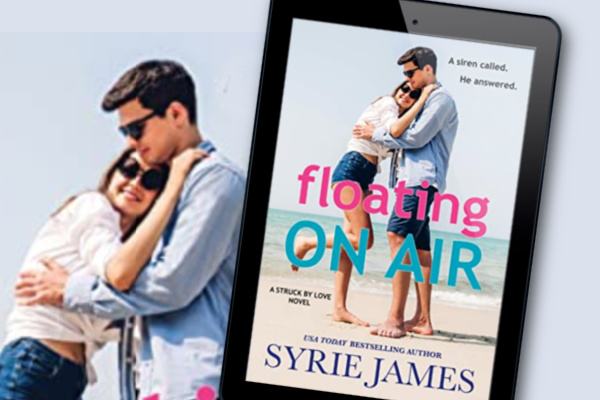 Sophia Rose is here with the first novel in the Struck by Love series, Floating on Air by Syrie James. Grab an iced coffee and check out her thoughts on this contemporary romance.
Floating on Air
by Syrie James
Series: Struck by Love #1
Genres: Contemporary Romance
Source: Author
Purchase*: Amazon *affiliate
Rating:

Heat Level:
A successful radio deejay embarks on a thrilling, long distance love affair with a charismatic entrepreneur, a relationship that plays havoc with her carefully controlled life—and heart.

On a hot summer's day in 1986, Southern California radio deejay Desiree Germain is hosting a contest on the air when she's entranced by the deeply masculine voice of caller number twelve.

Voices never matched faces. Desiree knows that better than anyone. As KICK's hottest radio host, she has a sultry voice that leads people to expect a tall, voluptuous bombshell. Petite in every sense of the word, she hardly lives up to that image.

To Desiree's surprise, caller number twelve turns out to be Kyle Harrison, a handsome, wealthy businessman from Seattle. Kyle has come to claim his prize—and her heart.

They are soon involved in a whirlwind love affair that makes Desiree's heart sing. Is it worth the risk? All the rules say that long-distance romance and radio don't mix. But a man who is answering a siren's call doesn't care about rules.

This novel can be read as a standalone … or enjoy the series!

Newly revised edition, previously published as Songbird.
Sophia Rose's Review
Love at first sight can be a heady trope in romance and author Syrie James puts a bit of a spin on it with falling for a voice over a radio broadcast call in. Touching, but light and easy in this first in series standalone romance.
It's the 1980s in sunny Southern California and petite new daytime radio DJ, Desiree Germain, gets shocked out of her purposeful complacency when a call in winner determines that he wants to use his restaurant prize with her. Desiree's knee-jerk response is to tell charming, wealthy businessman, Kyle Harrison 'no thanks', but it has been years since her divorce and she has been lonely lately. Besides, this is just the one date, right? He has to fly home to Seattle the next day.
But Kyle has a wonderful time and his trip gets extended for a few more days. He wants more and, reluctant though she acts, Desiree does too. Just a few dates and then he's gone. She won't do long term or long distance after the last fiasco to her heart and between their careers and distant homes, she really can't take a chance.
I loved the setup of the radio station backdrop and DJ work for Desiree, including how hard she had to work to get decent pay and the best time slot. Kyle is wealthy and he's a dedicated businessman. Their dates were deeply romantic, and he poured a lot of time and effort into what Desiree would love. Neither are very young, but this is their first dates that have that fizzy, exciting romantic feel.
Desiree's career cost her a marriage, and she is determined that her career is a priority now. She has sealed herself off and is terrified of feelings, even disbelieving Kyle's truthful, simple appreciation of her as a woman and person.
I suppose he could come across as pushing, but he did ask when it came to the truly important trust moments and respected when she seemed to really mean 'no'. Desiree was sending mixed signals. She wants what they feel between them and loves being with him, but she can suddenly pull back and panic, too. There were a few times she got disappointed that he actually backed off and this did irritate me. Fortunately for Desiree, Kyle said what he meant and did what he said, but he didn't give up on her. Kyle is more certain and confident, though his path had some challenges in it, too. So, he can sympathize and be understanding, especially once she opens up and actually communicates with him.
Much of the story is swoony and romantic, though, because of the obvious barriers and her past, the conflict is building to the crisis point. It was somewhat predictable, but I didn't mind. Floating on Air was a quick, simple heartfelt romance and I would recommend it to those who appreciate love at first sight followed by romantic long-distance dating.
Amazon *
*KindleUnlimited
Floating on Air by Syrie James offered a touching and light contemporary romance, in this first in series. #bookreview #SophiaRose #romance
Click To Tweet

Stay Caffeinated!
Never miss a post by adding Caffeinated to your Inbox
Related Posts