Please welcome Sophia Rose to the blog with a review of The Hanged Man's Tale by Gerald Jay. This is the second novel in the Inspector Mazarelle mystery series. Grab a cuppa and check out Sophia's thoughts.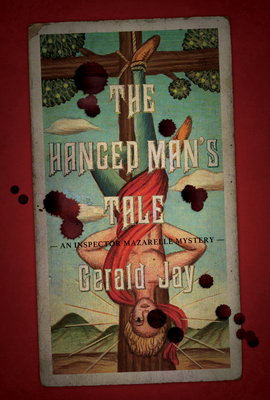 The Hanged Man's Tale
by Gerald Jay
Series: Inspector Mazarelle Mystery #2
Genres: Mystery
Source: Publisher
Purchase*: Amazon *affiliate
Rating:
In the shadowy back alleys and opulent homes of Paris, hard-nosed police inspector Paul Mazarelle of The Paris Directive sets out on the trail of a serial killer.

A murdered man is discovered dangling inside the tunnels of a Paris canal--the only clue, the tarot card in his pockets: the Hanged Man. When an innocent suspect is railroaded into prison for the homicide, Mazarelle sets off on the hunt for the real killer.

For the charming, hot-tempered, impulsive Frenchman--now back from the provinces and leading his own homicide unit out of Paris's famed Quai des Orfevres--it's an investigation that takes him far from the comforts of Beaujolais and bouillabaisse, and plunges him into an underworld of ruthless white supremacists looking for scapegoats in Paris's growing immigrant community, corrupt cops eager to cover up a shady side business, and a conspiracy of secrets that threaten his own life.

Meanwhile, Claire Girard, an irresistible and ambitious journalist at a popular tabloid, is wrapped up in the same story. On the trail of the Tarot Card killer, Mazarelle finds himself blindsided by their growing attraction. And when his team's case collides with Girard's latest scoop, and the body count keeps rising, Mazarelle himself becomes a prime suspect who must clear his own name. Gerald Jay's latest Mazarelle adventure is a riveting, fast-paced thriller about a classic French detective making his way through the dangerous streets of a very modern world.
Sophia Rose's Review
A gritty, thrilling mystery set in Paris with an intuitive, crusty, and colorful lead detective drew me in as soon as I heard about it. I confess that a book written by a family group to finish a story their deceased loved one had started did play a factor in heightening my curiosity to try this second standalone mystery in the Inspector Mazarelle series.
Mazarelle has been off doing provincial police work, but is brought back to Paris and given a prestigious promotion. He is settling in when a shootist at the Bastille Day parade giving honor to the heroes of 9/11 has him leaping to stop a presidential assassination. Not long after that case, which had puzzling aspects that didn't make sense even when the investigator in charge wrapped it up, he is put on a murder of a private detective who was left dangling upside down in a Paris canal. The murder is only the first and leads Mazarelle into the backstreets and glittering high life of Paris, immigrant situations and white supremest following the twisting trail to a serial killer and the solution of the case.
A Hangman's Tale was attractive to me, as I said, for the Paris setting and the French detective and police work. I've never been to Paris, but I was excited to experience the modern city and their police work. The descriptions of places, people, conversations, and manners had me easily believing I was there.
The blurb stated it, but I guess I was star struck by the whole viva le Paris bit and missed that this was going to tackle social and cultural struggles that resonated hard as current issues twenty years later. Immigration struggles, white supremest, terrorists, corrupt cops, and more. On one level, I would rather have escaped into a book with anything, but those topics, but those very elements were what gave this case the grit, drive, and reality.
Mazarelle is something of a rogue detective who isn't afraid to think outside the box, question the status quo, and has a personality that gets him into trouble. He ends up quite the underdog, too, with a few who aren't corrupt, ready to stay true to their police badge and constantly at odds with his boss. He makes mistakes and has brilliant moments of intuition or plain good police work, which gave him a layered persona I could root for.
Because of the terrorists, the conspiracy, the bad police, and surprise betrayals (though I could have kicked Mazarelle for letting himself get taken in when he got involved with a person of interest on the case), this felt closer to thriller than regular murder mystery. There's something about a serial killer investigation that gets my heart pounding even harder, especially the way that second murder took place. I had a few deductions, but mostly, I was simply along for the ride and working hard to keep the crowd of players and all the bits and pieces sorted out.
I loved the storyline and Mazarelle, but yet I couldn't settle down and stay in the story for any length of time. I'm not sure if it was the writing style or being lost in minutia at times, but then it would pick up my interest again and off we went.
All in all, this was a splendid armchair visit to Paris from sordid under city to the bright lights above. Mazarelle's love of food had me salivating, and his tenacity and impetuous work as a detective had me eager to see him land the perpetrators. It was intense at times and sometimes emotional. I would like to try another detecting story of Inspector Mazarelle and I think those who love the idea of a police procedural mystery set in Paris should give it a go.
Those who love the idea of a police procedural mystery set in Paris should give The Hanged Man's Tale by Gerald Jay a go. #Murderystery #bookreview #SophiaRose
Click To Tweet

Stay Caffeinated!
Never miss a post by adding Caffeinated to your Inbox
Related Posts