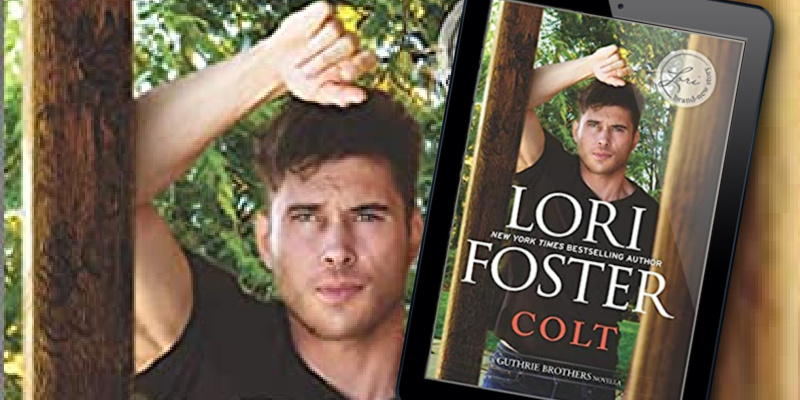 Colt is a novella in the Guthrie Brothers standalone small-town contemporary romance series by Lori Foster. A second chance romance between old high school sweethearts delivered a sweet and sexy romance perfect for a chilly fall evening.
Colt
by Lori Foster
Series: Guthrie Brothers #2.5
Genres: Contemporary Romance
Source: Purchase
Purchase*: Amazon *affiliate
Rating:

Heat Level:

His first love is back—with a secret—in this sizzling new Guthrie Brothers novella

Colt Guthrie's high school sweetheart left town six years ago without a backward look. Charish almost broke him then, and he doesn't plan to let her finish the job now that she's suddenly back in Clearbrook. The only thing he wants from Charish is closure. But grown-up Charish is tempting as hell, and with her compassion for an injured stray dog, there's no denying the way she still gets under Colt's skin.

Letting Colt go was the hardest thing Charish ever did. Keeping him at arm's length now runs a close second. Their chemistry is explosive, despite his wariness. But when Colt learns the real reason she's back, will he be the one to walk away—or can this sizzling summer be the start of something entirely new?
I've enjoyed the Guthrie Brothers series and was delighted to pick up the novella. I loved heading back to Clearbrook and this second chance romance hit the spot.
While we met both Colt and Charish previously, getting their story was a treat. Fans and newcomers alike can read this, but I think those who have read the series will appreciate it more. The first two full-length novels: Don't Tempt Me and Worth the Wait were fantastic.
Charish left Clearbrook six years ago with her family and broke Colt's heart. He's tried to get over her but hasn't had a serious relationship since. So when he spies her moving into her old homestead, he is determined to keep her or get closure. Charish is setting down roots for a reason. Can these two reconnect?
I loved their story from the chemistry to the reason Charish moved back to town. Cute dogs and townfolk added to the tale, particularly Charish's neighbor and realtor. I'd like to get her romance.
If you love second chances, cute dogs and off the chart chemistry, you'll love this short and sweet romance.
Colt by Lori Foster delivered a sexy & sweet second chance novella in the Guthrie Brothers series. #Romance #smalltown #dogs
Click To Tweet

Stay Caffeinated!
Never miss a post by adding Caffeinated to your Inbox
Related Posts