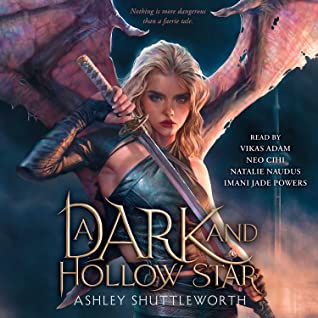 A Dark and Hollow Star
by Ashley Shuttleworth
Series: A Dark and Hollow Star #1
Narrator: Vikas Adam, Neo Cihi, Natalie Naudus, Imani Jade Powers
Length: 19 hours and 30 minutes
Genres: Urban Fantasy
Source: Publisher
Purchase*: Amazon | Audible *affiliate
Rating:

Narration: 5 cups Speed: 1.3x

The Cruel Prince meets City of Bones in this thrilling urban fantasy set in the magical underworld of Toronto that follows a queer cast of characters racing to stop a serial killer whose crimes could expose the hidden world of faeries to humans.

Choose your player.

The "ironborn" half-fae outcast of her royal fae family.
A tempestuous Fury, exiled to earth from the Immortal Realm and hellbent on revenge.
A dutiful fae prince, determined to earn his place on the throne.
The prince's brooding guardian, burdened with a terrible secret.

For centuries, the Eight Courts of Folk have lived among us, concealed by magic and bound by law to do no harm to humans. This arrangement has long kept peace in the Courts—until a series of gruesome and ritualistic murders rocks the city of Toronto and threatens to expose faeries to the human world.

Four queer teens, each who hold a key piece of the truth behind these murders, must form a tenuous alliance in their effort to track down the mysterious killer behind these crimes. If they fail, they risk the destruction of the faerie and human worlds alike. If that's not bad enough, there's a war brewing between the Mortal and Immortal Realms, and one of these teens is destined to tip the scales. The only question is: which way?

Wish them luck. They're going to need it
A Dark and Hollow Star by Ashley Shuttleworth brings you a modern day fantasy set in Toronto. The eight courts of Folk live among humans, concealed by magic and bound by rules but a war is brewing….
Shuttleworth brings together four characters who try to protect those secrets when a series of gruesome murders occur that threaten them all.
Come meet Arlo, Nos, Vehan, and Aurelian, four unique characters brought together by a series of murders involving iron-born fey. There is a war brewing between the Mortal and Immortal Realms. One of these four could tip the scales.
A sidhe prince, a lesidhe guard, an ironborn girl, and a former Fury – they seemed less like a serious investigative team and more like the lead-in to some terrible joke.
Alecto is confident, sassy and fierce. She is the daughter of the Goddess of the Elements and Lady of Chaos. She is also one of the three Furies tasked with upholding the Three Principle of Magic. One hundred and sixteen years ago, they sentenced her to live among the humans after killing 11 mortals. She is now known as Nausicaä Kraken (Nos) or the Dark Star. One of my favorite characters I love her blunt attitude.
Arlo Jarsdel is ironborn (half-human) but also a member of the pure-blood fae royal family. The elitist High Council finds her unworthy because of her poor magical abilities and mud-blood. Thanks to her cousin, Prince Celadon, she has been granted an extension before they wipe her memory. She doubts herself, works in a coffee shop and is definitely an introvert. However when defending those she cares about, she is fearless.
Vehan is the prince of Summer Court. Vehan is faulted for caring to deeply and is honorable and courageous. He is determined to prove he is worth of the throne. Me thinks he has a crush on his bodyguard.
Aurelian stewart and childhood friend of Vehan. I liked Aurelian; he comes off as tough, but he is all sweet inside. You'll find he carries a secret.
Vehan and Aurelian investigate the ironborn murders and struggle to get the King and others to listen to them. They later meet up with Nos & Arlo and join forces.
Most of the story takes place in Toronto, but we also get some page time in Nevada. The story is about all four characters but the focus is more on Nos and Arlo as I felt we got to know them more.
We are dealing with the courts so there are grisly murder scenes and dark, twisted aspects. It's a mix of mythology as the author weaves in LGBTQ issues, depression, suicide and a list of other relevant topics.
The plot is interesting and I felt the author did a solid job of developing the world and setting up the overall arc while laying the foundations for relationships. Secondary characters were developed and left me wanting to know more. The story ended in a place that left me content but anxious for the next audiobook.
Vikas Adam, Neo Cihi, Natalie Naudus, and Imani Jade Powers narrated the voices of our four teens and I loved that each was given their own narrator. It made the transition from character to character easier especially on audio. It also enhanced personality traits, snark and added to the overall story.
A Dark and Hollow Star lean towards the older spectrum of the young adult genre and while classified as urban fantasy it has a high fantasy feel.
A Dark and Hollow Star by Ashley Shuttleworth brings you a modern day fantasy set in Toronto. The eight courts of Folk live among humans, concealed by magic and bound by rules but a war is brewing…. #Audiobook #MustListen…
Click To Tweet
Reading this book contributed to these challenges:
Related Posts