It's time, dear reader, to gather your spooky, paranormal, mysteries, thrillers and bump in the night reads or listens for Caffeinated's Fraterfest 2020 Read-a-thon. This year's event will be held from Thursday, October 15 through Saturday, October 24th. Bwahaha!
You pick your FEAR Level. If a historical murder-mystery raises the hair on the back of your neck… so be it. Yep, cozies, whodunits, and hellhounds allowed!
Official Rules
This event will be low key. I will offer a fun random participant prize. Everyone who completes challenges and takes part in the readathon by finishing at least one book will be eligible.
Link-up (You can link up using your blog, Goodreads bookshelf labeled Fraterfest2020 or link a social media account) A start up post is not required.
Spread the Word. Share the post and invite your friends to join. Grab graphic and or share button on your blog.
Read or listen to qualifying books from Midnight October 15th until 11:59 pm October 24th. (Your Time Zone)
Approved Reads/listens: Thrillers, Urban, Paranormal, Cozy, Suspense, Mystery, Historical Suspense, Zombies, Horror, Dystopian, Ghosts, Serial Killers, Fantasy and Supernatural. I don't care if there is romance mixed in, as I said you pick the fear level. Sparkle, bloody… all approved. Novellas and graphic novels count too!
You can combine this with other read-a-thons, and challenges.
Use #FraterfestRAT hashtag on Twitter and Instagram to share progress and when spreading the word.
Have fun, read, and make new friends!
During the event there will be mini-challenges with prizes. This is a fun way to meet bloggers and Instagrammers. I am looking for a few Zombie Hosts to post games and offer goodies. If you want to host a challenge, please email me: Kimberly @ Caffeinated Reviewer
link up
graphics….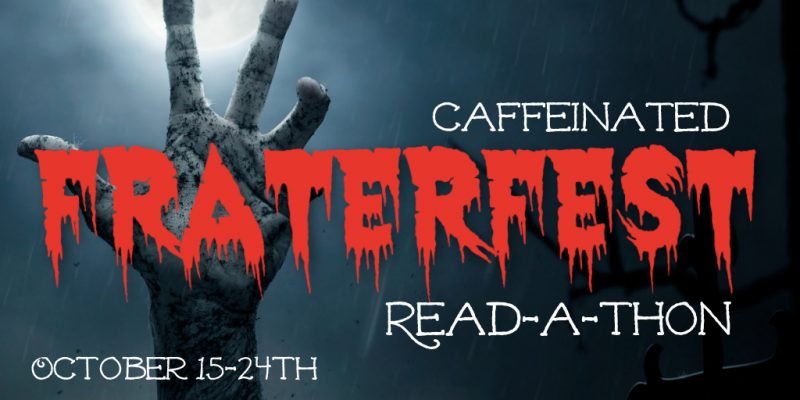 get a nudge…
It's time to claim your seat for Caffeinated's 2020 FRATERFEST Read-a-thon. October 15-24th. Sign up and gather your books….
Click To Tweet
Fraterfest was inspired by Rhiannon Frater whose zombies, vampires and necromancers offer thrills and chills, I began #Fraterfest in 2012. I hope you have a spooktastic time!