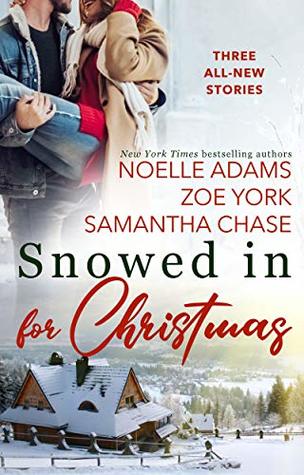 Snowed in for Christmas
by Noelle Adams
Series: Holiday Acres #2, Silver Bell Falls #4, Pine Harbour #8
Genres: Contemporary Romance
Source: Author
Purchase*: Amazon *affiliate
Rating:

Heat Level:
Three all-new holiday novellas about couples finding love while trapped together in the snow.

Stranded in the Snow (Holiday Acres, Book 2) by Noelle Adams

Olivia Holiday doesn't expect to spend the weekend stranded in a romantic cottage during a snowstorm with the one man she dislikes the most. Scott is a player and holds a grudge against her family, and she's determined not to give in to the deep feelings for him she's been hiding.

A Christmas Rescue(Silver Bell Falls, Book 4) by Samantha Chase

Saving a litter of puppies right before Christmas was incredibly rewarding for Bailey Walsh. But getting snowed in with her sexy-yet-grinchy veterinarian boss turns out to be rewarding in a whole other way.

Love on the Edge of Reason(Pine Harbour, Book 8) by Zoe York

Tom Minelli doesn't know why Chloe Davis has fled Pine Harbour, but she's pregnant with his baby and he wants her back. But a winter storm rolls in just as he finds her, trapping them together in a cabin on the lake
Snowed in for Christmas is a collection of three holiday romances by author's Noelle Adams, Zoe York, Samantha Chase. Each shares a story about a couple finding romance while trapped in the snow. While the books come from different series all but one works as a standalone romance. Place it on your nightstand and enjoy three nights of romance this holiday season.
Novellas are perfect for what I like to refer to "holiday crunch time." You've got recitals, cookies to bake, company, presents to wrap and zero time to read. I can pick up an anthology or novella and enjoy a little romance each evening before bed. I love the trapped in snow trope and while I've read Samantha Chase, I was curious to try York and Adams.
Stranded in the Snow (Holiday Acres, Book 2) by Noelle Adams -This was a cute, haters to lovers romance. While part of a series surrounding Holiday Acres and two families it will work as a standalone. The series put me in mind of the Hatfields and the McCoys. Friendship and disputes over land. Scott and Olivia were childhood friends, both crushed on the other and somehow that chemistry has turned into haters to lovers, I can't stand you banter. When the two get trapped in the snow they seek shelter at guest cabin. Snow, sparks and a roaring fire await you….
A Christmas Rescue (Silver Bell Falls, Book 4) by Samantha Chase-  A grumpy Veterinarian, and a cookie baking receptionist bicker over holiday decorations and end up snowed in together after a dog rescue. Puppies, cookies, and fun between the sheets might just melt the Grinch's heart. This was a fun, easy flowing romance with little drama and cute animals. I wouldn't mind visiting Silver Bell Falls again.
Love on the Edge of Reason (Pine Harbour, Book 8) by Zoe York – I felt a little out on the loop for this romance. It is a second chance romance, and it looks like perhaps the other books in the series share more of their story. Tom is trying to win her back after mistakes. I will admit I am curious enough to try this author and the series, both of which are new to me. As a standalone however, this fell short.
Snowed in for Christmas is a collection of three holiday romances by author's Noelle Adams, Zoe York, Samantha Chase. Grab some cocoa and curl up with Snowed In
Click To Tweet
Reading this book contributed to these challenges:
Related Posts