Today I am excited to be apart of the blog tour for the Charley Davidson series by Darynda Jones. We re-read books in the series in anticipation of the final book Summoned to Thirteenth Grave. Whether you read or listen fans will agree that the series is full of humor, suspense, a sexy god, and one awesome, coffee loving Grim Reaper. Be sure and enter the giveaway for a chance to win the series and an ARC of Thirteenth Grave.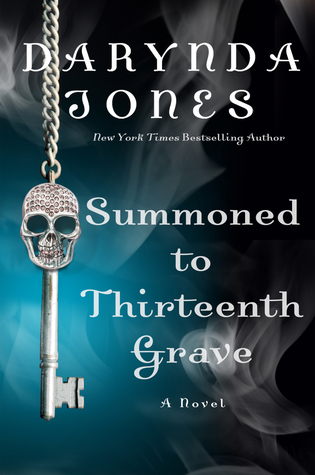 Summoned to Thirteenth Grave
Darynda Jones
Charley Davidson Series
Releases January 15, 2019
Goodreads | Amazon 
Read an Excerpt
1
What, pray tell, the fuck?
—T-shirt
It wasn't until I felt the sun on my face that I knew, really knew, I'd made it back. The bright orb drifted over the horizon like a hot air balloon, blinding me, yet I couldn't stop looking at it. Or, well, trying to look at it. After giving it my all through squinted lids, I gave up and closed them. Let the warmth wash over me. Let it sink into my skin. Flood every molecule in my body.
God knew I needed it. I hadn't had a drop of vitamin D in over a hundred years. My bones were probably brittle and shriveled and splintery. Much like the current state of my psyche.
But that's what happens when you defy a god.
Not just any god, mind you. No siree Bob. To get booted off the big blue marble, one had to defy the God. The very One a particular set of children's books called Jehovahn.
The Man had some serious control issues. I bring one person back from the dead and bam. Banished for all eternity. Exiled to a hell with no light, no hair products, and no coffee.
Mostly no coffee.
And, just to throw salt onto a gaping, throbbing flesh wound, no tribe. In this dimension, the one with the yellow sun and champagne-colored sand on which I now walked, I had a husband and a daughter and more friends than I could shake a stick at. But in the lightless realm I'd been banished to, I'd had nothing. I floated in darkness for over one hundred agonizing years, tormented by dreams of a husband I could no longer
touch and a daughter I could no longer protect.
She would be gone by now. Our daughter. I will have missed her entire life. The thought alone shattered me. Cut into me like shards of glass every time I breathed.
But I'd missed more than her life. It had been prophesied that she would face Lucifer in a great battle for humanity. That she would have an army at her back and, fingers crossed, a warrior at her side. And that she would stand against evil when no one else could.
I'd wondered for dozens of years if she'd won, the pain of not knowing, of not being able to help, driving me to the brink of insanity. Then I realized something and a peculiar kind of peace came over me. Of course she'd won. She was the daughter of two gods. More to the point, she was her father's daughter, the god Rey'azikeen's only child. She would've been wily and cunning and strong. Of course she won.
That's what I'd told myself over and over for the last thirty-odd years of my exile. But now I was back. An exile that was supposed to be for all eternity stopped just short, in my humble opinion, of its goal.
Unfortunately, I had no idea why I was back. I'd felt myself being drawn forward, pulled through space and time until the darkness that surrounded me gave way to the unforgiving brightness of Earth's yellow sun. That big, beautiful ball of fire I'd so often complained about as a resident of New Mexico, where sunshine was damned near a daily occurrence.
The horror!
And here it was, bathing me in its brilliance as my feet sank into dew-covered sand with every step I took. I walked toward it. The sun. Craving more. Begging for more.
"I will never complain about you again," I said, tilting my face toward the heavens, because the thought of my daughter growing up without me wasn't the only thing that had driven me to the edge of sanity. Nor the heartbreak of missing my husband. His hands on my body. His full mouth at my ear. His sparkling eyes hooded by impossibly thick lashes.
No, it was the perpetual darkness that pushed me so far inside myself I could hardly stay conscious.
I'd tried to escape. To find my way back to my family and friends. Boy, had I tried. But it seemed like the harder I struggled, the deeper I sank. The realm in which I'd been cast was like an inky, ethereal form of quick- sand. If not for the wraiths . . .
I stopped and bent my head to listen. Someone was following me, and for the first time since materializing on the earthly plane, I tried to take in my surroundings. With my vision adjusting, I could just make out the sea of peaches and golds that stretched out before me. Sand as far as the eye could see.
Then it hit me. The Sahara. I'd been here before. With him.
I started walking again, slowly, making him come to me as I used every ounce of strength I had to tamp down the elation coursing through my veins.
I'd dreamed about this moment for so long, a part of me wondered if it were real. Or if I were hallucinating. But I felt the warmth radiating from his body and I knew. Heat—his heat—pulsated over me in rich, fervent waves, stirring parts of me that hadn't been stirred in decades. Or churned. Or even whisked, for that matter.
I dared a glance over my shoulder. My knees weakened and my stomach clenched at the sight. Dressed as a desert nomad in traditional, sky- blue garb, he followed at a leisurely pace. A light breeze pressed his robe against his body, outlining his wide shoulders, long arms, and lean waist.
A turban of the same sky blue had been wrapped around his head and face until only his eyes shone through.
Dark. Shimmering. Intent.
Like that could fool me. Like I wouldn't know my husband from a thousand miles away. His essence. His aura. His scent.
Of course, the ever-present fire that licked over his skin, the lightning that arced around him, didn't hurt.
He moved like an animal. A predator. Powerful and full of confidence and grace. Every step calculated. Every move a conscious act.
And he was closing in.
I turned back to the horizon, my heart bursting with the knowledge that my husband was still here. Still on Earth. Still sexy as fuck.
And yet, there was something not quite . . .
I whirled around to face him when I realized part of what I was feeling, part of the tangle of tightly packed emotions that made Reyes Reyes, was anger.
No. Not anger precisely. Anger would be far too tame a word. He was livid. Furious. Enraged. And it was all directed at me.

The Curse of Tenth Grave take two!  It was fun diving into this story again. Grab a cup of coffee as I share my thoughts on my second read through.
The Curse of Tenth Grave


by Darynda Jones
Genres: Urban Fantasy
Source: Purchase
Purchase: Amazon | Audible
Rating:
As a part-time PI and full-time grim reaper, Charley Davidson has asked a lot of questions throughout her life:
* Why can I see dead people?
* Who is the hot supernatural entity following me?
* How do I get gum out of my sister's hair before she wakes up?
* But, "How do I trap not one malevolent god, but three?" was never among them. Until now. And since those gods are on earth to kill her daughter, she has little choice but to track them down, trap them, and cast them from this dimension.

There's just one problem. One of the three stole her heart a very long time ago. Can the Razer, a god of absolute death and destruction, change his omniscient spots, or will his allegiances lie with his brothers?

Those are just a few of the questions Charley must answer, and quick. Add to that a homeless girl running for her life, an innocent man who's been charged with murder, and a pendant made from god glass that has the entire supernatural world in an uproar, and Charley has her hands full. If she can manage to take care of the whole world-destroying-gods thing, we're saved. If not, well…
From Reyes backstory to long awaited answers, The Curse on Tenth Grave was a pivotal book in the Charley Davidson series. Rereading this brought it all back and even though I've already devoured the eleventh and twelfth book in this series, I still became swept up in the story. From Charley's snarky humor to the hotness that is Reyes this is a series that keeps me on edge, makes me fall into bits of laughter and scream when it looks like things are taking a wrong term. This is a series you plan a sick day for on release day. Let's call it a mental health day. You stay in your pajamas and consume the story in a single day. And just like eating a sleeve of your favorite cookies, you regret not savouring it, but do it all over again with the next release.
You can read my review here: The Curse of Tenth Grave
Read Caffeinated reviews for the entire series (minus thirteenth, look for that in January) here: Charley Davidson Series.
Giveaway
Enter for a chance to win the entire Charley Davidson series by Darynda Jones, an ARC of the epic finale, Summoned to Thirteenth Grave, plus fun swag! The tour giveaway is open from October 31st through November 14th and is open to US residents.
Sneak a peek at Summoned to Thirteenth Grave By Darynda Jones as we revisit the Curse of Tenth Grave #giveaway #excerpt #urban #MustRead #CharleyDavidson
Click To Tweet
Stay Caffeinated!
Never miss a post by adding Caffeinated to your Inbox
Your email is not shared and you can unsubscribe at any time.