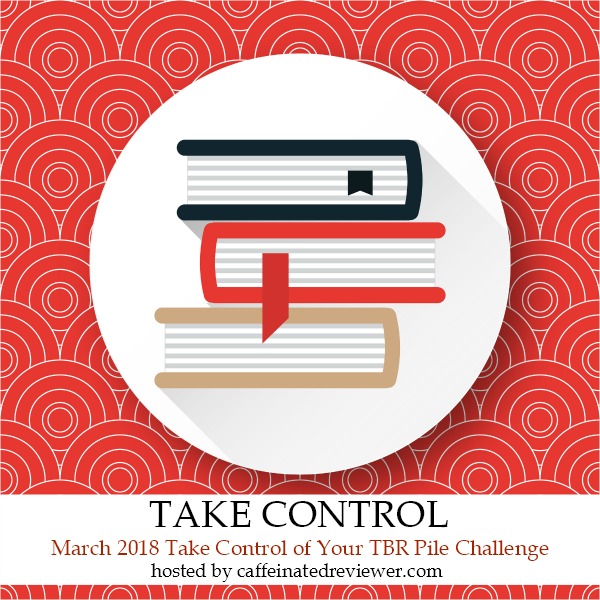 And so it begins… are you ready to TAKE CONTROL of your TBR Pile? The goal is to read as many books from your TBR pile during the month of March as you can. These can be eBooks, physical books, gifted books, ARCs, and audiobooks. The only rule is that they must have been published before March 1, 2018.  Haven't signed up? You can do so before March 3rd Link up Here.
~*Rules*~
Link-up! This is open to everyone. If you do not have a blog then link a shelf entitled Take Control 2018 from your Goodreads account. It is a good idea to friend me if your shelves are private.
Create a Goals/Updates/Results post (can be combined) It can also be a shelf created on Goodreads. Be sure to friend me, so I can see it. Friend me: Kimberly
Begins midnight March 1st, 2018 and ends March 31, 2018, at 11:59 pm.
Read/listen to books from your TBR pile.
ALL books/audios must have been published before March 1,  2018. I don't care where you got them, so old ARCS count.
Post a review to Goodreads, or your blog then enter the URL link it to the Rafflecopter for an entry. ( These can be a mini review. Just one or two sentences)
You can combine events, challenges etc.
Page count must be over 100 pages to qualify.
The rafflecopter will only allow you to enter up to two books daily, so update as soon as you finish a book.
Use hashtag #TakeControlTBR
Twitter Party March 11th @ 2:30 pm (CST)  Come chat about books you have read and win prizes.
Earn extra entries for participating in the Twitter Party
Rafflecopter will close on April 2, 2018, at midnight and a winner will be chosen within 72 hours. Open internationally as long as Book Depository ships to you. Prize: New 2018 release valued at up to 20 US dollars or 1 Audiobook Credit from Audiobooks.com. I will do pre-orders as well. (may request eBook copy from Amazon or B&N)
Participation Giveaway
Must be linked up and participating in the Take Control Challenge to Participate.
a Rafflecopter giveaway

My Goals
My plan is to listen to or read 10 books from my TBR pile! Here are some books/audios on my list.
My Progress
As Bright as Heaven by Susan Meissner
Winter Ignighting by Rebecca Zanetti
How to Save an Undead Life 

by

 Hailey Edwards
How to Claim an Undead Soul by Hailey Edwards

Chaos Choreography 

by 

Seanan McGuire

Magic for Nothing by Seanan McGuire
Sparrow Hill Road by Seanan McGuire
The Librarian's Vampire Assistant by Mimi Jean Pamfiloff
Down Among the Sticks and Bones by Seanan McGuire
Dreaming in Chocolate by Susan Bishop Crispell
Storm Force by Jim Butcher
When He Was Wicked by Julia Quinn
Witch Hunter: Into the Outside by J.Z. Foster
Stay Caffeinated!
Never miss a post by adding Caffeinated to your Inbox
Your email is not shared and you can unsubscribe at any time.
Related Posts