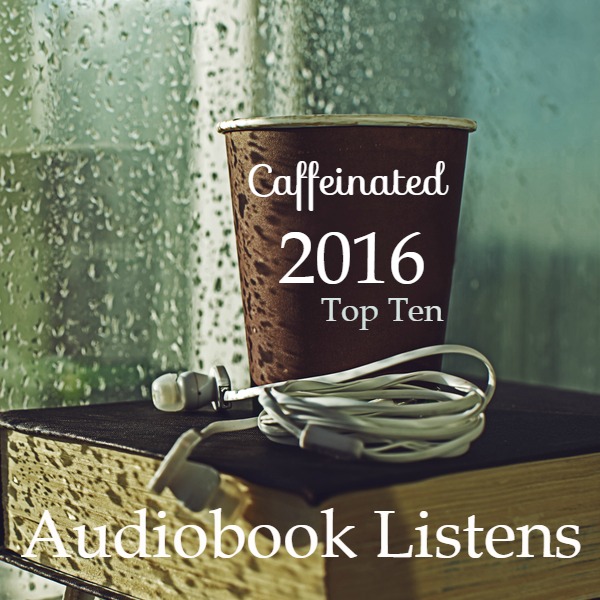 2016 was an amazing year for Audiobooks. I managed to listen to 70+ books this year. Some were new releases and others came from my backlist. A good narrator can pull you into the writer's story providing another level of enjoyment. When I first began listening I had to sit quietly and concentrate. Now into my third year of audio addiction listening, I can do almost anything while listening. If I cannot hold a book or eReader in my hand, you'll find me listening.
Listed below in no particular order are my top ten favorite listens from 2016. I hope you find your next listen….
NOS4A2
by Joe Hill
Narrator: Kate Mulgrew
Length: 19 hours and 41 minutes
Genres: Horror
Source: Purchase
Purchase*: Amazon | Audible *affiliate
Rating:

Narration: 5 cups
NOS4A2 is a spine-tingling novel of supernatural suspense from master of horror Joe Hill, the New York Times bestselling author of Heart-Shaped Box and Horns.

Victoria McQueen has a secret gift for finding things: a misplaced bracelet, a missing photograph, answers to unanswerable questions. On her Raleigh Tuff Burner bike, she makes her way to a rickety covered bridge that, within moments, takes her wherever she needs to go, whether it's across Massachusetts or across the country.

Charles Talent Manx has a way with children. He likes to take them for rides in his 1938 Rolls-Royce Wraith with the NOS4A2 vanity plate. With his old car, he can slip right out of the everyday world, and onto the hidden roads that transport them to an astonishing – and terrifying – playground of amusements he calls "Christmasland."

Then, one day, Vic goes looking for trouble—and finds Manx. That was a lifetime ago. Now Vic, the only kid to ever escape Manx's unmitigated evil, is all grown up and desperate to forget. But Charlie Manx never stopped thinking about Victoria McQueen. He's on the road again and he's picked up a new passenger: Vic's own son.
NOS4A2 was a brilliant, dark tale that burst to live in vivid 3-D on audio. From Hill's vivid imagination comes this spine-tingling tale that had me reaching for more titles by this author. Read my full review here: NOS4A2
Away from the Dark
by Aleatha Romig
Series: The Light #2
Narrator: David LeDoux, Erin deWard, Kevin T. Collins
Length: 12 hours and 40 minutes
Genres: Romantic Suspense
Source: Publisher
Purchase*: Amazon | Audible *affiliate
Rating:

Narration: 4 cups
Nine months ago, Sara Adams awoke with no memory. The man holding her hand told her she's a member of The Light, a tight-knit religious group led by the terrifying and charismatic Father Gabriel. As a woman in the community of The Light, her duty is to be unquestionably obedient and to submit to the will of her husband.

But as Sara's memory starts to return and she remembers her past, she sees that everything she's been told is a lie. The Light is an insidious and dangerous organization, and its corrupting influence reaches well beyond the confines of the remote campus where Sara is being held.

With everything at stake, Sara struggles to sort out her true memories from her indoctrination. The desire to escape consumes her, but who can she trust? And which other followers of The Light were forced into this life, brainwashed to believe they belonged? The more she remembers, the more it becomes clear that Jacob, the man who calls himself her husband, is keeping shattering secrets of his own.

But Sara cannot flee alone, leaving innocents behind. She must fight to extinguish The Light.
Another thriller, this time set within a cult known as the Light. Away from the Dark is the second book in the Light duology. Fast-paced with twists and turns this tale held me, hostage. See my full review here: Away from the Dark
Magic Binds
by Ilona Andrews
Series: Kate Daniels #9
Narrator: Renée Raudman
Length: 13 hours and 1 minute
Genres: Urban Fantasy
Source: Purchase, Publisher
Purchase*: Amazon | Audible *affiliate
Rating:

Narration: 5 cups
Mercenary Kate Daniels knows all too well that magic in post-Shift Atlanta is a dangerous business. But nothing she's faced could have prepared her for this.…

Kate and the former Beast Lord Curran Lennart are finally making their relationship official. But there are some steep obstacles standing in the way of their walk to the altar.…

Kate's father, Roland, has kidnapped the demigod Saiman and is slowly bleeding him dry in his never-ending bid for power. A Witch Oracle has predicted that if Kate marries the man she loves, Atlanta will burn and she will lose him forever. And the only person Kate can ask for help is long dead.

The odds are impossible. The future is grim. But Kate Daniels has never been one to play by the rules.…
Magic Binds the ninth book in the Kate Daniels urban fantasy series rewarded fans with some answers and hinted at things to come. The writing team of Ilona Andrews has a way of finding themselves on my top ten list each year, making them a writing team I highly recommend. Read my review here: Magic Binds
A Promise of Fire
by Amanda Bouchet
Series: Kingmaker Chronicles #1
Narrator: Mia Barron
Length: 14 hours and 45 minutes
Genres: Fantasy
Source: Purchase
Purchase*: Amazon | Audible *affiliate
Rating:

Heat Level:


Narration: 4
Catalia "Cat" Fisa is a powerful clairvoyant known as the Kingmaker. This smart-mouthed soothsayer has no interest in her powers and would much rather fly under the radar, far from the clutches of her homicidal mother. But when an ambitious warlord captures her, she may not have a choice…

Griffin is intent on bringing peace to his newly conquered realm in the magic-deprived south. When he discovers Cat is the Kingmaker, he abducts her. But Cat will do everything in her power to avoid her dangerous destiny and battle her captor at every turn. Although up for the battle, Griffin would prefer for Cat to help his people willingly, and he's ready to do whatever it takes to coax her…even if that means falling in love with her.
A Promise of Fire was an exciting find this year. This was a brilliant, addictive and at times hilarious fantasy. I loved the world, mythology, and characters. Read my review here: A Promise of Fire
A Torch Against the Night
by Sabaa Tahir
Series: An Ember in the Ashes #2
Narrator: Katharine McEwan, Fiona Hardingham, Steve West
Length: 15 hours and 9 minutes
Genres: Fantasy
Source: Publisher
Purchase*: Amazon | Audible *affiliate
Rating:

Narration: 4 cups
Elias and Laia are running for their lives.
After the events of the Fourth Trial, Martial soldiers hunt the two fugitives as they flee the city of Serra and undertake a perilous journey through the heart of the Empire.

Laia is determined to break into Kauf - the Empire's most secure and dangerous prison - to save her brother, who is the key to the Scholars' survival. And Elias is determined to help Laia succeed, even if it means giving up his last chance at freedom.

But dark forces, human and otherworldly, work against Laia and Elias. The pair must fight every step of the way to outsmart their enemies: the bloodthirsty Emperor Marcus, the merciless Commandant, the sadistic Warden of Kauf, and, most heartbreaking of all, Helene - Elias's former friend and the Empire's newest Blood Shrike.

Bound to Marcus's will, Helene faces a torturous mission of her own - one that might destroy her: find the traitor Elias Veturius and the Scholar slave who helped him escape... and kill them both.
The second book in An Ember in the Ashes series, A Torch Against the Night notched up the suspense and action in this dark fantasy thriller with Roman empire tones. From the perspectives to the brilliant scenes I cannot recommend this one enough. Read my review here: A Torch Against the Night
End of Watch
by Stephen King
Series: Bill Hodges Trilogy #3
Narrator: Will Patton
Length: 12 hours and 54 minutes
Genres: Suspense Thriller
Purchase*: Amazon | Audible *affiliate
Rating:

Narration: 5 cups
Brady Hartsfield, perpetrator of the Mercedes Massacre, where eight people were killed and many more were badly injured, has been in the Traumatic Brain Injury Clinic for five years, in a vegetative state. According to his doctors, anything approaching a complete recovery is unlikely. But behind the drool and stare, Brady is awake, and in possession of deadly new powers that allow him to wreak unimaginable havoc without ever leaving his hospital room.

Retired police detective Bill Hodges, the unlikely hero of Mr. Mercedes and Finders Keepers, now runs an investigation agency with his partner, Holly Gibney, who delivered the blow to Hartsfield's head that put him on the brain injury ward. Brady also remembers that. When Bill and Holly are called to a murder-suicide with ties to the Mercedes Massacre, they find themselves pulled into their most dangerous case yet, one that will put not only their lives at risk, but those of Hodges's friend Jerome Robinson and his teenage sister, Barbara. Because Brady Hartsfield is back, and planning revenge not just on Bill Hodges and his friends, but on an entire city.
King has long been a favorite of mine, and I have thoroughly enjoyed the Bill Hodges trilogy. End of Watch delivered a mix of mystery, supernatural elements, and classic King horror. Narrated by Will Patton my only complaint was that it ended. See my review here: End of Watch
Marked in Flesh
by Anne Bishop
Series: The Others #4
Narrator: Alexandra Harris
Length: 15 hours and 21 minutes
Genres: Urban Fantasy
Source: Publisher
Purchase*: Amazon | Audible *affiliate
Rating:

Narration: 5 cups
For centuries, the Others and humans have lived side by side in uneasy peace. But when humankind oversteps its bounds, the Others will have to decide how much humanity they're willing to tolerate—both within themselves and within their community... Since the Others allied themselves with the cassandra sangue, the fragile yet powerful human blood prophets who were being exploited by their own kind, the delicate dynamic between humans and Others changed. Some, like Simon Wolfgard, wolf shifter and leader of the Lakeside Courtyard, and blood prophet Meg Corbyn, see the new, closer companionship as beneficial—both personally and practically. But not everyone is convinced. A group of radical humans is seeking to usurp land through a series of violent attacks on the Others. What they don't realize is that there are older and more dangerous forces than shifters and vampires protecting the land that belongs to the Others—and those forces are willing to do whatever is necessary to protect what is theirs…
The Others series continues to amaze me. I own all formats of this series but must listen first, thanks to the superb narrations of Alexandra Harris. Marked in Flesh took us out of the Lakeside community and prepared us for things to come. A brilliant tale from the landscape to the characters. Read my review here: Marked in Flesh
A Sorceress of His Own
by Dianne Duvall
Series: The Gifted Ones #1
Narrator: Kirsten Potter
Length: 11 hours and 25 minutes
Genres: Paranormal Romance
Source: Publisher
Purchase*: Amazon | Audible *affiliate
Rating:

Heat Level:


Narration: 4.5 cups
Since the day Lord Dillon earned his spurs, rumors of his savagery on the battlefield have preceded him into every room, stilling tongues and sparking fear. Weary of battle, he wishes only to find a woman he can wed who will approach him not with fear, but with the tenderness that has been absent from his life for so long. Yet only the wisewoman seems invariably at ease in his presence. For seven years, Alyssa has been by Lord Dillon's side-counseling him from the shadows, healing him, and staving off the worst of his loneliness. Blessed-or cursed-with gifts that label her a sorceress, she is forced to conceal her youth and the love she harbors for him, leading Dillon and his people to believe she is the same wisewoman who served his father. All is revealed, however, and passions flare when an enemy threatens Dillon's life and Alyssa sacrifices everything to save him. When Dillon discovers that the wisewoman is far from elderly, he is instantly entranced. And, as he and Alyssa work together to defeat an enemy bent on destroying them both, Dillon will risk anything-even the wrath of his king-to be with her.
Duvall pulls me into her paranormal tales with ease, and I loved A Sorceress of His Own. From the characters to the paranormal elements I was completely captivated and left eager for more. Read my review: A Sorceress of His Own
Britt-Marie Was Here
by Fredrik Backman
Narrator: Joan Walker
Length: 9 hours and 18 minutes
Genres: Literary Fiction
Source: Publisher, BEA
Purchase*: Amazon | Audible *affiliate
Rating:

Narration: 4.5 cups of tea
Britt-Marie can't stand mess. She eats dinner at precisely the right time and starts her day at six in the morning because only lunatics wake up later than that. And she is not passive-aggressive. Not in the least. It's just that sometimes people interpret her helpful suggestions as criticisms, which is certainly not her intention.

But at sixty-three, Britt-Marie has had enough. She finally walks out on her loveless forty-year marriage and finds a job in the only place she can: Borg, a small, derelict town devastated by the financial crisis. For the fastidious Britt-Marie, this new world of noisy children, muddy floors, and a roommate who is a rat (literally), is a hard adjustment.

As for the citizens of Borg, with everything that they know crumbling around them, the only thing that they have left to hold onto is something Britt-Marie absolutely loathes: their love of soccer. When the village's youth team becomes desperate for a coach, they set their sights on her. She's the least likely candidate, but their need is obvious and there is no one else to do it.

Thus begins a beautiful and unlikely partnership. In her new role as reluctant mentor to these lost young boys and girls, Britt-Marie soon finds herself becoming increasingly vital to the community. And even more surprisingly, she is the object of romantic desire for a friendly and handsome local policeman named Sven. In this world of oddballs and misfits, can Britt-Marie finally find a place where she belongs?

Zany and full-of-heart, Britt-Marie Was Here is a novel about love and second chances, and about the unexpected friendships we make that teach us who we really are and the things we are capable of doing.
Backman made ma laugh, cry, connect, and fall in love with Britt-Marie, in Britt-Marie Was Here.  A masterful storyteller, Backman truly captures his characters and makes them memorable. Read my review: Britt-Marie Was Here
Blood for Blood
by Ryan Graudin
Series: Wolf by Wolf #2
Narrator: Christa Lewis
Length: 12 hours and 23 minutes
Genres: Historical Fiction, Fantasy
Source: Publisher
Purchase*: Amazon | Audible *affiliate
Rating:

Narration: 4.5 cups
The action-packed, thrilling sequel to Ryan Graudin's Wolf by Wolf.

There would be blood.
Blood for blood.
Blood to pay.
An entire world of it.

For the resistance in 1950s Germany, the war may be over, but the fight has just begun.

Death camp survivor Yael, who has the power to skinshift, is on the run: the world has just seen her shoot and kill Hitler. But the truth of what happened is far more complicated, and its consequences are deadly. Yael and her unlikely comrades dive into enemy territory to try to turn the tide against the New Order, and there is no alternative but to see their mission through to the end, whatever the cost.

But dark secrets reveal dark truths, and one question hangs over them all: how far can you go for the ones you love?

This gripping, thought-provoking sequel to Wolf by Wolf will grab readers by the throat with its cinematic writing, fast-paced action, and relentless twists.
Blood for Blood was the follow up to Wolf by Wolf. Darker than its predecessor Graudin took me on a suspenseful and emotional ride is alternate historical fantasy. Read my review here: Blood for Blood
Favorite Narrators
I just wanted to briefly list some of my favorite narrators. Clicking on their name will bring up Caffeinated reviews to audiobooks featuring them.
Caffeinated's Top Ten Audiobook Listens in 2016 #audiobooks
Click To Tweet