On May 6th thanks to a special invitation from St. Martin's Press and Big Honcho Media I had the privilege of being part of a phone interview with the lovely, funny and talented Darynda Jones. She is the author of the hilarious, swoon-worthy, action-packed Charley Davidson series. As many of you know this is one of my favorite series and it was very difficult not to completely fangirl. We had an interesting panel of bloggers and the questions asked gave us insight into the series.  We learned some interesting tidbits and shared a few laughed. So today I am going to share some of the questions asked, give you a look at the newest book Eighth Grave After Dark and then share a giveaway provided by St. Martin Press just for you.
Charley Davidson Series 
Interview
Kate from All Things Urban Fantasy asked: "I was wondering– this might be silly – but, do you come up with the quotes at the beginning of the chapters? Or are they like actual real shirts that you see or signs or whatever? Because they're hysterical."
Darynda's response: "That's not a bad question at all. It's awesome. I actually do not come up with most of them. I come up with maybe one or two a book. But, for the most part, they are real T-shirts and real bumper stickers and real signs and Internet memes that have been forwarded 1,000 times.
They're out there. I didn't come up with them, unfortunately. I wish I were that clever."
Kimberly@ Caffeinated Book Reviewer asked: "Is Reyes Farrow anyone that you know in real life? How did you come up with such a yummy character?" (of course ya'll know I had to ask about Reyes. The man makes my panties melt)
Darynda's response: "Actually, it started out kind of as a different project. When I originally came up with him, I had written—okay. In the first book, there's the scene where Charley thinks back and where she very first saw Reyes when he was in high school. I wrote that scene years before I actually wrote First Grave, and then I stole it out of this other thing. But that scene was inspired by the lovely and talented Jason Baehr, who is just so gorgeous. And that's where I came up with that. Then I don't know, Reyes just kind of evolved."
Kimberly: "Well, he's evolving wonderfully."
Mary from Book Hounds. "Of course, my question is dog related. Were the hellhounds inspired by your own dogs?"
Darynda's response: "That's the best idea I ever heard. You know, I will say that's very possible. They have put me through heck. I was so excited. I just got my author copies of Eighth Grave, I put the box in my office, and I'm so excited. I get up the next morning and my eight-month-old, Steffy [sp], decided to eat one. Thank God she only ate one because she ripped through that box and could have had the entire box. So it could very well be. You might be onto something. Thank you."
Natasha from Wicked Lil Pixie asked: "And, you know, I'm going to ask, Mr. Wong. First, where did he come from? And when is he going to speak?"
Darynda's response: " Okay.
First, I'm not telling; and second, we learn everything about Mr. Wong in Eighth Grave. His entire story comes out. I will say it was so funny. One of my beta readers was reading the book before it went to my editor, and she sent me this e-mail that was just, oh, my God, over and over and over and over. She's like I just got to the part about Mr. Wong. I'm so in love. It was just the greatest thing. So, I think that–.
Natasha: "–I'm going to have to read faster then."
Darynda Jones: –"I think you will be pleased. I think that the readers will be pleased because he turned out to be a very, very neat person."
Natasha: Perfect. "Thank you. We've been waiting for so long for him to speak."
Kate from All Things Urban Fantasy asked: "I was wondering since now you mentioned that you're a plotter, how far ahead do you plan your plot? Like, how–and how many books do you have planned for Charlie?"
Darynda's response: "When I was writing Sixth, I came up with Sixth, Seventh, Eighth, and Ninth. I had the main ideas for those. Normally, I don't really go that far ahead. It's normally when I'm writing the previous book, that's when I kind of come up with the next one. I'm working on Ninth right now, and actually just a couple days ago came up with the main plot of Tenth. When I wrote First, I had First, Second, and Third all figured out. So it just depends at where I'm at. How long is the series? It's ongoing, and we don't know how far or how many we're going to have. But I will say that I do have an ending. I know how I want it to end, the whole series, and I have a spinoff planned too. I'm hoping that even when Charley does come to an end that I can do the spinoff. But I will say also that I love writing Charley, and I hope that she doesn't end for a long time. I hope people don't get sick of her because I love writing her."
Kelly from Effortless Reading asked: "So, are there any parts in the series where you're like I can't believe I just wrote this? Like, will anyone like it?"
Darynda's response: "Oh, absolutely. Oh, yes. In fact, I have to tell you. There's a huge scene in Eighth Grave that I was absolutely terrified to put in there. I thought this is too much. It's too much. It's just ridiculous. Nobody's going to believe this is really going to happen. When I sent it to my editor, I asked her. I put little notes in my manuscript to her, and I'm like, okay, this next scene, you got to be honest and tell me if it works or not because I'm really iffy on it. I'm kind of on the fence. She wrote me back, and she said that she loved it. It was so exciting. So it's in there, I'm hoping that it doesn't freak anybody out. There's probably one scene a book that I really worry about and that I wonder if I didn't really screw up and it's going to be the end of my career type thing."
Kimberly from Caffeinated Book Reviewer asked: You've answered some of this because you said you're a plotter. And you said you knew what you were going to do in the third book and that kind of thing. But, from the beginning of the series, has the series changed from what you originally intended? Has it veered off in any direction, maybe because of the characters themselves?"
Darynda's response: " It actually has. It's changed immensely from my original idea. Basically, it was just going to be Charley doing her thing and solving mysteries, and it really wasn't going to evolve as far as paranormally and the supernatural world. The more books I wrote, the more I kind of dipped into that and gave a little bit more and gave a little bit more. The readers were just so fantastic and it was like the bigger the world got, the more they loved it. So it's really evolved, even with Charley. I'm working on Ninth now, and it's getting bigger and bigger and I'm hoping that it just continues to grow. But definitely, the supernatural worlds that I'm putting in were not originally part of the plan as far as where Charley was from and what she really is."
Kristie from Dark Faerie Tales asked: "I have kind of a two-fold question. You mentioned a possible spinoff in the future. When will that spin–in your planning, how far away is that spinoff going to be? And who is it going to feature? And is that character one of your favorite characters throughout this series? Or is this somebody that you've grown to love?"
Darynda's response: "I haven't been telling people this, but, I love that you asked it. I do want to do it someday, so I thought maybe if I put it out there people would really want it. My plan was to have both the Charley series and the spinoff going at the same time, but because of timelines, it wouldn't have worked. Even my agent was against it. She was like no, you're just going to have to wait until the Charley books end and then do the spinoff. Of course, the way my mind is so chaotic and all over the place, I'm already working on the books for this spinoff that can't happen. I will say that from Eighth Grave they happen probably about 19 years later if that gives you an idea of who it might be about. It's Charley and Reyes's daughter, and it's her story. It does feature a character who I've introduced who I'm absolutely in love with. Osh, or Osh'ekiel, is going to be in it too. So that's going to be their books later on down the line. Keep your fingers crossed."
The Charley Davidson Series
For me, the Charley Davidson series encompasses so many elements I love. Mysteries, paranormal woo-woo, and a motley group of characters you will come to adore (or drool over).Every book in this series has had me closing the book spent and craving more. I laugh, I cry and then I walk around for weeks quoting Charley. Never have I loved a protagonist as much as Charley. From her coffee addiction to her offbeat, over the top humor..I want to be her best friend.
 *Images linked to Amazon
Eighth Grave After Dark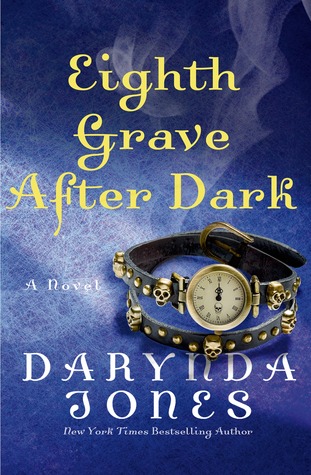 Eighth Grave After Dark
Series: Charley Davidson #8
Genres: Urban Fantasy
Source: Publisher
Purchase*: Amazon *affiliate

With twelve hellhounds after her, pregnant Charley Davidson takes refuge at the only place she thinks they can't get to her: the grounds of an abandoned convent. But after months of being cooped up there, Charley is ready to pop. Both metaphorically and literally since she is now roughly the size of a beached whale. Fortunately, a new case has captured her attention, one that involves a murder on the very grounds the team has taken shelter upon. A decades-old murder of the newly-vowed nun she keeps seeing in the shadows is almost enough to pull her out of her doldrums. Charley's been forbidden to step foot off the sacred grounds. While the angry hellhounds can't traverse the consecrated soil, they can lurk just beyond its borders. They have the entire team on edge, especially Reyes. And if Charley didn't know better, she would swear Reyes is getting sick. He grows hotter with every moment that passes, his heat scorching across her skin every time he's near, but naturally he swears he's fine. While the team searches for clues on the Twelve, Charley just wants answers and is powerless to get them. But the mass of friends they've accrued helps. They convince her even more that everyone in her recent life has somehow been drawn to her, as though they were a part of a bigger picture all along. But the good feelings don't last for long because Charley is about to get the surprise of her crazy, mixed-up, supernatural life….
Related Posts