In 2014 I added audiobooks to my many methods of reading, and I am enjoying the ride. Below you will find my top ten listens in 2014. Grab some cocoa and a holiday cookie. All titles link to my reviews. Let me know if you have read or listened to any of these. Are audiobooks on your wishlist for 2015?
Caffeinated's Top Ten audio
*where possible the title is linked to my review

Written in Red
by Anne Bishop
Narrator: Alexandra Harris
Length:18 hrs and 32 mins
Series: The Others #1
Publisher: Penguin
on March 5, 2013
Genres: Urban Fantasy
Purchase: Amazon|Audible

No one creates realms like New York Times bestselling author Anne Bishop. Now in a thrilling new fantasy series, enter a world inhabited by the Others, unearthly entities—vampires and shape-shifters among them—who rule the Earth and whose prey are humans. As a cassandra sangue, or blood prophet, Meg Corbyn can see the future when her skin is cut—a gift that feels more like a curse. Meg's Controller keeps her enslaved so he can have full access to her visions. But when she escapes, the only safe place Meg can hide is at the Lakeside Courtyard—a business district operated by the Others. Shape-shifter Simon Wolfgard is reluctant to hire the stranger who inquires about the Human Liaison job. First, he senses she's keeping a secret, and second, she doesn't smell like human prey. Yet a stronger instinct propels him to give Meg the job. And when he learns the truth about Meg and that she's wanted by the government, he'll have to decide if she's worth the fight between humans and the Others that will surely follow.
Brilliant and refreshing with outstanding world-building I credit this audio with igniting my passion for audiobooks 🙂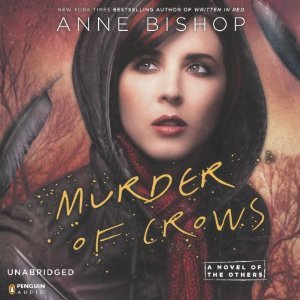 Murder of Crows
by Anne Bishop
Narrator: Alexandra Harris
Length:14 hrs and 13 mins
Series: The Others #2
Publisher: Penguin
on March 4, 2014
Genres: Urban Fantasy
Purchase: Amazon|Audible

After winning the trust of the terra indigene residing in the Lakeside Courtyard, Meg Corbyn has had trouble figuring out what it means to live among them. As a human, Meg should be barely tolerated prey, but her abilities as a cassandra sangue make her something more. The appearance of two addictive drugs has sparked violence between the humans and the Others, resulting in the murder of both species in nearby cities. So when Meg has a dream about blood and black feathers in the snow, Simon Wolfgard – Lakeside's shape-shifting leader – wonders if their blood prophet dreamed of a past attack or a future threat. As the urge to speak prophecies strikes Meg more frequently, trouble finds its way inside the Courtyard. Now, the Others and the handful of humans residing there must work together to stop the man bent on reclaiming their blood prophet – and stop the danger that threatens to destroy them all.
I am love with this series and the narrator brilliantly brings the world and characters to life highlighting the talents of Bishop.

Lord of Scoundrels
by Loretta Chase
Narrator: Kate Reading
Length:11 hrs 39 mins
Publisher: AudioGO
on January 29, 2014
Genres: Historical Romance
Purchase: Amazon|Audible


"They call him many names, but "angelic "isn't one of them." -Sebastian Ballister, the notorious Marquess of Dain, is big, bad, and dangerous to know. No respectable woman would have anything to do with the Bane and Blight of the Ballisters, and he wants nothing to do with respectable women. He s determined to continue doing what he does best sin and sin again and all s going swimmingly until the day a shop door opens and she walks in."She is too intelligent to fall for the worst man in the world."-Jessica Trent is a determined young woman, and she s going to drag her imbecile brother off the road to ruin, no matter what it takes. If saving him and with him her family and future means taking on the devil himself, she won t back down. The trouble is, the devil in question is so shockingly irresistible that the person who needs saving most is Jessica herself.
I laughed and swooned and fell in love with these characters.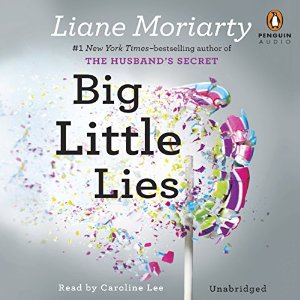 Big Little Lies
by Liane Moriarty
Narrator: Caroline Lee
Length:16 hrs
Publisher: Penguin
on July 29, 2014
Genres: Mystery, Women's fiction
Purchase: Amazon|Audible

Pirriwee Public's annual school Trivia Night has ended in a shocking riot. One parent is dead. The school principal is horrified. As police investigate what appears to have been a tragic accident, signs begin to indicate that this devastating death might have been cold-blooded murder. In this thought-provoking novel, number-one New York Times bestselling author Liane Moriarty deftly explores the reality of parenting and playground politics, ex-husbands and ex-wives, and fractured families. And in her pitch-perfect way, she shows us the truth about what really goes on behind closed suburban doors.
The narration and look into this small seaside school community was suspenseful and engaging.
Lock In
by John Scalzi
Narrator: Wil Wheaton
Length:10 hrs
Series: Lock In #1
Publisher: Audible
on August 26, 2014
Genres: Mystery, Science Fiction
Purchase: Amazon|Audible

A blazingly inventive near-future thriller from the best-selling, Hugo Award-winning John Scalzi. Not too long from today, a new, highly contagious virus makes its way across the globe. Most who get sick experience nothing worse than flu, fever, and headaches. But for the unlucky one percent – and nearly five million souls in the United States alone – the disease causes "Lock In": Victims fully awake and aware, but unable to move or respond to stimulus. The disease affects young, old, rich, poor, people of every color and creed. The world changes to meet the challenge. A quarter of a century later, in a world shaped by what's now known as "Haden's syndrome", rookie FBI agent Chris Shane is paired with veteran agent Leslie Vann. The two of them are assigned what appears to be a Haden-related murder at the Watergate Hotel, with a suspect who is an "integrator" – someone who can let the locked in borrow their bodies for a time. If the Integrator was carrying a Haden client, then naming the suspect for the murder becomes that much more complicated. But "complicated" doesn't begin to describe it. As Shane and Vann began to unravel the threads of the murder, it becomes clear that the real mystery – and the real crime – is bigger than anyone could have imagined.
Love the world Scalzi created and cannot wait to return.
The Retribution of Mara Dyer
by Michelle Hodkin
Narrator: Christy Romano
Length:9 hrs and 32 mins
on November 4, 2014
Source: Audible.com
Purchase: Amazon|Audible

Mara Dyer wants to believe there's more to the lies she's been told. There is. She doesn't stop to think about where her quest for the truth might lead. She should. She never had to imagine how far she would go for vengeance. She will now. Loyalties are betrayed, guilt and innocence tangle, and fate and chance collide in this shocking conclusion to Mara Dyer's story. Retribution has arrived.
Finally we get answers and once again I was found myself completely engrossed. Hodkin spins a tale that keeps you guessing.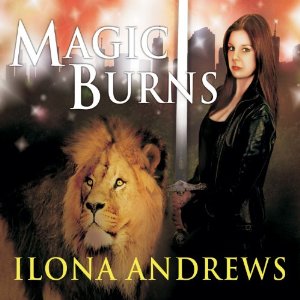 Magic Burns
by Ilona Andrews
Narrator: Renée Raudman
Series: Kate Daniels #2
Publisher: Audible
on February 10, 2010
Genres: Urban Fantasy
Purchase: Amazon|Audible

Down in Atlanta, tempers—and temperatures—are about to flare… As a mercenary who cleans up after magic gone wrong, Kate Daniels has seen her share of occupational hazards. Normally, waves of paranormal energy ebb and flow across Atlanta like a tide. But once every seven years, a flare comes, a time when magic runs rampant. Now Kate is going to have to deal with problems on a much bigger scale: a divine one. When Kate sets out to retrieve a set of stolen maps for the Pack, Atlanta's paramilitary clan of shapeshifters, she quickly realizes much more is at stake. During a flare, gods and goddesses can manifest and battle for power. The stolen maps are only the opening gambit in an epic tug-of-war between two gods hoping for rebirth. And if Kate can't stop the cataclysmic showdown, the city may not survive.
Magic Burns completely made me a fangirl of Andrews and I may have fallen for a Beast Lord.

Mr. Mercedes
by Stephen King
Narrator: Will Patton
Length:14 hrs and 22 mins
Series: Unnamed Trilogy #1
Publisher: Audible, Simon and Schuster
on June 3, 2014
Purchase: Amazon|Audible

In a mega-stakes, high-suspense race against time, three of the most unlikely and winning heroes Stephen King has ever created try to stop a lone killer from blowing up thousands.In the frigid pre-dawn hours, in a distressed Midwestern city, hundreds of desperate unemployed folks are lined up for a spot at a job fair. Without warning, a lone driver plows through the crowd in a stolen Mercedes, running over the innocent, backing up, and charging again. Eight people are killed; fifteen are wounded. The killer escapes.In another part of town, months later, a retired cop named Bill Hodges is still haunted by the unsolved crime. When he gets a crazed letter from someone who self-identifies as the "perk" and threatens an even more diabolical attack, Hodges wakes up from his depressed and vacant retirement, hell-bent on preventing another tragedy.Brady Hartfield lives with his alcoholic mother in the house where he was born. He loved the feel of death under the wheels of the Mercedes, and he wants that rush again. Only Bill Hodges, with a couple of highly unlikely allies, can apprehend the killer before he strikes again. And they have no time to lose, because Brady's next mission, if it succeeds, will kill or maim thousands. Mr. Mercedes is a war between good and evil, from the master of suspense whose insight into the mind of this obsessed, insane killer is chilling and unforgettable.
Totally loved this well crafted tale and cannot wait to listen to more about these characters in 2015.
You 
by Caroline Kepnes
Narrator: Santino Fontana
Length:11 hrs and 6 mins
Publisher: Simon and Schuster
on September 30, 2014
Genres: Suspense thriller
Purchase: Amazon|Audible

When a beautiful, aspiring writer strides into the East Village bookstore where Joe Goldberg works, he does what anyone would do: he Googles the name on her credit card. There is only one Guinevere Beck in New York City. She has a public Facebook account and Tweets incessantly, telling Joe everything he needs to know: she is simply Beck to her friends, she went to Brown University, she lives on Bank Street, and she'll be at a bar in Brooklyn tonight—the perfect place for a "chance" meeting. As Joe invisibly and obsessively takes control of Beck's life, he orchestrates a series of events to ensure Beck finds herself in his waiting arms. Moving from stalker to boyfriend, Joe transforms himself into Beck's perfect man, all while quietly removing the obstacles that stand in their way—even if it means murder. A terrifying exploration of how vulnerable we all are to stalking and manipulation, debut author Caroline Kepnes delivers a razor-sharp novel for our hyper-connected digital age. You is a compulsively readable page-turner that's being compared to Gone Girl, American Psycho, and Stephen King's Misery.
My review won't post until February 2015 and for that I apologize. Posting ahead and being anal does have it's downfalls. However you must listen to this twisted tale!
The Walled City
by Ryan Graudin
Narrator: Eugene Kim, Janet Song, Kim Mai
Length:10 hrs and 28 mins
Publisher: Hachette
on November 4, 2014
Genres: Dystopian, Science Fiction
Purchase: Amazon|Audible


There are three rules in the Walled City: Run fast. Trust no one. Always carry your knife. Right now, my life depends completely on the first. Run, run, run. Jin, Mei Yee, and Dai all live in the Walled City, a lawless labyrinth run by crime lords and overrun by street gangs. Teens their traffic drugs or work in brothels – or, like Jin, hide under the radar. But when Dai offers Jin a chance to find her lost sister, Mei Yee, she begins a breathtaking race against the clock to escape the Walled City itself.
My review will be shared on January 14, but you may not want to wait. Brilliant, beautifully crafted with a cast of narrators that brought this world to life.
Stay Caffeinated!
Never miss a post by adding Caffeinated to your Inbox
Your email is not shared and you can unsubscribe at any time.
Related Posts