I was invited by Danielle from Coffee and Characters, Misty from Addicted 2 Heroines and Traci from Mad Hatter Reads to be a guest for their weekly Coffee Shop Talks discussion post. Each week they tackle a bookish topic and discuss it on their blogs. Thanks for inviting me ladies! Today's topic, "Characters I'd totally name my Children after."  See the names I picked and why below, then go visit the gals and check out their picks.
At first I thought this would be such an easy topic.There are so many characters I adore and character names I love. As I began going through names I realized this wasn't who made me swoon or was a total kick ass..these need to be charters whose traits I admire. Sure Charley and Reyes make me giddy, but do I really want a child who names her body parts and is a Reaper or the Son of Satan? Hmm..well maybe I do. After much contemplating here are the four characters I would name my children after and why.
Josephine March
-the main character in Little Women by Louisa May Alcott, Jo for short.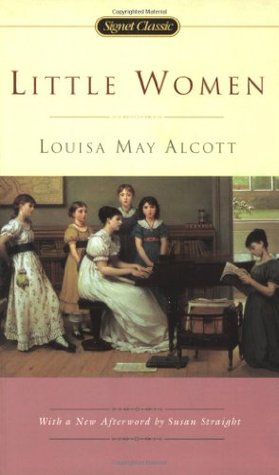 Jo is a tomboy, a writer and although she is quick to temper romance doesn't make her lose her head. She thinks out of the box and envisions a world where woman are equal. Jo isn't perfect by any means, but her bad traits are equally balanced by her passion and love of family making her a strong character.
Kate Daniels
-the protagonist in Ilona Andrews Kate Daniels urban fantasy series
Kate Daniels is kick-ass, snarky and yet compassionate. Far from perfect she has spunk and a tenacious need to do right. A child with Kate's personality would have many friends, and make an impact in any cause that interests her.
Drew Evans
-protagonist in Emma Chase's hilarious contemporary romance series Tangled.
I know what you are thinking Drew Evans makes so many mistakes. True, so true but Drew is wildly successful, confident and can learn and grow making him someone a parent could be proud of. Plus, the way he treats those he loves and his unending humorous outlook on life make him the real deal.
Derek DiMarzio
-hero in Hard to Come By by Laura Keyes and part of the Hard Ink series.
Derek is the kind of guy every mom wants for their daughter. He is compassionate, takes care of others, eases tension, and has the respect of his comrades. I adored Derek and would be proud to have a son who emulated him.
So there you have it, four characters I would name children after. It must be said though, that I have three beautiful children. Chelesa Vivian, Paul Matthew and Jessica Marie. As a mother I couldn't be more proud of the adults they have become and would gladly love characters who are noble, true, strong and compassionate named after them.
Thank you ladies for inviting me for Coffee Shop Talks. Chatting about books and drinking coffee is my kind of gig!

Click and visit the hosts of Coffee Talks
Related Posts