For 2013 I read a little over three hundred books and a small portion of those were New Adult. Listed below are my top ten favorites this year. The New Adult genre has filled in a nice niche for me. It offers the fast pace of YA with adult subject matter I can more easily relate to. I am also quite fond of the dual perspectives that are prevalent in this genre.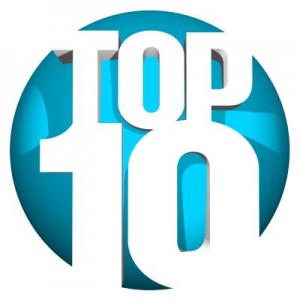 In no particular order my Caffeinated 2013 Top Ten Favorite "New Adult" reads

Ten Tiny Breathes
by K.A. Tucker
Series: Ten Tiny Breathes #1
Genre: Contemporary Romance
Purchase: Amazon


Kacey Cleary's whole life imploded four years ago in a drunk-driving accident. Now she's working hard to bury the pieces left behind—all but one. Her little sister, Livie. Kacey can swallow the constant disapproval from her born-again aunt Darla over her self-destructive lifestyle; she can stop herself from going kick-boxer crazy on Uncle Raymond when he loses the girls' college funds at a blackjack table. She just needs to keep it together until Livie is no longer a minor, and then they can get the hell out of Grand Rapids, Michigan. But when Uncle Raymond slides into bed next to Livie one night, Kacey decides it's time to run. Armed with two bus tickets and dreams of living near the coast, Kacey and Livie start their new lives in a Miami apartment complex, complete with a grumpy landlord, a pervert upstairs, and a neighbor with a stage name perfectly matched to her chosen "profession." But Kacey's not worried. She can handle all of them. What she can't handle is Trent Emerson in apartment 1D.
Kacey doesn't want to feel. She doesn't. It's safer that way. For everyone. But sexy Trent finds a way into her numb heart, reigniting her ability to love again. She starts to believe that maybe she can leave the past where it belongs and start over. Maybe she's not beyond repair.But Kacey isn't the only one who's broken. Seemingly perfect Trent has an unforgiveable past of his own; one that, when discovered, will shatter Kacey's newly constructed life and send her back into suffocating darkness.
From her characters to the heart-wrenching and beautiful tale she created K.A. Tucker captured my attention with Ten Tiny Breathes. I felt for Kacey and Trent and rooted for them. Tucker took my emotions on one heck of a roller coaster ride and made the journey believable. I have the second book, One Tiny Lie, told from Trent's perspective and look forward to reading it. My review of: Ten Tiny Breaths

Walking Disaster
by Jamie McGuire
Series: Beautiful Disaster #2
Genre: Contemporary Romance
Purchase: Amazon


Finally, the highly anticipated follow-up to the New York Times bestseller Beautiful Disaster. Can you love someone too much? Travis Maddox learned two things from his mother before she died: Love hard. Fight harder. In Walking Disaster, the life of Travis is full of fast women, underground gambling, and violence. But just when he thinks he is invincible, Abby Abernathy brings him to his knees. Every story has two sides. In Beautiful Disaster, Abby had her say. Now it's time to see the story through Travis's eyes.
I loved Beautiful Disaster and Walking Disaster gave us the story from Travis' perspective and I adored it. I loved the whirlwind romance between Travis and Abby. There is something wonderful about a flawed, yet redeemable bad boy.While this was a companion novel, I actually enjoyed it more.. My review of Walking Disaster

Faking It
by Cora Carmack
Series: Losing It #2
Genre: Contemporary Romance
Purchase: Amazon


Faking It

Out of Line
by Jen McLaughlin
Genre: Contemporary Romance
Purchase: Amazon


Desperate to break free… I've spent my entire life under my father's thumb, but now I'm finally free to make my own choices. When my roommate dragged me to my first college party, I met Finn Coram and my life turned inside out. He knows how to break the rules and is everything I never knew I wanted. A Marine by day and surfer by night, he pushes me away even as our attraction brings us closer. Now I am finally free to do whatever I want. I know what I want. I choose Finn. Trying to play by the rules…I always follow orders. My job, my life, depends on it. I thought this job would be easy, all the rules were made crystal clear, but when I met Carrie Wallington, everything got muddy. She's a rule I know I shouldn't break, but damn if I don't inch closer to the breaking point each time I see her. I'm ready to step out of line. And even worse? I'm living a lie. They say the truth will set you free but in my case… The truth will cost me everything.
A forbidden romance with a smexy hero who swept me off my feet in Out of Line. The dual perspectives allowed me to connect with the characters and feel their emotions. The tale was passionate with moments of tenderness, angst, and heat. My review of Out of Line

Someone to Love
by Addison Moore
Series: Someone to Love #1
Genre: Contemporary Romance
Purchase: Amazon


Someone to Love is a light, sexy read that is far more naughty than it ever is nice. What happens when two people who don't believe in love, happen to fall madly into the most beautiful relationship they could ever imagine? A train wreck. When twenty-year-old Kendall Jordan transfers clear across the country to Garrison University, the last thing she's looking for is a one-night stand. Unfortunately, that's exactly what, gorgeous, Cruise Elton offers. Kendall has long since come to realize that love is an illusion that never lasts, and Cruise couldn't agree more—but something deep inside her wants him all for herself. So, Kendall devises a seat of the pants plan to "play the player" and proposes that Cruise tutor her in becoming a female version of himself, Garrison University's own playboy. Real feelings begin to emerge, and neither Kendall nor Cruise know how to classify them. Everything they once thought they knew is redefined as they discover, in one another, Someone to Love.
Someone to Love really took me by surprise. At first, I thought what have I gotten myself into but Moore quickly had me under her spell and I ended up falling for Cruise and Kendall. He is a player and when he sets out to teach Kendall how to be one too, things don't go the way either of them planned. This was a fun, hot, sexy read. My review of Someone to Love

The Coincidence of Callie & Kayden
by Jessica Sorensen
Series: The Coincidence #1
Genre: Contemporary Romance
Purchase: Amazon


There are those who don't get luck handed to them on a shiny platter, who end up in the wrong place at the wrong time, who don't get saved. Luck was not on Callie's side the day of her twelfth birthday when everything was stolen from her. After it's all over, she locks up her feelings and vows never to tell anyone what happened. Six years later her painful past consumes her life and most days it's a struggle just to breathe. For as long as Kayden can remember, suffering in silence was the only way to survive life. As long as he did what he was told, everything was okay. One night, after making a terrible mistake, it seems like his life might be over. Luck was on his side, though, when Callie coincidentally is in the right place at the right time and saves him. Now he can't stop thinking about the girl he saw at school, but never really knew. When he ends up at the same college as Callie, he does everything he can to try to get to know her. But Callie is reserved and closed off. The more he tries to be part of her life, the more he realizes Callie might need to be saved.
Jessica Sorensen writes beautiful, lyrical heartfelt stories with fleshed out characters you completely fall for. In the Coincidence of Callie & Kayden I loved their fleshed-out, flawed histories and their heated romance. Sorensen had me flipping the pages in search of my HEA. My review of The Coincidence of Callie & Kayden

Demanding Ransom
by Megan Squires
Genre: Contemporary Romance
Purchase: Amazon


Determined to move forward, Maggie embarks on her first year of college, hoping to finally put her past behind her, exactly where it belongs. But that's hard to do when the present is just as difficult. And even harder when someone like Ran, the gorgeous paramedic that keeps crossing Maggie's path, challenges her to face things head-on, rather than bury them like she always does. Ran hasn't had a perfect life either. But there's something different about him, and something different about the way he makes Maggie feel. Maybe meeting Ran is life's little gift for Maggie—a sort of consolation prize for enduring everything she's had to go through. But things don't come easy for Maggie. Why should love be the exception? And just when everything starts to settle, it's all turned on its head once again. If there is one thing Ran has taught Maggie, it's that you can't sit on the sidelines of your own existence. When life takes something that's yours, you have every right to demand it back. Only for Maggie, that is easier said than done.
Megan Squires Demanding Ransom had snarky, and a surprising twist that had me squirming as I searched for my HEA. Maggie has issues and Ran turns her world upside down and then-then fate turns it upside down. Maggie has to fight for the things she wants. This was a fast-paced read that made me laugh, sign, bang my head and demand my happy ending. My review of Demanding Ransom

Losing Hope
by Colleen Hoover
Series: Hopeless #2
Purchase: Amazon


In Hopeless, Sky left no secret unearthed, no feeling unshared, and no memory forgotten, but Holder's past remained a mystery. Still haunted by the little girl he let walk away, Holder has spent his entire life searching for her in an attempt to finally rid himself of the crushing guilt he has felt for years. But he could not have anticipated that the moment they reconnect, even greater remorse would overwhelm him… Sometimes in life, if we wish to move forward, we must first dig deep into our past and make amends. In Losing Hope, bestselling author Colleen Hoover reveals what was going on inside Holder's head during all those hopeless moments—and whether he can gain the peace he desperately needs.
I absolutely loved Hopeless and Hoover shared Holder's perspective to this captivating tale and sweet romance in Losing Hope. I loved seeing things from Holder's side as he dealt with events from the past, and helped Sky. My review of Losing Hope

Foreplay
by Sophie Jordan
Series: The Ivy Chronicles #1
Genre: Contemporary Romance
Purchase: Amazon


Before she goes after the life she's always wanted, she's about to find the one she needs. Pepper has been hopelessly in love with her best friend's brother, Hunter, for like ever. He's the key to everything she's always craved: security, stability, family. But she needs Hunter to notice her as more than just a friend. Even though she's kissed exactly one guy, she has just the plan to go from novice to rock star in the bedroom—take a few pointers from someone who knows what he's doing. Her college roommates have the perfect teacher in mind. But bartender Reece is nothing like the player Pepper expects. Yes, he's beyond gorgeous, but he's also dangerous, deep—with a troubled past. Soon what started as lessons in attraction are turning both their worlds around, and showing just what can happen when you go past foreplay and get to what's real…
The characters in Foreplay stole my heart and while this offered up a hot romance it was also a coming of age tale. From the fleshed out characters to Peppers' growth, I was swept up. I cannot wait for Sophie Jordan's next book in this series. My review of Foreplay

Remembering Joy
by Jenni Moen
Series: Joy #1
Genres: Contemporary Romance
Purchase: Amazon


Alexis doesn't believe in fairytales. She knows firsthand that life can turn on a dime – that one stupid mistake can shatter dreams and irrevocably shape the future. Even though her memory of that day is hazy, she has spent the last ten years trying to put it behind her and focus on the future. Armed with the knowledge that her career will be her only legacy, Alexis works night and day to prove that she is more than just her last name. It's not only that she doesn't have time for love – she doesn't have the heart for it. After all, there's no point in starting something that you can't finish. However, when she meets Adam, she's drawn to him in a way even she can't deny. He is dark and brooding and strangely charming. He's the perfect distraction from the mundane life she's created for herself. And, as if fate is pushing them together, he seems to be around every corner. It's enough to almost make her entirely forget about her past and take a chance. Unfortunately, Adam's memory isn't hazy . . . not in the least. And, what she doesn't remember, he can't forget.
Jenni Moen grabbed me on page one and never let go with her novel Remembering Joy. The plot and unexpected romance was absolutely delightful. Filled with loss, lies, revenge, forgiveness and the power of love I was swept up by these fleshed out characters. I laughed, cried and sighed over this one. My review of Remembering Joy