Into the Dark
by Stacy Green
Published: October 1, 2012
Genre: Romantic Suspense
Purchase*: Barnes and Noble/Amazon

IT'S THE MOMENTS FROM OUR PAST THAT BIND US Branch Manager Emilie Davis is having a day like any other–until two masked men storm into WestOne Bank demanding cash. Her hopes of a quick end to her terror are dashed when she realizes one of the men has no interest in the bank's money. Emilie is his prize, and he's come to claim her. When hostage negotiator Nathan Madigan and Las Vegas SWAT enter the bank on a rescue mission, Emilie's captor makes a shocking escape into the abyss that lies beneath the city: the Las Vegas storm drains, a refuge for the downtrodden and the desperate.
HOW WILL IT END?Who is the man the media has dubbed the "Taker?" Why is he after Emilie, and what is the connection he's convinced they share?Emilie can't run from the Taker, and she can't escape her own past. As her life closes in on her, she has nowhere to turn but to Nathan. The lines of professionalism blur as Nathan becomes determined to save Emilie. Together they venture into the depths beneath Las Vegas and discover a shocking piece of the puzzle. But the Taker remains one step ahead. Desperate for the threat to emerge from the shadows, Emilie makes a bold move to reclaim her life, and it may cost her everything.
I love romance wrapped in suspense, danger and mystery. I was intrigued by the synopsis for Stacy Green's novel Into the Dark and agreed to review it. Set in Las Vegas, we interact with the LA police, FBI and get inside the mind and lives of victim Emilie Davis and her serial stalker dubbed the "Taker". From the streets to the tunnels of Las Vegas this tale kept me turning the pages.
The tale begins when branch manger Emilie Davis gets flowers without a card, as she takes them to the front lobby two masked men enter the bank firing off rounds and an intense hostage negotiation begins between Nathan Madigan of the Las Vegas Swat team and the two perps. One of the masked men takes an interest in Emilie and she quickly realizes he is there for her. Incredible perception on Nathan's part puts an end to the situation but not before the creepy perp makes a surprise escape into the cities underground. The cops slowly begin to realize this was a carefully laid plan to abduct Emilie, but Nathan worries about the primary detective getting the job done. His interest in Emilie is different, and it could land him in trouble with his commanding officers. The tale that unfolds was suspenseful and filled with well-fleshed out characters and a villain who gave me goosebumps.
Never have I met two primary characters with so much emotional baggage. Emilie left home at eighteen, is estranged from her mother and recently divorced. I liked Emilie but grew to admire her as she came into herself. Nathan blames himself for the death of his uncle when he was a teen and carries it with him everywhere. He is solid, dependable and really good at accessing people. I immediately connected with him. The interaction between them started off as you would expect a victim and the man who she sees as her savior would. Slowly their relationship grew into something more, and Green handled it well. It felt real, complicated and genuine. Suspects, bank employees, law enforcement officers and family members added to the suspense, and complexity of the characters. The Taker was downright creepy and his back-story and methodical methods gave me shivers.
Into the Dark took me on a fast paced ride, and I enjoyed myself. The twists and turns into the psyche of the Taker, and those who aided him were fascinating, and tripped me up. I thought I knew who the inside man was and was surprised when all was revealed. The back-stories to Nathan and Emilie were interesting and added depth to both characters. While I am not sure all of it was necessary I liked the way the author weaved it into the tale. The relationship felt genuine and we got a little sweetness and a touch of heat. The climatic scenes towards the end kept me turning the pages and the conclusion left me satisfied.
Fans of romantic suspense and crime thrillers will enjoy Into the Dark. This is Green's first published work and I look forward to reading more from her. Her next thriller will be a darker, grittier tale set in the Deep South.
I want to thank the author for providing this ARC in exchange for my unbiased review.
Three and half cups of coffee from Caesar's Place out of five
Today's Stops for Fiery Hot Reads for Icy Cold Nights Hop
Check out these awesome posts and giveaways! Each day different blogs will be participating so be sure to check in daily for your chance to win and discover new Fiery hot reads!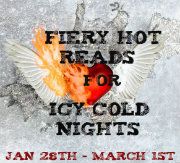 Copyright (c) 2011-2013 Caffeinated Book Reviewer
Stay Caffeinated!
Never miss a post by adding Caffeinated to your Inbox
Your email address will not be shared with anyone